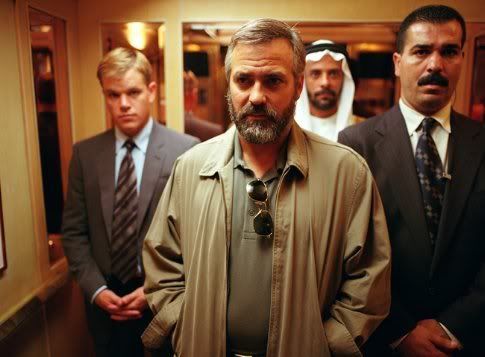 Rich - Did George Clooney read our blogs? or is it just their way to make it known?

On Nov. 22 A blog reported George Cloony and Angela Jolie and other Celibrities will attend the AoC meeting in January 2008 in Madrid. There is also talk about Jeremy Rifkin and U2 Singer Bono Fox to become one of the 14 "wise" / diplomats for the AoC.
read about it here. /translated here.
Now we have another news about it:

"George Clooney is not in Madrid with Zapatero.
On November 28, 2007, 1:15 o'clock Redacción MinutoDigital Finally proclaimed George Clooney to not attend the event sponsored by the PSOE in Madrid. This was announced at its own web page referring to note that our digital published on the day 22.
On 26 confirming the assistance of the American star: George Clooney possibly confirmed for Madrid event A Spanish report at Minutodigital claims George Clooney has confirmed his attendance at the first Alliance of Civilizations annual forum, to be held in Madrid, Feb. 15-16 2008. No official announcement has yet been made (see also Nov. 10 & Oct. 25 news).
But the day 27, Stan Rosenfielf 'hung' another announcement on his website: November 27 2007 George Clooney not attending ClooneyStudio.com Madrid event has been informed by publicist Stan Rosenfield that the report posted on a Spanish website, claiming George Clooney had confirmed he would attend the first annual forum Alliance of Civilizations, is "not correct" and "Mr.. Clooney will not be attending the event. " from:
google translated: LINK , read in Spanish: LINK
anyway George Cloony is also helping out at Al Gore's "Alliance for Climate Protection": read about it here. The Alliance is engaged in an unprecedented effort to convince people about "the urgency and the solvability of the climate crisis".
in between UN-Boss Moon not just met with Solana yesterday about Kosovo (see my last article), he had also to say the following: "discussions are under way to establish closer ties between the UN Alliance of Civilizations and the OSCE to promote better understanding between different ethnic and religious groups, while growing ties with the UN Office on Drugs and Crime (UNODC) have led to progress on crucial issues, including terrorism, drugs and human trafficking.
"Similarly, our economic and environmental cooperation has gone from strength to strength," Mr. Ban said, noting that the partnership between the OSCE and the UN Economic Commission for Europe (ECE), in particular, has become a model for linking conflict prevention to the underlying socio-economic drivers of unrest.
Stressing that cooperation between the two bodies is "grounded in the bedrock of shared values and a common vision," the Secretary-General highlighted the need to "identify better and more efficient ways to work together, to address existing as well as emerging needs, and to build better lives for people everywhere."
from: UN news center Nov 29.
"11Then I saw another beast, coming out of the earth. He had two horns like a lamb, but he spoke like a dragon. 12He exercised all the authority of the first beast on his behalf, and made the earth and its inhabitants worship the first beast, whose fatal wound had been healed. 13And he performed great and miraculous signs, even causing fire to come down from heaven to earth in full view of men. 14Because of the signs he was given power to do on behalf of the first beast, he deceived the inhabitants of the earth. He ordered them to set up an image in honor of the beast" revelation 13.
stay tuned!
farmer