HAHAHAHAHA! Lot's of laughter!:
"EU's Solana says Musharraf has taken "step in right direction"
Nov 29, 2007, 16:27 GMT
"

Javier Solana

, the European Union\'s foreign policy chief, on Thursday described Pakistan President Pervez Musharraf\'s honouring of his commitment to step down as chief of Army staff as \

'a step in the right direction.

\' But the EU\'s chief diplomat also renewed his request for Musharraf to lift the state of emergency and hold parliamentary elections in January. \'Today, President Pervez Musharraf has been sworn in for a new term as President of Pakistan after he honoured his commitment and stepped down

as Chief of Staff of the Army yesterday

.

This is a step in the right direction that will help Pakistan to return to the path of democracy,\'

Solana said

, "whose official title is EU High Representative for the Common Foreign and Security Policy. "
(or

EDSA/EDA Chief and

WEU Secretary-General

), and propably will stay so after his next election in 7 days:
see here on page 4:
(Link to pdf-file)
in this context Solana seems to get even more power now:
"Kosovo: UN and EU look at next move after talks collapse

"2007, New York, 29 Nov. (AKI) – United Nations secretary-general

Ban Ki-moon

and the European Union's foreign policy chief

Javier Solana

are

looking for a new way to break the deadlock over the future of Kosovo after the collapse of talks on Wednesday.

While details of the talks were not made public, negotiations centred
on the replacement of the UN administration in Kosovo (UNMIK) by European officials.
But negotiations on the status of the province, which has been under UN control since 1999, have stalled. The 16,000-strong NATO-led international forces stationed in Kosovo (KFOR) have been reinforced by 550 German soldiers now stationed in the northern part of the province, populated mostly by minority Serbs. The UN negotiating troika, consisting of US diplomat Frank Wiesner, European Union's Wolfgang Ischinger and Russia's Aleksandar Bocan Harcenko, is due to submit a report to Ban by 10 December.But Kosovo's future is uncertain and Ban was quoted as saying the situation was "difficult".Meanwhile, the Kosovo issue has disappeared from the front pages of Serbian newspapers - only daily Glas javnosti said in a front page banner that big powers, which support Kosovo 's independence, were "playing big games" over the future of the province.There has been speculation in Belgrade that ethnic Albanians would declare independence with the support of the United States and most EU countries, and that Serbian officials were contemplating how to respond to it....
".
LINK
"
Albanian President Bamir Topi met on Wednesday

,
November 21st, with EU foreign policy chief
Javier Solana
to discuss the Kosovo status issue, the current political climate in
Albania
, and reforms necessary
to join the EU.

Solana said he hopes Albania joins as soon as possible, stressing that integration is in the hands of the politicians who know they must start implementing necessary reforms
.
LINK
"During the recent talks, Serbia had offered the province autonomy but the Kosovo-Albanians, encouraged by the United States, were unwilling to compromise and have insisted on nothing short of independence. Serbia is insisting that any unilateral declaration would violate international law and is drawing up plans which may include embargos and blockades. Serbia and Russia claim an independent Kosovo could trigger a domino effect in the region.
German papers are
united in
accepting
that
Kosovo will eventually declare independence and warn that this could have serious consequences for the region and for the European Union's foreign policy.

The left-leaning Berliner Zeitung writes:
"Kosovo ... will declare independence unilaterally, probably in the spring. The politicians in the West will be able to say that they had wanted a different development and did everything conceivable to achieve that -- but things are the way they are. And it will then be time to quickly recognize this reality: the state of Kosovo...."
The center-right Frankfurter Allgemeine Zeitung writes:
"In a few days the clock will start to tick -- and then a series of events will be set in motion which has something fatalistic about it: The Kosovars will declare independence, America and the majority of EU states will recognize them, Serbia and Russia will furiously denounce the violation of international law (with Moscow playing a double game) and there will be unrest in Bosnia.

The only thing that is clear is that the international community will be present in Kosovo for a long time -- and it will also have to have a military presence."


The conservative daily Die Welt writes:

"The Balkans is going to become

a test case for Europe's foreign policy once again

. This failed miserably in the 1990s when Yugoslavia tore itself apart in a series of wars. Now the Europeans have to prove that they have learnt from previous mistakes and

can act as the peacekeeping power in the Balkans and prevent new conflicts."

-- Siobhán Dowling"
LINK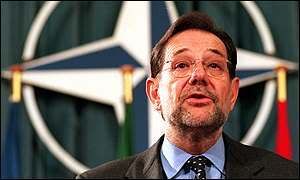 "Nato Secretary-General Javier Solana on Tuesday

ordered air strikes against Yugoslavia

,
following the failure of diplomatic efforts to secure a peace settlement on Kosovo.
The following is the text of his statement announcing that military action would ensue:
Good evening, ladies and gentlemen. I have just directed the Supreme Allied Commander Europe, General Clark, to initiate the air operations in the Federal Republic of Yugoslavia (FRY).
I have taken this decision after extensive consultations in recent days with all the Allies, and after it became clear that the final diplomatic efforts of Ambassador Holbrooke in Belgrade has not met with success.
All efforts to achieve a negotiated political solution to the Kosovo crisis have failed, and no alternative is open but to take military action. "
LINK
Constance Cumbey reported:
"On November 30, 1995, Solana was appointed as NATO Secretary General. His election was a surprise to many, including 52 United States congressmen who telegraphically protested his appointment because of his alleged Marxist and pro-Castro sympathies. He had once been on the USA's own subversive list. He had been best known, according to the Spanish press, as one of Spain's most vocal and prominent opponents of NATO. He had even once written a pamphlet, "50 Reasons to say NO to NATO."
The Secretary General of NATO usually has a ministerial role, passing on instructions from the member nations' consensus to its military components, but during his 1995 to 1999 NATO tenure, Solana was given powers to make military decisions over Yugoslavia. For example, on January 30, 1999, he was given the authority to make all further military decisions over NATO's Balkan operations, including whether or not bombings should occur. Madeleine Albright, USA Secretary of State then said by way of explanation, "Solana has the power and has had it since January 30th [ 1999]. We are speaking with one voice through Javier Solana". On March 21, 1999, USA President Bill Clinton told a national American television audience about the forthcoming bombings: "I agree with Javier Solana's decision to do this." The order to commence bombing against Yugoslavian targets was subsequently given by Solana."
stay tuned!
farmer