"
LOS ANGELES — Goblins, trolls and dragons were a breeze compared with the caustic clash of egos that kept
"The Hobbit"
in Hollywood limbo for years. But a settlement announced on Tuesday between Peter Jackson and New Line Cinema holds the promise that

peace will break out in
Middle Earth
and that fans could see the first of two resulting movies by December
2010.
"
http://www.nytimes.com/2007/12/19/movies/19jack.html?8dpc
talking about sublimal infotainment...
can one replace
Middle Earth
with
Middle East
?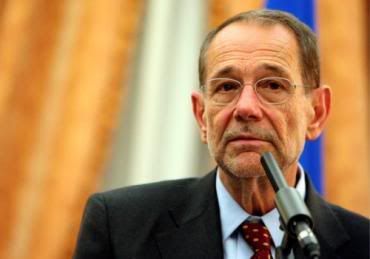 A detailed overview is given in
"Greater Middle East and Extended Mediterranean:
from confrontation to cooperation"
by Rear Admiral Alberto Cervone


Center for High Defense Studies
Deputy Director of Institute for High Defense Studies
http://www.unap.ro/ro/unitati/cnap/BucharestPaper.pdf
besides pointing to -Barcelona Process,
-Solanas 2003 Security Paper, -NATO Med. Dialogue

and

-ENP,


Cervone mentiones the "

5plus5 agreement

"

:
Launched in Rome in 1990, it involves five Maghreb countries (Tunisia, Morocco, Algeria, Mauritania and Libya) and five European countries of the Western Mediterranean Basin (France, Portugal, Spain, Italy and Malta)..
So -besides the
10 WEU Kings
- here we have another
10 kings (5 plus 5)
at the core of Solana's endaveour:
http://www.5plus5.tn/english/index_en.htm
Interesting enough, a link on the same page says (down left):
-
"Spain is ready to

reinforce

5+5 dialogue", says Spanish Foreign minister.



Peace at Middle Earth? The script I have points more to a
2x "

BATTLE OF FIVE ARMIES

" (see Wikipedia, what it has to do with the Hobbit)