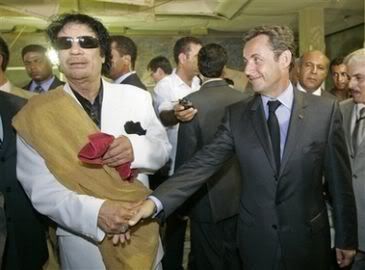 "
Prime Minister Zapatero hopes that the visit of Gadhafi can also be a jumpstart for his Alliance of the Civilizations
– a grab-bag of pseudo-intellectionalisms that promises to be, as
Elvis Costello
would say, all about "
peace, love and understanding
."
The only problem, though, is that neither Zapatero nor the rest of his team have the slightest idea how to explain their Alliance of the Civilizations – but that didn't stop the government from holding a meeting yesterday with the press to at least attempt to do so.
The shallowness of this program was obvious when one journalist asked if the
Vatican
had been asked to take part in the
Alliance of the Civilizations.
The response was "no," arguing that the government didn't feel this was the appropriate forum to mix the subject of religion.
You might guess the press was not too impressed with that answer – especially as it is specifically the issue of religion that is dividing much of the Arab and European worlds."
writes
Robert Duncan
at his blog.
http://www.speroforum.com/site/article.asp?idarticle=13086
at the same blog I find an interesting arctile on
Kathryn Kuhlmann
,
named "
Kathryn Kuhlman:

Healer and New Age diva

, Kuhlman was a founding member of a New Age movement that synchronized Christianity and spiritualism together with pop psychology and a lavish serving of capitalism."
see here:
http://www.speroforum.com/site/article.asp?idarticle=13001
Gadhafi is the guy who waits before he jumps on the bandwagon. He did same with the EUROMED initiative of Solana in 1995, where he was laughing about his Mediterran neighbours who signed a treaty with Europe first, followed by himself some months later.
By the way, me not so sure about this Vatican thing and also not so sure about the peace and love part. As a matter of fact exactly one year ago we saw Erdogan met with the Pope at the airport to talk about the Aliance of civilizations see here:
LINK
and also even the same newspaper wrote about, see here:
LINK
"
It is very important that the visit of Pope Benedict XVI coincides with a period in which the final declaration of Alliance of Civilizations Initiative Istanbul Summit was released,"
said Turkish Prime Minister Recep Tayyip Erdogan who held a news conference regarding his meeting with Pope at Ankara's Esenboga Airport on Tuesday."
LINK
After the meeting Erdogan headed further to the
NATO summit in Riga
to implement AoC there.
"

NATO Backs Turkey's Alliance of Civilizations Initiative"(

Link
) with this direct result:
"At Riga, Allied leaders launched the
NATO Training Cooperation Initiative to help train the militaries of its Mediterranean Dialogue and Istanbul Cooperation Initiative partners.
This will be done through a phased approach, first by increasing participation in existing NATO training and education programmes and partnership tools, and by establishing a
Middle East faculty at the NATO Defense College in Rome.
In a second phase, NATO could support the establishment of a
dedicated training facility in the Middle Eas
t."
On the AoC connections to the European Defence and Security Architecture I wrote already here: see also the related articles of

Rich

here.
At the same time we read also of the "flower power lamb" in the east:
"ERDOGAN: "ISLAM AND TERRORISM ARE IRRECONCILABLE"
In the central Anatolian city of Konya yesterday,
President Abdullah Gul and Prime Minister Recep Tayyip Erdogan
attended ceremonies marking the 734th anniversary of the death of mystical poet and philosopher
Rumi.
During the ceremony, Gul said that today there is a greater need than ever to understand Rumi's philosophy. "
We can make a better world if we try to understand the Rumi's call for fellowship and divine union
," Gul added. Also speaking to the ceremony, Erdogan said that Rumi's messages were meant for the entire world, adding that
Islam means peace and love
. "(sic) Islam and terrorism are irreconcilable," he said."(...)
"Prime Minister Recep Tayyip Erdogan will attend the
First Forum of the Alliance of Civilizations to be held in Madrid, Spain on Jan. 15-16.
At the meeting, Erdogan is expected to firmly rebuff efforts to downgrade Turkey's European Union membership bid to a "privileged partnership." The premier will argue that Turkey presents an
opportunity for the EU to implement the Alliance of Civilizations
, and is a model country in this project. /Turkiye/"
http://www.turkishpress.com/news.asp?id=207286&s=&i=&t=Press_Review
"In an (UN) action, the Assembly adopted a resolution
declaring 2010
the
Year of Rapprochement of Cultures
, and recommended that, during the course of this Year, appropriate events be organized on
interreligious and intercultural dialogue, including, among others, a high-level dialogue and/or informal interactive hearings with civil society."
"
same paper:"The dialogue had made use of the United Nations' potential to use interreligious peace as a means for promoting its goals in pillar areas. He called on States to use that dialogue as an impetus to acquire experience in such areas. The resolution provided a good way to do that."
http://www.reliefweb.int/rw/RWB.NSF/db900SID/EGUA-79YTWR?OpenDocument
soon more!
farmer