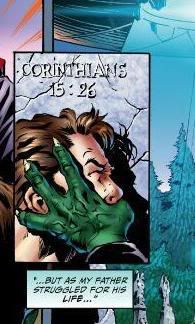 New World Order" #1, title and from page 3.
"
UN joins forces with Marvel Comics
" was the title of a news from this week..."creators of Spider-Man and the Incredible Hulk,

to create a comic book showing the international body working with superheroes to solve bloody conflicts and rid the world of disease."

But this was not the only news in this direction. Michael Patrick Sullivan announced a new comic series from 2008 January named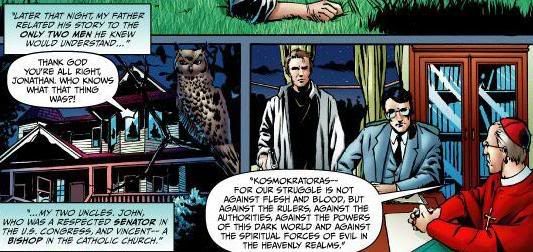 from: "New World Order" #1, page 4
What at first sight looks like a not so bad idea - main character Max shows our youth how to fight the NWO - turns out to be a bad fruit - also the side Max is on:

In the article Comic-Author

Gustavo Higuera

spoke about the philosophies behind "New World Order":
"The story is about a global movement called the Third Army whose purpose is to expose the forces of the New World Order, who wish to establish a one-world government to enslave mankind...The central characters are the Third Army's leader, Max, and a group of young truth seekers who track down the world's greatest modern revolutionary thinkers in order to prepare the world for a new age of enlightenment by the means of an intellectual re-evolution.
Enlightement by intellect? Higuera gets more concrete: "Although "New World Order" is set in a fictional world very much like our own, everything in the series comes from ideas and concepts that exist in the real world. "Even the idea of the Third Army itself has a basis in the occult and is a reflection of the underground movement led by truth seekers in the world today,".
Higuera continues: "This fascination brought me to meet Jordan Maxwell about six years ago, who became the main inspiration for 'New World Order' and a basis for the character of Max."
Jordan Maxwell is an occult researcher, author and radio host. Maxwell thinks Jesus' resurrection is meant to be a metaphor for the solstice. Interesting enough The first sentence in the comic is: "The sun was rising in the East".("N.W.O.", p.1.)
Maxwell also thinks that Christians have been fooled by these secret societies into believing it to be literal truth or parable. LINK So whom should we trust more (Jordan) Max(-well) or the WORD of GOD (John1,1)? I stay with the Lord, but Higuera gives his answer already at page 5:
from: "New World Order" #1, page 5
"I am very passionate about many of the themes the comic book explores," the author said. "The destruction of the environment, the quest for truth and knowledge, the search for peace and end to war, these are all things that are very dear to me and you can see it in the story of my comic. Higuera added, "I really try to make a point not to jump to any conclusions in my comic, though, but rather my hopes are that it will inspire readers to 'do their homework,' and perhaps in the process they will discover ideas and concepts they may not have even known existed because, in essence, the readers are the real Third Army and it's up to them to make a choice for a better tomorrow."
A better tomorrow? with knowledge to peace and clean enviroment? Mother Gaiya your goal?
This clearly reminds me of a speech from EU Commission chief Manuel Barroso, attended by Javier Solana in Japan march 2007. Titled
it ended:
"...We need to better produce, transmit and exploit knowledge, translating it into economically successful applications, products and services. And, we need to mobilise and coordinate our public policies to optimise the conditions for our knowledge economy...
Ladies and Gentlemen, We have much to do to translate this agenda into action. But, I firmly believe a knowledge renaissance is the key to preserving our fundamental values and standard of living for the future. By working together, Japan and the EU stand the best chance of becoming the vibrant knowledge economies of wealth creation. The time has come to move our relationship up a gear. Only that way will we realise our mutual ambition of a peaceful, environmentally sustainable and prosperous world for all. I count on your contribution, as academics, students, scientists and researchers, and as friends of the European Union, to push us in the right direction."
But this surely must be a mistake from my side, as Javier Solana assured us at Christmas, that he - here asked if he thinks about getting EU-HR in 2009:
"I never made plans for anything and also not in this case I will not do so.
I live happy totally in the presence."
LINK(German article)-see last answer

Good for you, that you will have a "Third" army at your hand, earliest at 2010. Headline goal.
For Higuera, I wholeheartly wish that you would find your Saviour – He is the end of your search. Maxwell may be the "Godfather of Secret Societies", but Maxwell does not wait for you at the end of the road for you.


stay tuned!
farmer