...for the First big AoC-Forum
ALLIANCE OF CIVILIZATIONS ANNUAL FORUM
15-16 JANUARY, MADRID, SPAIN...
Just in time, - 26 days before its start- , the German newspaper SPIEGEL publishes
the result of a survey of the State of Germany:

"Interior Ministry Warns of Radicalization of Muslims
A new study commissioned by Germany's Interior Ministry warns of a growing threat from the radicalization of Muslims in the country. Six percent of Muslims in Germany support violence in the name of Islam, the authors write"....

"The study, which was carried out by Katrin Brettfeld and Peter Wetzels from the Institute for Criminology at the University of Hamburg, was commissioned by the Interior Ministry in an attempt to finding out the extent to which the Muslim community in Germany provides a breeding ground for extremist groups and potential terrorists. The authors interviewed 1,750 Muslims living in Germany for the study. Of that number, around 40 percent had German citizenship.
'Fundamental Religious Orientation'
In the introduction to the report, Interior Minister Wolfgang Schäuble writes that the study leads to the "worrying conclusion that a serious potential for Islamist radicalization has developed in Germany." According to Schäuble, the lack of integration of immigrants into German society is leading to a "fundamental religious orientation..."
click to read the whole report: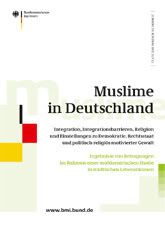 click the picture to see the survey
(until now avaiable just in German).
And in the
European Parliament
MEPs on Dec.18 called on EU Member States to consider amending the definition of terrorist offences and applicable penalties. An own-initiative report,
drafted by Spanish

Jaime Mayor Oreja

(EPP-ED, ES) and
adopted by the Civil Liberties Commitee on 18 December sets out recommendations to Council on how to prevent radicalisation and recruitment of terrorists.
After their news,
"a political strategy for neutralising the dissemination of messages instigating violence should include the

education and social integration of individuals

and

better monitoring of the use of the internet

for propaganda purposes, they say.
Preventive measures

must be based

upon

avoiding social isolation, building trust and confidence in society or promoting the U.N. concept of
the

alliance of civilizations

, MEPs conclude."

(sic).


LINK

stay tuned!
farmer