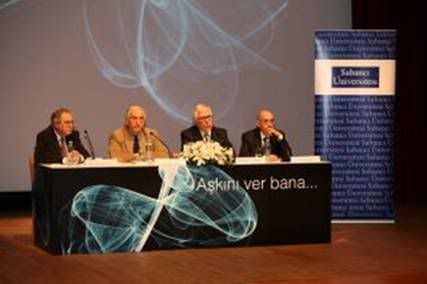 A lot today, that's why I will just point to the essence here,
please follow the links provided for more...
Solana
at
ISS
(
see Nr. 2 of my first post this year about the background of this Institute
)
Annual Conference 2007 Nov, 22 gives the lead:
"
We must get better at pooling our knowledge. ...There is not enough cross-fertilisation
".
see full text here
And even more interesting than Solana's speech was the presence of

Prof.Dr. Mehmet AYDIN
Minister of State of the Republic of Turkey, and what he had brought to this convention of EU military people and ideologists in Paris. Who is this guy? see for yourself from his
Intervention "MULTILATERALISM IN LIGHT OF DEMOCRATIC AND COMMONLY-SHARED VALUES":
"I would like to continue my speech with two quotations from the UN Report on
"Alliance of Civilizations"
- an initiative that was put forward and fully supported by Spain and Turkey, and
co-chaired by me
and by Federico Mayor, the former Directory General of UNESCO." He continues:
"The Report formulates one of its "guiding principles" as follows:
An increasingly interdependent and globalized world can be regulated only
through
the rule of law and an effective multilateral system
with United
Nations system and its core.
This requires
adherence to international law and covenants
including all rights and responsibilities governing the conduct of
war as articulated in International Humanitarian Law (particularly the Geneva
Conventions), respect for the institutions that establish them……"
"...I mean the values that are universalistic in some
important sense, and
over which no culture, no religion, no continent can have the right to
claim monopoly.
In other words, they are not Christian, or Judeo-Christian, or European, or Islamic values. They belong, to all of us, "us", us humans, and they should remain with all of us. This fact is
secured both ontologically and epistemologically
: We know that these values are.
Our differences lie not

in ordo essendi

nor in

ordo cognoscendi

, but in the order of
praxis.
(Farmer: this can be translated: "we believe all in the same (God), just expressing it in different ways")
"The undeniable fact that these values have so far had more chance in the Western
praxis to develop does not make them exclusively Western. To think otherwise is, to destroy
bridges between communities, cultures and civilizations and thus ultimately pave the way for
dividing world that may easily result in weakening our hope for a unity in diversity.
Let me make it clear: No one has the right to object to "cultural" arguments that are
usually the expressions of cultural identities.
We all have to be against "culturalist"
arguments that are mainly essentialist, fundamentalist, divisive, exclusivist and even racialist.
They are emotional rather than rational; hence their power in the streets even in the European
street.
Despite all this, however, I am quite optimistic regarding dialogical encounter,
civilizational alliance
, the
future of international institutions and multilateral policies
. "
http://www.iss-eu.org/activ/content/ac07-04.pdf
Aydin
, the guy presenting here right after Solana at the Europe Union Institute for Security Studies, part of the 10-Kings W.E.U., seems to be also a Rumi-fan (the poet who suggested to leave Jesus behind and go on to enlightement) and of dialogical Derwish-dance...
LINK:
No wonder that also the Swiss/German priest and one of Kathami's DoC's 19 "eminent persons" (prerunner of AoC).
Hans Küng
plays also a role in Aydins speech. Küng is also President of the
Foundation for a Global Ethic
(
Stiftung Weltethos
). read his revealing
bio at Wikipedia.
Küng just received a
Masonic award
for his life work,
LINK
.
Already on 30 October the ISS held a one-day conference (socalled Transatlantic Forum 2007) on
"Peace in the Middle East: Is there a way forward?"
in Washington DC.
The Portuguese EU Presidency and the Delegation of the
European Commission collaborated on the organisation of this event. In order to avoid
controversy and emphasise the European identity and ownership of this event, the EUISS
decided against teaming up with any particular American think-tank. However, prominent
members of the leading Washington think-tank community were invited as speakers and
participants. The American participants welcomed the EUISS initiative to hold this
conference and to establish a more permanent presence in Washington DC.
Among the ideas in the conlcusion were:
"With trust between the
Palestinians and the Israelis being so low it is essential that the international
community gets involved and act as the guarantor of security. This should include a
possibility of a tangible military presence on the ground. In the past Israel strongly
objected to the idea of an international peacekeeping force, but it came to accept this
notion following the war with Hezbollah in 2006.
The presence of an international
peacekeeping force in southern Lebanon could serve as a precedent to be replicated in
the Palestinian-Israeli context.
"
read all of this text here
another topic was:
"
Territory: contiguity and Jerusalem"
see all of the programm and participants and all these institutions again
(Brookings, Chatham House, Carnegie,...)
here:
http://www.iss-eu.org/activ/content/prog16.pdf
Funny enough the man who opened this Forum was
Luís DE ALMEIDA SAMPAIO
.
(The other
Sampaio
(Jorges de) is boss of the Alliance of civilizations, as you know.
But see what interesting guy this Luis is:
here
Among others I found out about him:
"In December 1997,

at the suggestion

of the Secretary General of NATO,

Dr.
Javier Solana

,

on a proposal from the Portuguese authorities he has been designated by the NATO and Diplomatic Adviser policy and the International Stabilization Force (SFOR) Peace in Bosnia Herzegovina, and started the office, in Sarajevo, on January 1, 1998.
These responsibilities included the political advice of all operations of SFOR, negotiations with the factions Bosnia, Serbia and Croatian, present there, the connection with the High Representative of the International Community, a regular information to the Council of Atântico North and the Secretary General of NATO on the development of the situation on the ground and the connection with the Supreme Commander of Allied Forces in Europe (SACEUR), General

Wesley Clark

."

(see biography, link before).

All this mounts to another paper I found today
from the U.S. Department of Justice a
"transcript of a European Union/United States Justice and Home Affairs
Ministerial Press Conference, from dec.11:
Joining
GENERAL MUKASEY
were
Secretary Michael Chertoff
of the Department
of Homeland Security; Vice President of the European Commission for
Justice, Freedom and Security,
Franco Frattini
; and representing the
Portuguese presidency of the E.U. are the Minister of Justice of Portugal
Alberto Costa
, and the Minister of Interior of Portugal
Rui Pereira
.
Plus
the Slovenian Interior
Minister
Dragutin Mate
and Slovenian State Secretary
Robert Marolt
.
as Slowenia
takes on the E.U. presidency for the first half of 2008.


(for the occult basis of their EU-presidency-logo scroll down at my FP-post here:)

http://fulfilledprophecy.com/bb/viewtopic.php?t=34385
Anyway, the transcript's text reads:
"
After reviewing the record of our achievements together
since September 11, 2001, I fully agree with the statement that was made by
E.U. High Representative 

Javier Solana

 that 

our joint action to fight
international terrorism

 is, as he put it, one of the unsung transatlantic
success stories. At our meeting today, we discussed a number of joint
responses to terrorism, including our continuing efforts to deal with the
problem of radicalization

...."
"...I am pleased to report that the administration is preparing
to transmit the landmark E.U.-U.S. Extradition and Mutual Legal Assistance
Treaties to the Senate for its advice and consent, and we look forward to
working with the Senate on those treaties. We also look forward to
deepening our engagement with EuroPol and EuroJust in the coming year, both
who are designated representatives to those organizations, and through
further meetings such as the one held this year at EuroJust on
international organized crime."

Pereira spreaks of "
"This is why it's necessary to fight firmly this kind of terrorism
and it's necessary to 

fight on the area of prevention,


most importantly, avoiding radicalization,
avoiding recruitment of newagents for terrorism.
Because our communities are vulnerable
to thesemaneuvers of getting more people."

And EU VICE Frattini praises:


 "

We focused on radicalization and recruitment of terrorists.
I'veinformed all the American friends,
in particular the Attorney General andSecretary Chertoff,
about some ongoing initiatives already undertaken,
likea collection of best practices in all 27 member states,


about how to

address radicalization,


how to 

counter spreading messages of violence inprisons, 




in schools, among younger generations.


And how to tackle violent radicalization by promoting positive messages in Europe
and outside Europe.
For example, by improving capacity of moderate Muslims to speak
and to

promote messages of tolerance and cooperation.




The results of all these

studies will be published in early 2008,
in the first weeks of January.
(farmer:just in time with the big AoC meeting in Madrid, January 15.)



"I 

said, I'm ready to share all the information with my American friends.


Europe is ready to cooperate.

 

Then they continue among other things to speak about Biometric Control Systems and
"

 

But I think it's the most important part that we made decision today
that we will continue with the work of high-level working group, we will
continue that work in January, and we will have the political framework in
March when we will have the next meeting, United States-European Union, and
where we can put together the whole framework, the political framework of
the goals that we want to reach. That's crucial. 

We must have ambitious
plans and if we have those ambitious plans, we can come closer to that
cooperation between Europe and United States.

 That cooperation is crucial
for the security of both partners in that relation, for United States and
for European Union.
Link

please read also the latest related article at Richs blog: Dictator at the door,
if you haven't yet!
stay tuned!
farmer