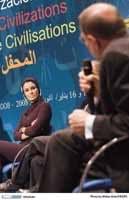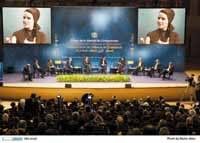 Solana: arrival with Ban Ki-Moon, on stage as one of 10. (click first picture to see You-Tube video).
MADRID • The First AoC Forum kicked off yesterday.
A $100m media fund has been established to create films that "entertain and enlighten", Queen Noor of Jordan has announced. She said the fund would "promote, support and sustain media content to enhance mutual understanding and respect among different cultures and religions. She said it "breaks" her heart when children in countries around the world "internalize" the biases they see in film, especially about people who look different and pray differently.

Sir Richart Branson

Among those involved in the fund are UK businessman Sir Richard Branson, Participant Productions (makers of Syriana (staring George Clooney) and more recently The Kite Runner),
Hollywood's largest talent agency International Creative Management and distribution giant Summit Entertainment. You Tube will also host a dedicated channel for the Alliance of Civilizations Media Fund content. UN chief Ban told delegates the fund would seek to "counter ugly stereotypes in popular culture."Another project is a Rapid Response Media Mechanism, aimed at reducing tensions in times of cross-cultural crises. "If a new crisis erupts on this front, a rapid response mechanism
will furnish voices of reason to reporters and producers around the world," said Ban.
Sources: The Peninsula LINK, AfP, LINK, Reuters
Protesters stay out from the Forum: video at 1:19. (click picture to see)
The countries involved should "tenaciously" seek to apply "

concrete programmes

," European Union foreign policy chief

Javier Solana

said at the alliance's first annual forum, which began in Madrid. "

We do not need new documents, but they need to be applied

," Solana said,

pointing out that many of the alliance's ideas were already contained in EU legislation

. The countries involved should not "just hold meetings, but the meetings need to serve to solve problems,"

Solana insisted

.
LINK


He also

urged on Tuesday also parties concerned in the Middle East to stop the cycle of violence

.
"The casualties resulting from today's events in Gaza as well as

in a nearby farming community across the border with Israel"

and continued firing to Israel were a stark reminder of the urgent need to advance on the path to a negotiated settlement of the Israeli-Palestinian conflict set out in Annapolis, he said in a statement posted on the European Council's website. "I call on all concerned to exercise restraint and to

stop the cycle of violence

which will only feed new atrocities and lead to further suffering by the people in the region."
http://news.xinhuanet.com/english/2008-01/16/content_7428313.htm
"The beast was given a mouth to utter proud words and blasphemies and to exercise his authority for forty-two months. He opened his mouth to blaspheme God, and to slander his name and his dwelling place and those who live in heaven. He was given power to make war against the saints and to conquer them.
And he was given authority over every tribe, people, language and nation.
All inhabitants of the earth will worship the beast—all whose names have not been written in


the book of life belonging to the Lamb that was slain from the creation of the world

."
Revelation 13.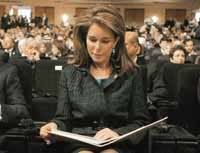 Jordan's Queen Noor reading (Reuters)