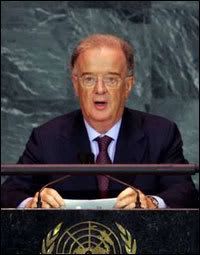 parts from:
"Alliance of Civilizations Forum


When the United Nations launched the Alliance of Civilizations in 2006, many preferred to compare it to a half-empty glass rather than to a half-full one. And it was received with some skepticism for various reasons.

Either because it lay itself open to the very theories of a shock of civilization that it was intended, but was unable, to combat; or because it added to a plethora of existing initiatives; or because its aims were completely disproportionate to the scant means at its disposal; or yet because, within the framework of the global fight against terrorism, it sounded more like heavenly music than a bugle-call of foreign policy.

In May 2007, when I was appointed high representative, my motto was caution, confidence was my battle cry and certainty that the alliance would fill a political void my epigraph.
...

The expectations surrounding the Forum is threefold: it will mark a strong moment in the commitment by governments and by the international community to invest in the Alliance as a global space of governance of cultural diversity as the fourth pillar of sustainable development.

And it will be a laboratory for partnerships and for the launch of joint field-work involving practical projects in the areas of education, youth, the media and migrations.

Last, it will mobilize public opinion around the Alliance so as to turn it into an initiative open to citizen participation.

At the Madrid Forum, therefore, the Alliance will be provided new drive that, I hope, will mark its definitive turning point to concrete, practical field work. A great deal of its future will be played in 2008.

Either we shall be able to divulge the Alliance and anchor the regional processes under way, integrating it into the respective agendas (I am thinking of the European Union, the Arab League, the Organization of the Islamic Conference, the Asia-Pacific Economic Cooperation, Ibero-America, the African Union, the Council of Europe, for example), or we shall find it hard to double the cape of good intentions.

Either we shall be able to include it in the states' internal agendas, or we shall be left standing in the field of debates and rhetoric.

Either we shall succeed in mobilizing civil society or we shall compromise our ultimate goal, which is to aim for small improvements in the field that will bring fresh hope to the people.

In our world marked by such profound imbalances, it is not just the planet that is showing an advanced state of degradation, but also human atmosphere.

Nevertheless, if we united our efforts we will be able to improve dialogue between mankind, to turn cultural and religious diversity into an opportunity for true, sustainable development of societies worldwide.

We know that the history of nations, of religions and of civilizations is made up of light and dark, that periods of peace have alternated with those of war, moments of confrontation, conflict and intolerance with a will for dialogue, for openness to our fellow men, for a culture of difference, tolerance and universal values.

The complex, demanding dialogue of civilizations, cultures and religions is necessary, possible and fruitful.

It is the best counterpoint for isolation, mistrust and confrontation, and also the most powerful incentive to openness, understanding and tolerance.

But it also shows us that it is not easy and that, if not taught and cultivated, it gives way to monologue or silence, almost always the yeast of dangerous extremist attitudes and fanatical urges.

Indeed, at times, cultures also tend to affirm their identities through confrontation with others. And cultural peculiarities, legitimized by religious or ethnic factors, have acted as vectors of conflict and domination.

Each civilization, each religion and each culture, within itself, must therefore be tolerant and recognize freedom of conscience and the right to difference.

Not only because intolerance of a culture or religion is proportional to intolerance within itself but also because intolerance of a culture or religion is not stable but varied throughout time.

The complex international situation created in the wake of Sept. 11, as well as of all the other terrorist attacks that have constantly marked this decade, has turned dialogue between civilizations, religions and cultures into a humanitarian urgency that cannot be postponed.

Therefore, the Alliance of Civilizations is the right initiative, at the right time. Together, we shall work to ensure that it will also bring about the right results, not some day, but right now, at the forum. Let us hope that this will be so!

Jorge Sampaio, U.N. high representative for the Alliance of Civilization and the former Portuguese president, contributed the following article to The Korea Times on the occasion of the Alliance of Civilizations Forum that will be held on Jan. 15 in Madrid, Spain. ― ED."
http://www.koreatimes.co.kr/www/news/opinon/2008/01/137_17260.html