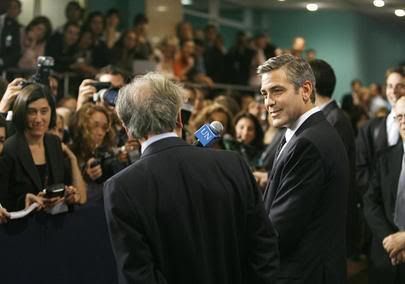 The

Major Outcomes

of the

Alliance of Civilizations Forum

are posted on their website and accessable here: http://unaoc.org/content/view/225/73/lang,english/

In between we see, hear and read that actor, filmmaker

George Clooney

has been picked by Secretary-General

Ban Ki-moon

as a "United Nations Messenger of Peace".In April 2007, "Not on Our Watch," a non-profit organization in which influential people in the arts highlight mass atrocities worldwide, was co-founded by Mr. Clooney and several other US film industry leaders.

Current Messengers of Peace and their areas of focus are

Princess Haya Bint Al Hussein of Jordan (Millennium Development Goals and hunger); conductor Daniel Barenboim (peace and tolerance); and here we go again author Paulo Coelho (intercultural dialogue); actor Michael Douglas (disarmament and peace and security); primatologist Jane Goodall (the environment); violinist Midori Goto (Millennium Development Goals and youth); cellist Yo-Yo Ma (youth); and Nobel Laureate Elie Wiesel (human rights and the Holocaust). (source: UN)
Matthew Russell

Lee from
Innercitypress has some interesting things to say on this too, I cite::

"

At UN, Clooney Announcement but No Answers on Darfur Nor Alliance of Civilizations"
"Inner City Press asked about a story it had already reported, that the UN Department of Field Support lobbied Sudan to let Clooney into the country. UN spokesperson Michele Montas answered, "I cannot confirm this. I do not know. What I have on the announcement is what I have." So is the officer of charge of DFS currently in Sudan? That can't be confirmed either."
Video included, see link below, from Minute 15:28.
Other unanswered questions accumulated through the week. On Thursday, a UN response was sought to a European Court of Justice decision which in essence make the UN terrorism block list inapplicable in Europe, due to the lack of due process it affords to people put on the list. Any reaction? "I'll try to find out for you. We don't have anything at this point, but I'll get some answers for you." Transcript here. Thirty hours later, nothing.
How about the claim by Kemal Dervis of the UN Development Program, that the UN Department of Management is conducting a review of housing subsidies by governments to high UN officials? "I will ask whether there is a review under way. I had said there are rules. Of course we can ask for you." That is, a commitment was made to look into it, but nothing's been said so far. Likewise on the Alliance of Civilizations, a commitment was made to provide budget and other information, video here, but nothing was ever sent..."
stay tuned!
farmer