In this post you will read about:
- another prize which was just awarded to Dr. Solana,
- details from his so far hidden speech at the Madrid AoC-Forum where he speaks about "misuse of diversity",
- about his special way to make contacts: getting personal!,
- the influence of the Spanish "Institute of Freedom of Education",

- the generational meaning of the contact between Salvador de Madariaga and Dr. Blas Cabrera

Solana between works of Agustin Ibarrola
The
Fernando April Martonell Foundation
has decided to give it's annual prize
to
Javier Solana
, High Representative of the European Union for the Common Foreign and Security Policy.

The decision was taken

unanimously
,
and the award - symbolized in
a sculpture made exclusivly for the occasion
by Agustin Ibarrola - will be delivered during the "Harmony dinner",

which once a year brings together many personalities of the political life in Spain at the end of march.

This time, the jury has chosen Solana as the

nineth

to receive this prize for "his hard work and dedication with the establishment and development of a common European foreign policy, known to be an important factor for identity and cohesion of the EU, leading to the construction of stability scenarios and international harmony. " It has valued "in particular
the contribution of Javier Solana strengthening the presence
of Spain.

Link 1
Link2
Just a day before on January 15, Solana had held his so-far hidden speech at the
AoC-Forum
:
-"The conflict is historically on water, land, natural resources and poverty," he said.
-"We can not resolve conflicts through dialogue and cultural debate," added Spanish. Link3
-Also the AoC-Forum participant from Jordania,

Jamal Al-Tahat

, in his speech "Being understood – a basic human right" refers to Solana's speech:
"Javier Solana, the High Representative for the Common Foreign and Security Policy and Secretary-General of the European Union, asserted in a speech at one of the sessions that ideological struggles are about the relation between power and interests. "
Al Tahat continues:
"Based on this convincing concept, one may say that intentional and carefully produced ignorance in contemporary cultures is an industry featuring various styles, models and trademarks, such as stereotyping in the West or inadequate and misleading textbooks in the Arab world.
This industry`s tools are utilised by extremists, warmongers and conflict peddlers at a great cost to society and global security.
Western stereotyping of Arabs and deficient academic resources in Arab schools both manufacture ignorance and spread it to a wide audience. But even if we succeed in eliminating stereotyping in western media and successfully reform Arabic curricula, warmongers would manage to find alternative tools to promote ignorance.

Link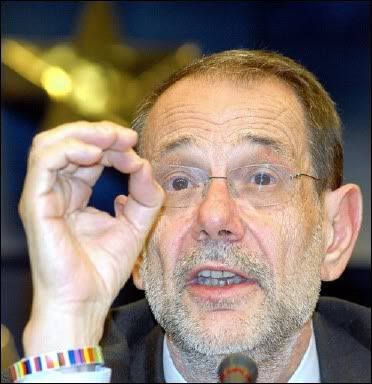 -Solana urged NATO nations to implement "specific programmes"
The representative for the Common Foreign and Security Policy believes that
"the threat is the
misuse of diversity among peoples"
and he stressed the will of the forum to "
go beyond the words
" He urged all participants in the Forum of civilizations to work with "tenacity" in implementing "specific programmes" that the solution to problems...In his speech, Solana noted that "in this world in which the identities and diversity highlights," Diversity is not a threat in itself, but that "
the threat is the use and manipulation that makes those differences
".Solana pointed out that to go to the root of the problems and that it is necessary "to carry out the policies with tenacity.""We do not need new documents, it must just be applied," he said. In their statements, Solana said that "the important thing is to have
results,
make
decisions
and move not only with words but with
deeds
."
As a European representative he stressed that the most important contribution of the EU is the fact that most
member countries
, "friends of the alliance of civilizations, and are involved at the highest level" with this initiative. Also the
EU
itself supports the ideas of the Alliance of Civilizations, of which many are already contained in or are laws of the European Union and works with those since longtime.
In this regard, he stressed that in this forum there is a "willingness to go beyond words, to the facts and to the specific programmes", and urged participating countries to "mobilize specific programmes, which are not left only in meetings to discuss the issues, but the meetings will serve to solve the problems. "
Link
In a short description about Solana, the Spanish El-Pais writes, that during his flights Solana has always with him

his inseparable notebook

. "More than 300 books of chronological record his thoughts and proposals. All with a neatness and enviable calligraphy. It is the life of the unknown Solana, the airtight, who devours reports and keeps his secrets with extreme zeal". I quote more from the article:

"The strategy is based on his travel intense preparation off the ground. Numerous telephone contacts with his previous partners, many of whom end up being his friends. "Solana is a master at linking personal and professional relationships," says one of his former colleagues. But he is also

demanding to cruelty

himself sometimes with

impact until the pain

also with his closest collaborators, although some are faithful to him twenty years. Having reached the destination, he begins interviews with his partners, which always end up with a constant question: "How could we remain in touch?" A few days ago he left an astounded Yang Jiechi, the Foreign Minister of China, who responded: "through the official channels" "No, no," Solana insisted, "

I want your phone, your private email, we need to stay in touch

." Thus,

tenacity

has been built with

a selected professional staff with the most important actors in international politics

. In the midst of war in Lebanon last summer, the trip included private meetings with the president of Lebanon, Fuad Siniora, with Saad Hariri, son of assassinated former prime minister, and Sabish Berri, close to the militia Hezbollah. In Israel, had a lengthy meeting with the prime minister, Ehud Olmert, and in the Palestinian territories with the president of the Palestinian National Authority, Mahmoud Abbas.

Always go to everyone.

It is the network Solana. The dense spider's web of contacts leads to more unexpected levels. He has become a frequent visiter of anniversary celebrations of

Magdeleine Albright

, former secretary of State. He maintains a very close relationship with

Bill and Hillary Clinton

and also visits frequently the former Secretary of State

Henry Kissinger

. In Washington, however, has been his most and least. During the mandate of the Secretary of State of Defense Donald Rumsfeld he never put his feet in the Pentagon. Later, with his deputy,

Robert Gates, and Secretary of State Condoleezza Rice

, relations have improved considerably. His "UN man" was the former secretary general

Kofi Annan

. In the Middle East,

Shimon Peres

and

Yasser Arafat

disappeared,

he was their guides

. In the EU, has maintained a special chemistry with the former Swedish prime minister

Göran Person

. The Solana network also covers Russia. The former Foreignchief

Igor Ivanov

is among his closest friends and the president,

Vladimir Putin,

has already led him to his dacha."
.
.."The arrival of democracy after the death of Franco in 1975, also put an end to his scientific career. The path of a researcher who had begun following in the footsteps of

his
father, a renowned professor of chemistry
, was truncated to surrender fully to politics. First as a deputy in the opposition. Since 1982, he participated in all the governments of
Gonzalez
, successively
occuping the portfolios of Culture, Government Spokesman, Education and Foreign Affairs
. The experience also led out Government corrections. Anyone who had been the author of
50 reasons to say no to NATO
, had to campaign in favour. Foreign Policy demanded to redouble efforts to master the jargon and to penetrate the elitist world of diplomacy. With His international contacts
he expanded his field of fire
.
The presidency of Spain for the EU in July 1995, was a new lever to potenciarle in the chancelleries of Europe.
The fortuitous opportunity came in November of that year after the unexpected resignation of the secretary general of NATO, Willy Claes, because of domestic corruption. The Minister of Foreign Affairs of Germany Klaus Kinkel, his Italian counterpart, Sussana Agnelli, and especially the British premier Tony Blair, then took a gamble at him. The man next to Narcis Serra was better placed to get Moncloa chosen. The decision took him and Gonzalez together, thinking about what it would be relevant to the national interest that a Spanish take command of NATO. The final push came from the hand of Clinton, who was in Madrid for a pact expressly with Gonzalez. Their training and Anglo-Saxon liberalism that had absorbed part of his family formed at the Institute of Freedom of Education (Instituto Libre de Enseñanza), played much in their favor". Link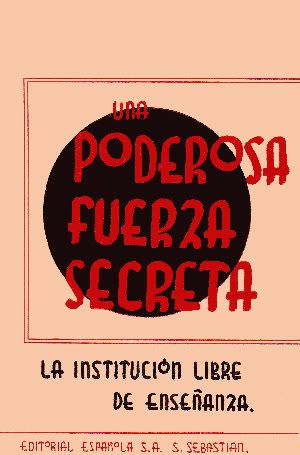 "the secret of a powerful force" - ILE,
First edition,
Editorial Española, SA

Publisher Ireland Limited
Padre Larroca, núm.

Father Larroca, Vol. 9
San Sebastián

San Sebastian
1940
Printing Tradicionalista. Ibiza, 11, Madrid Ibiza, 11, Madrid
http://www.filosofia.org/aut/ile/index.htm
farmer: The Institute of Freedom of Education (ILE) was a fmous educational attempt that took place in Spain, inspired by the philosophy of Karl Friedrich Christian Krause (Krausismo - a German philosopher who coined the term "panentheism" and followed Masonic philosophers like Hegel and Fichte), which had a unique impact on the intellectual life of the nation, and played a key for renewal. It was created in 1876 by a group of professors (Francisco Giner de los Rios, Gumersindo and Nicolás de Azcárate Salmerón, etc.) and separated from the University Central de Madrid for defending academic freedom and refuse to adjust their lessons to any dogma official religious, political or moral. It was an outspoken anticlerical, communist movement and until the Civil War (1936-1939) it became the focal point of an entire era of Spanish culture. Read more on their idelogical background by their own introduction: Link

We find the following contributors in the Bulletin of ILE: Bertrand Russell, Henri Bergson, Charles Darwin, John Dewey, Santiago Ramon y Cajal, Miguel de Unamuno, Maria Montessori, Leon Tolstoy, H. G. Wells, Rabindranath Tagore, Juan Ramon Jimenez, Gabriela Mistral, Benito Perez Galdos, Emilia Pardo Bazán, Azorín, Eugene d'Ors or Ramon Perez de Ayala, some of them closely linked to the institution, as Julian Sanz River, Antonio Machado Alvarez Antonio Machado and his brother Manuel Machado, Julio Rey Pastor, Luis Simarro, Nicholas Achúcarro, Francisco Barnés or Alice Pestana.
The "

generation of 27

" is, in some ways an offshoot and work of the ILE, was undoubtedly achieve harmony cultural and scientific fields with Europe shortly before all this modernization effort will come down with the

Spanish Civil War

, during which were confiscated all their property and
most of the institucionistas had to go into exile,
while those who remained had to deal with censorship, persecution or overt or covert ninguneo of their work. Outside, exile dispersed by Europe and

particularly Latin America

, where it prospered the work of the cultural life of these countries.

The influx of the ILE was crucial for the authorities to undertake

a series of reforms that Spain needed in the fields legal, educational and social fields.

It created bodies like the National Museum of Education and the Board of Studies for Enlargement,

whose role was to send students scholarships to study abroad.

It depended on the aforementioned Historical Studies Centre,
the National Institute of Physical Sciences and Chemistry
established
on the streets of Pinar Madrid was

a true nursery of writers

and artists and
the place where Albert Einstein was one of the lectures offered on his trip to Spain in 1923.
And now guess whom Dr. Albert Einstein visited?


It was

Dr. Blas Cabrera

,
the head of a modern and well equipped laboratory of physics and

chemistry

.

In 1928 Cabrera was elected a member of the French Academy of Sciences, being sponsored by physicists Pierre Langevin and Maurice de Broglie. That year was greater recognition of his entire career: proposed by Albert Einstein and Marie Curie, Cabrera was appointed a member of the Scientific Committee of the Sixth Conference Solvay. The congresses, three-year periodicity, met to the best of the physical world. At this conference, held in 1930, Cabrera participated in a paper entitled "The magnetic properties of matter.

In 1931 he was appointed rector of the Central University of Madrid

. A year later, along with other scientists, such as Miguel Angel Catalan or his disciple, Julio Palacios, promoted the creation of

the National Institute of Physics and Chemistry

,

with the help of a grant from the Rockefeller Foundation, and located in the building called Rockefeller Calle Serrano in Madrid

(today is the Institute of Physical Chemistry-Rocasolano, the Higher Council for Scientific Research).
They even named it

"Rockefeller Institute", see it here with all its MASONIC connections:

LINK(and look after the Link with the R.Insitute under "
Free and Institution Education.
II.
Los instrumentos oficiales
Instruments official"
)
or see original: http://www.filosofia.org/aut/ile/1940p197.htm


Could it be that

Francisco Solana

, father of Javier Solana, worked there as a

Profesor for Chemistry

, and that the powers want to hide that fact? Why do I think this? Let's see more of the family story:

In 1937, the president of the International Bureau of Weights and Measures, Pieter Zeeman, named Cabrera secretary of the Office, a post he occupied between 1937 and 1941, going to live

in Paris.

However, after the end of the war, the Franco government requires his departure, even though it has no value because representative with respect to Spain. Cabrera resigned and went into

exile in Mexico

. He died in exile there in 1945. Link
Now, who went with him to the exile?
"Blas Cabrera, the physicist canary who did so much for that physics Spanish left in the dark niche that was in the early twentieth century. I recall now, in this very solemn occasion for me, that the Spanish Royal Academy, which received a Cabrera on January 26, 1936, in this very room where I am now, in this very place (I think excited) desoyó the office received from the Ministry of National Education on June 5, 1941, which ordered the removal from office, for political reasons, of

six of its members:

Ignacio Bolivar, Niceto Alcala Zamora, Tomas Tomas Navarro, Enrique Diez Canedo, Salvador de Madariaga

and

Blas Cabrera." Link

Madariaga the grand-father of Javier Solana had been also in Paris before hurrying to Mexico.

Alsothis link mentions the two in the Mexican exile ("EXILIO I (América, 1939-1953)
"),

and also on the same page as an Exile in

Rome,

Solanas mother with a new friend:


"EXILIO II (Europa, 1953-1980)

EXILE II (1953-1980)
En 1953 las hermanas Zambrano abandonan América y continúan su

exilio en Roma

, donde entran en contacto con Elena Croce, Elemire Zolla, Cristina Campo; María se reencuentra con Diego de Mesa,


Nieves de Madariaga

y su amigo Juan Soriano, con Rafael Alberti, María Teresa León, y con los pintores Ramón Gaya y Timothy Osborne".Link

Back to the Rockefeller financed Blas Cabrera. He had a son: Nicolás Cabrera, who was an outstanding scientist who strongly influenced the development of Physics in Spain.
"As with many other Spanish scientists, writers and artists, (N.) Cabrera was exiled as a consequence of the civil war. Before this, the new physics developed mainly in Europe had also permeated Spanish society. This led talented young people to go abroad to learn in the most prestigious laboratories. He made an important experimental contribution to magnetism, and it was on this subject that Nicolás Cabrera performed his first experiments under the supervision of S Velayos.
At that time, scientists such as Santiago Ramón y Cajal, Blas Cabrera and others contributed, through their talent and efforts, to a small `golden age' of Spanish science. Civil war swept away all this blossoming activity. More than thirty years later, Nicolás often dreamt of emulating his father's endeavours for the development of science in Spain.
The opportunity came in the 1960s when he accepted the offer of the Spanish Minister of Education, Villar Palasí to set up the Department of Physics of the new Universidad Autónoma de Madrid. In this he encouraged Cabrera to adopt the same criteria of quality and efficiency that he had used as head of a new department in the University of Virginia. For many young people beginning their careers in physics then, myself included, Cabrera was a mythical figure. His return to Spain with the aim of forming a new and modern Department of Physics was very exciting for us, and we wanted to be part of it. His great talent and personal qualities enabled him to quickly assemble an excellent group of young scientists. He was granted autonomy by the authorities to offer positions according to his personal criteria, fulfilled by considering mainly CVs, recommendation letters and interviews.(...)Although the Cabrera children had grown up as Americans and Blas, then enrolled at Virginia, was clearly on his way to his own physics career in the U.S., nostalgia for Spain was always near the surface, especially for Nicolás's lively wife, Carmen. There were evenings at the Cabreras with singing and guitars, and as the party took wing more and more of the songs were Spanish. But fundamentally it was Nicolás who felt an obligation to return to Spain and rebuild science there.

His return happened in 1974 to a conference.

Cabrera

was expected to be one of the main lecturers, but he was able to attend only part of the time, as the situation in Spain had taken a turn for the worse.

Incidentally, he was accompanied by Javier Solana,

who was then his assistant in Madrid, before embarking on his still-rising political career. (

He had come to Virginia to complete his graduate studies shortly before Cabrera left

)."


Link

, V. Celli, Dep. of Physics, Univ. Virginia. from:
Foreword of
J. Phys.: Condens. Matter 14 doi:10.1088/0953-8984/14/24/000
http://www.iop.org/EJ/abstract/0953-8984/14/24/000

2002

Please read the excellent research of Constance Cumbey on the history of J. Solana to get the whole picture.
I just wanted to add some more little details here. How the Rockefellers and Rhodes stayed having a watchfull eye on Javier Solana is written
in the excellent articles of

Dr. Dennis Cuddy

, see here:
http://www.newswithviews.com/Cuddy/dennis91.htm
http://www.newswithviews.com/Cuddy/dennis106.htm
save the presented links as long as they are avaiable!

and
stay tuned!

farmer