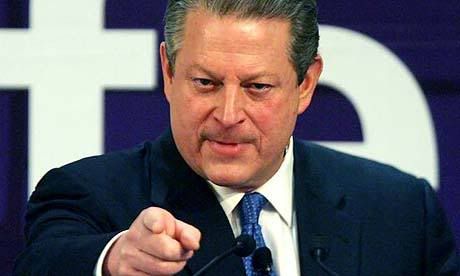 Al Gore at the UN climate change conference in Bali in 2007. Photograph: Jewel Samad/AFP/Getty images
Gore Plans $300 Million Climate Program after
Tens of millions switch off worldwide for 'Earth Hour'


http://afp.google.com/article/ALeqM5ixgRTaYipNi4_Xzk1RFhCdximrNA
"Former Vice President Al Gore is launching a three-year, $300 million effort to make the world more aware of global warming and reduce greenhouse gas emissions.
The three-year campaign by the Alliance for Climate Protection will start Wednesday with TV advertising, featuring unlikely alliances like Pat Robertson and Al Sharpton, and Democratic House Speaker Nancy Pelosi and Republican former House Speaker Newt Gingrich.
This climate crisis is so interwoven with habits and patterns that are so entrenched, the elected officials in both parties are going to be timid about enacting the bold changes that are needed until there is a change in the public's sense of urgency in addressing this crisis, Gore told the Washington Post.
The options available to civilization worldwide to avert this terribly destructive pattern are beginning to slip away from us, Gore said. The path for recovery runs right through Washington."
http://www.newsmax.com/insidecover/gore_300_million_climate/2008/03/30/84218.html
http://www.guardian.co.uk/world/2008/mar/31/algore.uselections08.climate
"Cathy Zoi, the Alliance for Climate Protection's chief executive, said the group will focus on individuals known in the advertising world as "influencers," who talk to a disproportionate number of people in their communities...
In an effort to broaden the campaign's appeal, the alliance has already forged working partnerships with groups including the

Girl Scouts

and the

United Steelworkers of Amerika

."
http://www.washingtonpost.com/wp-dyn/content/story/2008/03/30/ST2008033002195.html