I follow with some snippets of an interesting article...any conclusions?
"The

2008 European Year of Intercultural Dialogue was celebrated

at the State Guest House in an event hosted by the Delegation of the

European Commission

to Turkey

Delivering a speech at the ceremony, Minister of Culture and Tourism Ertuğrul Günay said that

Turkey

had been home to innumerous civilizations throughout the ages and was duly called the

"cradle of civilizations"

for uniting so many different cultures, religions and nations around

common denominators

."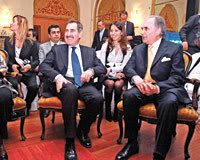 "The minister said that Sufi saint and poet Mevlana Jelaluddin Rumi's universal call inviting all individuals to come together under all circumstances regardless of religion, language and race was one of the most important calls ever made..."
(farmer: this was the guy who wrote "Surpass Jesus, put him behind")
"and pointed to the existence of intercultural dialogue in the 13th century. Yunus Emre, a mystical folk poet who died in 1320 but who left immortal works of poetry behind, the minister said, represented an important stage in the world's culture and civilization history. Günay added that Yunus Emre's words "don't see any faults in the created for the sake of the Creator," were the essence of every thought the folk poet expressed".(farmer: sic)
"Günay also said that intercultural dialogue had to be built on universal values such as democracy, the supremacy of law and human rights -- and centered on world peace."
"Turning intercultural dialogue into an instrument that makes a contribution to world peace and making efforts to this end is everybody's responsibility," the minister noted...."
"He also maintained that the Alliance of Civilizations initiative launched by Turkey and Spain to promote respect and dialogue took on more importance in this regard.
Turkey is a party to the European Union culture program and İstanbul has been chosen as European Capital of Culture 2010, he recalled. "I believe that all the activities to take place in this context will make important contributions to intercultural dialogue," he said."
"Following Günay's speech, Slovenian Ambassador to Turkey Mitja Strukelj took the stage. He said that Turkey's contributions to intercultural dialogue with Spain, the co-founder of the Alliance of Civilizations, were of a universal character. Slovenia currently holds the rotating presidency of the EU.
"The duty we target to achieve is to turn intercultural dialogue into a long-term process that will make everybody's daily life more harmonious with an open and comprehensive cultural environment. We want to see this dialogue as the source of mutual reflection and new ideas. We also want this desire to be shared by the countries oriented toward a European perspective and particularly by Turkey," he said.
Strukelj said that intercultural dialogue was always a determinant quality of European integration and that Europe was uniting not only through its economy and politics, but also through a common memory and cultural and creative values. "Our respect toward European values has made it obligatory for us to turn our face to our neighbors who want to join us and everyone who identifies with these values," he said.
The ambassador also stressed that they wanted to transcend the multicultural societies where cultures and cultural groups lead parallel lives side by side. "We want to become intercultural societies where pluralist cultures cooperate in dialogue and share responsibilities," he said.
Strukelj noted that the European Year of Intercultural Dialogue was a major part of remarkable efforts to move toward a truly intercultural Europe. (...)

Following the speeches, a Mevlevi whirling rite and a ballet show took place."
from: Today's Zaman
Ankara
-HATE SPEECH, FREE SPEECH III
- Another provocation
By Shaykh Hamza Yusuf Hansona, Din Syamsuddin and

Prince Hassan bin Talal
http://www.iht.com/articles/2008/03/25/opinion/edfilm3.php
"

The European Union's interests require a continued engagement with

Mediterranean partners, through more effective economic, security and cultural cooperation



in the framework of the Barcelona Process.
A broader engagement with the Arab World

should also be
considered.

"
Javier Solana, "A secure Europe in a better world", p.9.,
already in
12.12.
2003
stay tuned!

Jesus rules!
farmer