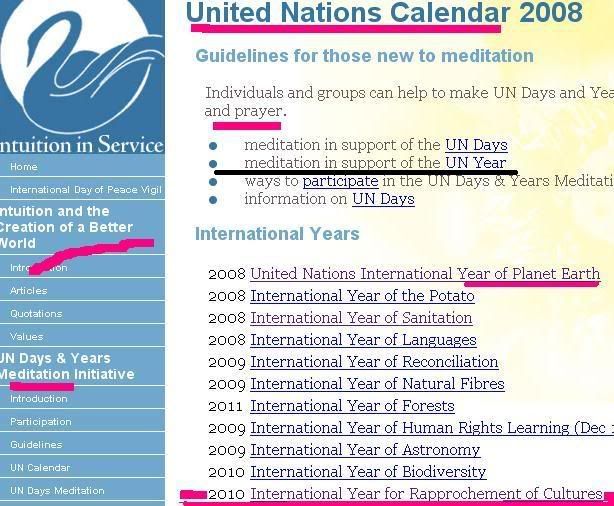 Attention! The picture above is from the group named "intuition in service",


which is

NOT

an UN-group, but a group, which obviously likes to see the UN goals realized.

From the UN itself is the following information, also the paper is found on another page: The
UN General Assembly
"...8. Decides to declare
2010
as the
International Year for the Rapprochement
of Cultures
,
and recommends that, during the course of the year,
appropriate events
be organized
on
interreligious and intercultural dialogue
, understanding and
cooperation for peace, inter alia, a high-level dialogue and/or informal interactive
hearings with civil society;"
http://www.tripartiteinterfaithforum.org/documents/A.62.L17.Rev.1.pdf

Back the

NON

-UN group, from which I took the "

UN-calendar

"- picture above:
"Sounding the

Great Invocation

every 15 minutes"
is also from the same website
(for the right way of their satanic meditation "May the Coming One return to Earth")
http://www.intuition-in-service.org/intuitionVigil.cfm
and one get's "help" with "nice words" from well-known occultists and New Age players like
Bailey, Alice
Capra, Fritjof
Coelho, Paulo
Fox, Matthew (sic)
Redfield, James
Tagore, Rabindranath
Steiner, Rudolf
Laszlo, Ervin
(see the whole list here:

http://www.intuition-in-service.org/intuitionQuotations.cfm
)
and of course you can find
"The Great Invocation"
(Revised version 2000) there...it's up to date and running...
http://www.intuition-in-service.org/IISvigilTIMER.html
Constance Cumbey
reported about these intentions since 1982,
thanks so much!! and: don't miss the latest article of

Rich
: "
Ghost of Nazi Past, Ghost of Nazi Present
"!
stay tuned!
farmer