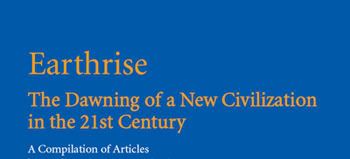 the new age movement is well alive and cruising under the sails of Madame Blavatsky...the aquarian club
"Travel with soul
A spiritual cruise in the Mediterranean"
http://www.connettivi.net/eng/slide/msc_crociere_connettivi_folder.pdf
"Travel with Soul"
1° World Connecting Conference
Venezia, Bari, Katakolon, Santorini, Mykonos, Pireo, Corfù, Dubrovnik
from 13 to 20 April 2008,
on cruise ship "MSC Musica"
"Travel with soul": this is the motto for a cruise on MS "Musica" in the Mediterranean. The idea is to bring high spirited people together in talks and workshops on a ship, thus creating an intense atmosphere of learning, wich gives birth to a new understanding of the signs of the time. Many eminent personalities are invited to share their thoughts with the audience, among them Rupert Sheldrake, Fritjof Capra, Stanislav Grof, Ruediger Dahlke, Angaangaq Lyberth, and, as members of the World Wisdom Council, an initiative of the Club of Budapest: Ervin Laszlo, Elisabet Sahtouris, Bibi Russell, Masami Saionji, Audrey Kitagawa, Antoschka and Ashok Gangadean." (whole list here)

"Who are the "connectings" ?
They are people who have reached such a consciousness level that every day push themselves to act and do something to induce nowadays humanity to do the quantum jump and reach a new dimension of the transforming evolution: the holistic man dimension." http://www.connettivi.net/eng/who_they_are.html

(farmer says: "WOW - they must be really superhumans")

"...a tactful connection that means the mind opening, the confidence redemption, the creative "infection", the mutual and transforming fecundation." (sic)
"The connective potential in everyone will rise only if connected with other people ones. Those who want to enlarge their connective potential can start now, here."With this score in mind the connectings have organized their very first »EVENT«.
http://www.connettivi.net/eng/homepage.html
Also here I find a new publication, named "earthrise - the dawning of a new civilization",
or in short and comprehensive: (farmertitled) "New Age as the second beast".
"
This publication wants to be a wake-up call and an inspiration for all a

responsible citizens of the world

to uphold the highest possible vision and by adhering to this vision, facilitate its

manifestation

. Its goal is to inspire individuals to awaken to their inherent potential, and empower each of them to become
agents of change
.
"
http://www.schweisfurth.de/index.php?248&backPID=147&tt_products=366
Before we look to its luciferian contents, some words about it publisher:
The book is a product of the "
Goi Peace Foundation
"
The founder:
Masahisa Goi

(1916-1980), a Japanese teacher, philosopher, poet and author, started a world peace movement to spread the message and

prayer "May Peace Prevail on Earth,

" as a way of

uniting the hearts of humanity transcending all boundaries of race, religion

,

or politics

.
To promote this peace movement internationally, the

World Peace Prayer Society

was incorporated in New York in 1988 as a nonprofit organization, and in 1990 it was recognized as a Non-Governmental Organization (NGO) associated with the Department of Public Information at the

United Nations.



"In October 2006, the Goi Peace Foundation was granted official-relationship status with the United Nations Educational, Scientific and Cultural Organization. Recognized as a non-profit international organization pursing objectives in conformity with the ideals of UNESCO, GPF will strengthen its partnership with the organization through joint projects in the fields of peace education, youth, communication, Culture of Peace and others."




http://www.goipeace.or.jp/english/news/200702-1.html
read who sits on their board...also TOYOTA is here:
http://www.goipeace.or.jp/english/aboutus/profile.html
p

eace

p

rayer

p

oles (like in

666

)
"Peace Poles can be planted at any place that people wish to dedicate to peace, such as town squares, universities and schools, parks, gardens and houses of worship. P
olitical leaders and heads of international organizations, such as former UN Secretary-General Boutros Boutros-Gali, and religious leaders, such as Pope John Paul II, Mother Teresa and the Dalai Lama, have also dedicated Peace Poles.
http://www.goipeace.or.jp/english/aboutus/background-2.html
Now to the content: have a look to the contributors - it's a who's who of the Aquarian Club:
http://www.utz.de/buecher/40735les.pdf

"Contents

The Dawning of a New Civilization - By Hiroo Saionji 17

Alliance for a New Humanity Building an Ark of Hope
By
Deepak Chopra
23


Arias Foundation for Peace and Human Progress
Working for More Just, Peaceful and Equitable Societies
By Luis Alberto Cordero 33


Bioneers
It's all alive – It's all connected –
It's all intelligent – It's all relatives
By Kenny Ausubel 43


Breuninger Foundation
Cooperative Behavior as a World Language
By Helga Breuninger and Eike Messow 59


Center for Ecoliteracy
Education for Sustainable Patterns of Living
By Michael K. Stone and Zenobia Barlow 79


Center for Visionary Leadership
Spiritual Politics –
Changing the World from the Inside Out and the Outside In
By Corinne McLaughlin and Gordon Davidson 95


CharityFocus
Voluntarism, World Service and a Prosperous Humanity:
The Tao of CharityFocus
By Nipun Mehta


Club of Budapest

You Can Change the World
By
Ervin Laszlo
123


Club of Rome

The World Problematique at the Beginning of the 21st Century:
Challenges and Opportunities
By Uwe Möller 133


Earth Charter Initiative
Empowering People to Create Harmony with All Life on Earth
By Mirian Vilela 141

Earth Policy Institute
Planning for an Environmentally Sustainable World
By Reah Janise Kauffman 153


Fetzer Institute

Harnessing the Power of Love and Forgiveness to Heal the World
By
Amy Ferguson
169


Gaia Trust – Global Ecovillage Network

The Ecovillage Strategy as Response to the Environmental Crisis
By Ross Jackson 181


Global Alliance for Ministries and Departments of Peace
New Institutions for a New Civilization
:
Establishing Ministries and Departments of Peace Worldwide
By Dorothy J. Maver and Michael H. Abkin 199


Global Marshall Plan Initiative

Creating a Global Eco-Social Market Economy
By
Franz J. Radermacher
215


Green Cross International
Bridging Agendas of Peace and Sustainable Development

By Alexander Likhotal 221

IDEM – Identity through Initiative

A Global Youth Movement Creating a New Civilizatio
n
By Valentin Vollmer 237


Institute for Multi-Track Diplomacy
Enhancing Peaceful Societies Through Multi-Track Diplomacy

By Kate Romanova 249


Institute for Planetary Synthesis
The Path to Planetary Synthesis
By Rudolf Schneider and Alice Boainain-Schneider 263
Institute of Noetic Sciences

Exploring the Frontiers of Consciousness
By James O'Dea 273

Kosmos Associates – Kosmos Journal
Informing and Inspiring People to
Become Co-Creators
of a New Civilization

By Nancy Roof 285


Pathways to Peace
The Peace Wheel –
An Innovative Concept for Sustainable Peacebuilding
By Avon Mattison 303


Peres Center for Peace
Building Tomorrow's Peace in the Middle East
By Ron Pundak 319


Schumacher College
A Global Center of Transformative Learning for Sustainable Living
By Brian Goodwin 337

Schweisfurth Foundation
Towards Ecological and Social Transformation
Through the Fulfi llment of Basic Needs
By Franz-Theo Gottwald 349

Social Venture Network
Twenty Ideas That Changed the Way the World Does Business
By Mal Warwick 363


World Commission on Global Consciousness and Spirituality

Global Wisdom and Spirituality for the 21st Century
By Ashok K. Gangadean 381


World Future Council

Securing the Sustainable Well-Being
of Present and Future Generations
By Herbert Girardet 393

World Parliament of Clowns
The Gift of Joy and Laughter in Times of Crisis and Depression
By Angelika Härle and Ekaterina Moshaeva »Antoschka« 411


World Wisdom Alliance

Wisdom is Our Common Heritage –
The Birth of the World Wisdom Alliance
By David Woolfson 423

Annex
Authors 433
Selected Bibliography 449

Declaration for All Life on Earth 467
(farmer: lies like "the earth is a living evolving entity")

Goi Peace Foundation Contact Information 471

"
Introduction

The Dawning of a New Civilization
By Hiroo Saionji
The Need of a Global Holistic Consciousness
http://www.utz.de/buecher/40735dbl.pdf


the reading probe says everything:

"Institute for Planetary Synthesis
The Path to Planetary Synthesis
By Rudolf Schneider and Alice Boainain-Schneider

The Institute for Planetary Synthesis was founded in 1981 to promote the idea
of planetary synthesis, and to help manifest it in the human family.


"...The work of the Institute is inspired by the teaching given in the books written
by Alice A. Bailey in the beginning of last century.
These teachings constitute
an attempt to convey, in a language more appropriate to the modern mind
educated in the Western civilisation, some of the eternal truths that have been
known to the most advanced representatives of the human race throughout the
millennia, such as the founders of the great world religions: Krishna, Lao-Tzu,
Confucius, the Buddha,
the Christ,
Mohammed, and to many others who, to a
greater or lesser extent, have infl uenced the development of the human race.
These teachings deal with many subjects, but the part that has motivated the
creation of the Institute is the teaching concerning the so-called Seed-Groups.

In 1981, year of the foundation of the Institute, there existed many groups,
organisations and movements throughout the world, but they lacked coordination.
Networking was still at its beginnings. The seed-groups constitute
a structure that could be of use to help bring together and organise the many
positive initiatives being undertaken everywhere to establish a human culture
and civilisation based on right human relations.

In a world where unity is essential for survival,
we aim at a global education
with values shared by all humanity and accepted by all the different educational
systems, religions and ideologies.

... it should become possible to build up the new systems and
structures so urgently needed today, thus helping to

create a new civilisation


and a new culture,

in a spirit of unity in diversity among people and nations.


...
• Serving the Common Good
through active personal effort and the readiness to share with others. Only
that which serves the whole is also of value to the individual, in the sense
of »one for all and all for one«. (Leafl et »Values to Live By«, from
Lucis




Trust Association

)
Guided by these basic values, it is possible to develop an all-pervading,
tenfold
group structure
that gives new life to all existing groups, governments and
organisations, including the United Nations.

The groups will consist of men and women whom we may call »experts«, because
they are not only highly competent specialists in one particular sphere of
work but will also be able to offer solutions to recognised problems based on
their many-faceted experience in their daily endeavours and above all in their
spiritual life. These experts will fi nd a point of convergence in the plan of a global
group structure. They will not appear as organisations but rather as a living
organism imbuing all existing, far-sighted groups with new life, although the
fi rst three groups will be working on a more spiritual level.
The specifi c tasks of every seed group are shortly presented below. The 8th and
10th seed groups form an exception that has been described as follows:
The nature of the anima mundi, the fact of the subjective consciousness found
in all forms without exception, and the existence of an interplay between these
forms, through the medium of the soul, will be the major theme (of the 8th
group). Soul sensitivity and reaction to the energy in any form will be the
training objective of the group members. Owing to the difficulty of this task,
the members of this 8th group will be chosen from the personnel of the other
groups, for they have had a fair measure of training in their preliminary work.
Two groups will then be interlocking groups – that which is formed of the
key people in all the groups (

the 10th group of creative workers)

and this one.
(»The Externalisation of the Hierarchy«, page 59, by
Alice A. Bailey
)

The Tasks of the Ten Seed Groups

• Telepathic Communicators:
telepathic communication from soul to soul through alignment; from
mind to mind through integration; between humanity and the inner government
of the planet through the science of impression.
• Trained Observers:
dissipation of world glamour, illusion and maya through illumination.
• Magnetic Healers:
through »magnetic living«; through laws of life, laws of health and right
human relationships; through continuity of consciousness.
• Educators in the New Age:
education through infl ow of the light of knowledge into »instinctual
man«; through infl ow of the light of wisdom into »intelligent man«;
through applied knowledge, expressed wisdom and occult understanding
in »spiritual man«.
• Political Organisers:
international understanding through communication of the divine (political)
Will into races and nations, linking the department of the Manu
(the ruler of the human race) with men.
Workers in the fi eld of Religion:
through transcendental mysticism; through transcendental occultism;
through transcendental religion.
• Scientific Servers:
through development of new hypotheses to substantiate the next step forward;
through sensitive reaction to spiritual energies and forces; through
release of energy to relate spirit and matter and precipitate the divine
Plan.
• Psychologists:
through relationship of the human kingdom to the sub-human and the
super-human kingdom; through a study of the divine Plan for the fi ve
kingdoms in nature.
Co-workers of the IPS in the United States have developed a striking description
of the essential tasks of these groups, which they called »The Code of
Humanity«:
• I Choose to Communicate Truth.
• I Choose the Reality of Life.
• I Choose to Heal Not Hurt.
• I Choose Education Over Ignorance.
• I Choose the Power of Peace.
• I Choose to Love God (or Good) and See God (or Good) in All Humanity.
• I Choose to Seek the Soul in All Things.
• I Choose to Link to the World of Inspiration.
• I Choose the Principle of Sharing.
• I Choose to Become a Co-Creator in Life and Live it More Abundantly.
The Institute's main mission consists in networking the loose members and
groups of the
New Group of World Servers
and to create with them a strong
and effective platform and global energy structure which will bring forth
planetary awareness and synthesis. The Institute for Planetary Synthesis participates
actively in ECOSOC and UN conferences, and intervenes in the discussions
whenever meaningful. Statements aimed at elevating the discussions
onto a planetary synthesis level evoke a reaction from some of the participants.
Thanks to the universal law of affi nity and synchronicity, the members
of the New Group of World Servers are thus discovered and relationships are
established.

Thus, the IPS' work at the
United Nations
is to establish right human rel
a

tionships by means of integration, constructive co-operation, an expansion
of consciousness that leads to the awareness of the ecology of life and to the
establishment of world peace
. The Institute therefore supports the main aim
of the UN Charter (Art.1.1), » … to maintain international peace and security,
and to that end: to take effective collective measures for the prevention and
removal of threats to the peace, and for the suppression of acts of aggression
or other breaches of the peace …«. Only the means differ. The Institute has a
more holistic nature, as it
seeks to

strengthen world peace

by promoting inner
peace, the peace of the mind and feelings, with the ultimate aim of experiencing
cosmic consciousness, i. e. unity with the source of all life.

It works for reawakening an awareness of spiritual values in daily life, for promoting
planetary awareness, which leads to planetary citizenship. This includes
an awareness of the underlying energy structure of our society, the kingdoms
of nature, the planet and the solar system. It also seeks to analyse and help solve
world problems on the basis of spiritual values and planetary awareness, thus
meeting true present needs.
For that purpose, it publishes studies on papers
on world problems, which are distributed with its newsletters or at relevant
meetings and UN conferences.
The challenge is always to present the
eternal
truths in a way that can be received
and understood, whatever the religious or
ideological framework in which people operate, and help them move forward
into greater usefulness for the common good..."



"World Wisdom Alliance
Wisdom is Our Common Heritage –
The Birth of the World Wisdom Alliance
By David Woolfson

Everything that is created in the world begins in the fi rst instance with an idea.
Almost all ideas, however, are built upon the work of the many who have previously
set the foundations. Accordingly, most »new« ideas can be more accurately
viewed as creative innovations of existing concepts presented in a new
way or with new elements. They are often a synergistic extension of one or
many ideas that have come before.
That is certainly the case with the concept for a »World Wisdom Alliance«. The
core idea was fi rst conceived in an email dialogue that I had in the year 2005
with Dr. Ervin Laszlo, Founder of The Club of Budapest International, and
world artist Peter Gabriel in relation to the World Wisdom Council.
My relationship with Ervin Laszlo and The Club of Budapest began in 2000
when I undertook the production of a worldwide event marking the fi rst
spring/autumn day of the new Millennium as the fi rst »World Day of Planetary
Consciousness«. We called the event »Planetary Vision Festival 2001« and
sunrise ceremonies were held in 28 cities around the globe from New Zealand
to Samoa on March 20, 2001.
A documentary program was subsequently made from the world event which
also featured numerous Honorary Members of the Club of Budapest including
Peter Gabriel and music from his Millennium show »Ovo«. At the taping in
Toronto, Peter remarked that Native American tribes made decisions through
an Elder's Council which considered the future impact of their collective decisions
to the Seventh Generation of their descendants.
We talked briefl y after the taping and Peter mentioned that he had been contemplating
the creation of such an Elder's Council on a global level. At the time
I had also been thinking of a comparable concept – a think-tank of leaders
with both a futures and a global perspective. I replied that I would present an
idea for such a council to Dr. Laszlo for the Club of Budapest, which I did in
2003 along with colleague Gregorio Rivera.


The Club of Budapest International

endorsed the concept and in the year 2004,
in association with the World Commission of Global Consciousness & Spirituality,
convened the World Wisdom Council as a global »think/action tank«
dedicated to the advancement and application of wisdom in the world.
When

Peter Gabriel

and I were next in touch in the spring of 2005, he advised
that he was developing a distinct

Global Elders initiative

with various partners.
It is often the case that people who share a similar broad goal or mission differ
when it comes to the specifi c concepts or initiatives. That is a major reason
why there are hundreds of thousands of groups in the world addressing issues
of environment, peace, poverty, etc. instead of a few very large ones!
This realization led to the consideration of further questions; »How can the
many diverse but like-minded »better world« initiatives be linked?« and »How
can we connect, share information and collaborate to a greater voice and impact
in the world at this critical evolutionary moment in human history?«
The answer seemed clear – a mega-network with the primary vehicle to connect
being the Internet. Thus the concept of the World Wisdom Alliance was
conceived as a network of like-minded groups and individuals and as an »online
community«.
A major step in the development of the Alliance concept took place in conjunction
with the Goi Peace Foundation's Forum 2005 »Creating a New Civilization
« in November 2005 in Tokyo. The Forum featured the participation of

14 like-minded organizations including The Club of Budapest,

Club of Rome

,
Institute of Noetic Sciences
, Pathways to Peace and the World Wisdom Council,
in the spirit of cooperation and collaboration. Featured speakers included

The Hon. Mikhail Gorbachev, Dr. Kazuo Murakami, Dr. Ervin Laszlo
and
members of the World Wisdom Council.
Foundation President Hiroo Saionji closed the Forum saying: »If we hold a
global consciousness then we will achieve a global civilization….We can work
together to expand the network«.
I attended the Forum and the related World Wisdom Council meeting in my
capacity as Co-Coordinator of the Council. That historic gathering inspired
me to consider in a very real way what concrete steps I and my colleagues could
take to assist in the great and urgent task of creating a new civilization as a new
»world community«. The concept of

a
»mega-network«

remained foremost in
my mind in that regard.
The World Wisdom Council met next in Arosa, Switzerland in January 2006 in
conjunction with the

World Spirit Forum

. The consensus of the Council, the
World Spirit Forum participants and the speakers in Arosa was that humanity
has, at best, a 10 year »window of opportunity« for a massive evolutionary
shift in human consciousness and behaviour. Without such sweeping change
in thought and action we can anticipate widespread societal collapse and face
the potential end of humanity as a viable species on our planet.
It was accordingly clear that humanity as a whole faces both enormous challenges
and tremendous opportunities today on a global scale. Our growing environmental
and societal challenges are unprecedented as both our civilization
and survival are in serious jeopardy. Opportunities for large-scale transformation
are also unprecedented being driven by on-going revolutions in new scientifi
c knowledge, innovative technologies and global communications.
The challenges before us are both man-made and products of the modern age.
The long list includes; nuclear war, terrorism, climate change, ozone depletion,
eco-system destruction, resource depletion, disease, pandemics and toxic
pollution of our air, water and land. Increasing ecological degradation and
resource exploitation go hand in hand with mounting insecurity and militarization,
rising criminality and corruption, growing economic and social polarization
and escalating religious and cultural confl ict.
At the same time the promise of this 21st Century includes new understandings
of the natural world and ourselves together with incredible new tools:
alternative energies, sustainable technologies, world communications, global
information exchange, space exploration, biotechnology, nanotechnology, robotics,
artifi cial intelligence and many others yet to be discovered.
Yet, humanity remains in the midst of a growing global crisis as the large-scale
negative trends interact with and reinforce each other. Many of the world's
leading scientists have been warning us to address our growing global challenges
for over 40 years now. Regrettably the majority of citizens in our respective
nations are neither aware of the true nature of this crisis nor of the major
societal shifts necessary to address it. Especially in the shrinking time-frame
that many of these scientists are now telling us remains to do so which may
now be less then 10 years.
However in this crisis, as in all crises, there of course exists a corresponding
opportunity – an opportunity to adapt to the rapidly changing circumstances
by changing ourselves. It is apparent then that today's growing global crisis
has a »fl ip side« which provides us with a corresponding opportunity. It is
the opportunity to trigger an evolutionary transformation of humanity and
our values, systems and structures to the »Global« level based upon our new
understandings and tools.
Accordingly, the major question of our time has now become: »Will we be
overwhelmed by the growing global challenges confronting us or will we overcome
them through wise leadership and collective action to enter a new »global
era« of peaceful and sustainable human development?«
This bottom-line »breakdown or breakthrough« scenario reinforced my personal
commitment to take appropriate action. In that regard, I and colleagues
Gregorio Rivera and Lynn Holden presented the concept of the »World Wisdom
Alliance« to the World Wisdom Council members meeting in Arosa. The
Council enthusiastically endorsed the Alliance as a key »wisdom-in-action«
initiative fully aligned with the shared mission. The announced plan was to
launch the Alliance in Toronto, Canada in July 2006, as time was surely of the
essence!
After many months of planning and hard work by our local organizing team,
the World Wisdom Alliance was offi cially launched in Toronto, Canada on July
26th–28th, 2006.
Nearly 200 people from many parts of the world came together to participate
in the launch as the WWA's founding members and partners. The launch gathering
was hosted by The Club of Budapest Canada, a Canadian non-profi t
organization formally chartered in April, 2006 which is the entity initiating
and developing the Alliance.
Participants and supporters included members of the World Wisdom Council
and Kosmos Journal. WWC members participating were
Ervin Laszlo, Ashok
Gangadean, Elisabet Sahtouris, Audrey Kitigawa, Lybert »Uncle« Angaangaq,
Michael Laitman, Jonathan Granoff together with Ambassadors Hiroo Saionji
and Nancy Roof.

Many other participants were associated with like-minded groups such as the

Goi Peace Foundation, Campaign for Departments of Peace, Global Marshall
Plan USA, InterSpiritual Dialogue Network, Children of the Earth, Kosmos
Magazine, World Spirit Forum and Ecologos Institute.
The Alliance is intended as a »mega-network« of like-minded
organizations,
groups, businesses and individuals actively addressing our shared societal and
environmental challenges and opportunities – both globally and locally. It will
bring together all sectors of society and cultures as well as ecological groups,
peace groups, development groups, poverty groups, etc. working for a better
world, through a multi-faceted Web community.
Once created, our »on-line community« will empower Alliance members to
have a »global voice« for a better world and positive future and enable them
to more effectively address our shared challenges and opportunities. It is both
a »grassroots« initiative and one that can harness the power of our numbers
worldwide.
WWA core concepts include: »Consciousness, Connection, Communication
and Collaboration toward World Community«. Core principles include: inclusivity,
mutual member support and active engagement within the community.
The following »Working Framework« for the World Wisdom Alliance was presented
to the founding gathering in Toronto:
World Wisdom Alliance – Working Framework
Mission
To effectively address our growing, global/local societal and environmental
challenges and opportunities with new thinking and actions in sufficient time
to adapt to rapidly changing world circumstances.
Medium
A »world community« aimed at actively addressing our shared challenges and
opportunities by linking and connecting like-minded groups and individuals
worldwide through effective communication, dialogue and collaborative action.
Method
The core of the WWA communication network will be a web portal which creates
a Member »on-line« community
The main Communication Centre will be established in Toronto, Ontario,
Canada.
Member Benefi ts
• Connect, communicate and collaborate with like-minded organizations
and individuals worldwide.
• List Member events, activities and share other key information in the
WWA »on-line« community.
• Access new members, supporters, partners and resources.
• Distribute content and information on-line to WWA members and the
public.
• Develop new relationships including joint projects, collaborations and
campaigns.
• The WWA may coordinate joint projects, events and campaigns for Member
and public participation.
Member Responsibilities
• Endorse the WWA »Vision and Values Statement«.
• Provide mutual web-links with the WWA web portal.
• Share information and communicate Member's mission, projects, events,
research, etc. with all other WWA Members via the on-line community.
• Contribute content, as applicable, on an on-going basis to the community.
• Appoint an individual from each organizational Member as a communication
liaison for the WWA.
• Make the applicable Membership contribution annually.
Member Categories
• Community Groups & Communities of Interest
• Corporations & Companies
• Individuals
• Local/Regional Governments & Agencies
• Non-Profi t Organizations
• Religious and Service Organizations
• Schools and Educational Institutions
The founding group in Toronto provided substantial input and further ideas
at the working session. For example, the session on the »Alliance Framework«
suggested the following Mission Statement: »To facilitate the joining together
of the hearts and minds of the citizens of the planet in an alliance which draws
on and embodies deep wisdom to ignite a critical mass of people into co-creating
a world in which we are one human family, fl ourishing together with
all living things on sacred Earth«. The creation process has continued on-line
pending the WWA framework being fi nalized.
At the same time, the World Wisdom Alliance »on-line community« website
is now being designed in association with The Peoples World initiative based
in the United Kingdom. The site will be a community platform and meeting
point of infi nite diversity to catalyze global change.
The fi rst phase will be an extension of The Club of Budapest Canada site where
Alliance members and participants can defi ne how they can best contribute
and interface, from the perspective of their community of interest, with the
many other communities of interest within the broad shared mission and vision.
It will also be a dynamic platform enhancing the effectiveness of the important
work of our members.
In addition to a multitude of state-of-the art web communication and networking
tools, our Alliance community will feature both a Public and a Member
section:
• The Public section will contain content in categories such as global issues,
solution pathways, alternative futures, editorials and guest editorials,
blogs, database of world reports, world publications, world links, and
other content.
• The Member section will contain specifi c content and services of particular
value to organizational members and activists including: World
Calendar of Member events; Database of Members; Database of Member
Projects tailored to fi nding sponsors, donors, partners; Member communications
including Web Conferences, Discussion Forums, Symposia;
Access to all Members for communication and collaboration, and other
content and services as they evolve.
At this time the World Wisdom Alliance is still in the process of co-creation – a
potential butterfl y that has just begun to emerge from its formative cocoon.
The process is on-going but we can envision what it can ultimately become –
the creative space for the creation of a new civilization as a world community
of global citizens who can together shift the future from our present path of
breakdown to one of breakthrough.
Ultimately, thousands of organizations and hundreds of thousands or millions
of individuals can connect, communicate and collaborate in shared vision and
action in our new world community toward a sustainable and peaceful planet
and future for humanity.
What is needed above all right now to make the WWA a reality in the near future
is the active participation and support of numerous like-minded groups
and individuals. The creation of this mega-network requires the involvement
and skills of many people and signifi cant resources as well.
The World Wisdom Alliance can be our collective vehicle to envision and build
the new global civilization – fi rst on-line and then in the real world! This is
what »wisdom« must come to mean for all of us at this point in humanity's
evolutionary development. The alternative is too grim to contemplate.
We welcome your input, participation, partnership, resource support and
sponsorship in the development of the World Wisdom Alliance. Please join
us in this process of co-creation and development as our initial partners and
members!
Contact Information
World Wisdom Alliance
1101 Bay Street
Suite 2606
Toronto, Ontario M5S 2W8
Canada
www.clubofbudapest.ca"

Selected Bibliography lists interesting names, among them:
("The Selected Bibliography is a listing of recommended publications, kindly
submitted by the distinguished Authors to this volume.")

Bailey, Alice A. The Externalization of the Hierarchy (Lucis Trust, 1957)
Bailey, Alice A. Discipleship in the New Age – Vol. I & Vol. II
(Lucis Trust, 1944 and 1955)
Muller, Robert. New Genesis: Shaping a Global Spirituality
(World Happiness and Cooperation, 1989)
Muller, Robert. A Planet of Hope (Amity House, 1986)
Muller, Robert. The Birth of a Global Civilization
(World Happiness and Cooperation, 1982)

http://www.utz.de/buecher/40735les.pdf

I will close with some words from the great book
"Are You "Being Led Away with the Error of the
Wicked" to the New Age Ark of Oneness?"
by
Tamara Hartzell
: (thanks wickus for pointing me to this great book)

"And Jesus answered and said unto them, Take heed that no man deceive you. For many
shall come in my name, saying, I am Christ; and shall deceive many." (Matthew 24:4-5)

"For such are false apostles, deceitful workers, transforming themselves into the apostles
of Christ. And no marvel; for Satan himself is transformed into an angel of light. Therefore
it is no great thing if his ministers also be transformed as the ministers of righteousness;
whose end shall be according to their works." (2 Corinthians 11:13-15)

This "largest movement in the history of the world" will soon have its globally-unifying leader. With his enticing tune of peace, this coming Pied Piper will gather the spiritually-readied masses and lead them on board the Ark of Oneness, the ultimate forbidden fruit.

"My son, fear thou the LORD and the king: and meddle not with them that are given to
change: for their calamity shall rise suddenly; and who knoweth the ruin of them both?"
(Proverbs 24:21-22)
If you heedlessly dismiss any and all warnings, you do so at the peril of your own soul. There is only one true God, and the shift is away from the true God, not toward Him.

God is not the one shifting and changing and transforming. Despite humanity's preferred fuzzy
theology in this global "spiritual awakening," the nature of the true God is eternal and unchanging. What humanity chooses to believe about the counterfeit "One God" in its shifting, changing, transforming faith cannot create even the slightest smidgen of change in Who the true God really is.
No matter how strongly humanity chooses to believe that the counterfeit "One God" of different
religions, paths, names, and theologies is really the true God, humanity will still be believing in a
counterfeit "God"—a false god and idol—that has zero chance of ever becoming the true God."
...One can't even begin to imagine the tremendous grief of the loving Lord God Who is not willing thatany should perish. Yet His righteous judgment and justice are as sure as His love, which humanity is purposefully rejecting.
"And Elijah came unto all the people, and said, How long halt ye between two
opinions? if the LORD be God, follow him: but if Baal, then follow him. And the people
answered him not a word." (1 Kings 18:21)
"And if it seem evil unto you to serve the LORD, choose you this day whom ye
will serve; whether the gods which your fathers served that were on the other side of the
flood, or the gods of the Amorites, in whose land ye dwell: but as for me and my house, we
will serve the LORD." (Joshua 24:15)
"For all the gods of the people are idols: but the LORD made the heavens." (1
Chronicles 16:26)
"Know therefore this day, and consider it in thine heart, that the LORD he is God in heaven
above, and upon the earth beneath:
there is none else.
" (Deuteronomy 4:39)
"This is life eternal, that they might know thee
the only true God
,
and

Jesus
Christ

, whom thou hast sent."
(John 17:3)"
http://unsealedprophecy.files.wordpress.com/2008/03/arkofoneness.pdf
and here I also include Constance's radio guest from Friday: Warren Smith
http://www.reinventingjesuschrist.com/
stay tuned!
farmer