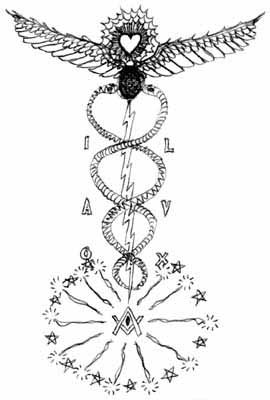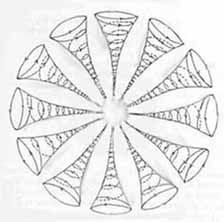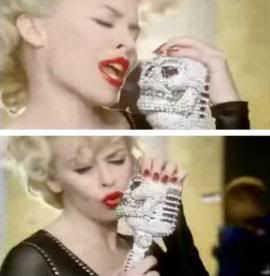 12 stars rotating around the center, Kylie Minogue kissing the skull, photo: BornRich2007
A center and around 12 power points getting their power from that very center, I had dreamed this picture already in 1992. Last week I felt the presence of this picture very much.
Then I found the crystal skulls and it's connection to the "twelve around one" and also to May 22, the Habsburgs, Mme Blavatsky, the NINE and even to our recently detected Heinrich Elijah Benedikt and the EU.
On 2008 May 22 The new Indiana Jones film is going to take the Crystal Skulls to the mainstream. And just in time too.
Indiana Jones and the Kingdom of the Crystal Skull starts May 22
(click picture for enlargment)
There are many theories as to what the
Crystal Skulls
represent, where they came from and what they're for (imported from Atlantis? Meticulously carved by the Mayans? Gifts from an extraterrestrial civilisation? Our future & past encoded within them? Symbols of doom or hope?)
It's been said that
when the 13 of them are united
, it will herald a
mass global transformation
...(a planetary Ascension?) but this can only occur when humanity can co-operate with each other. The symbolic gathering of the crystal skulls is not only a metaphor, it's a literal sign. That's why they were deliberately hidden in various places around the world, & made their way to
different territories amongst different-speaking people
. Allegedly Egos will need to be transcended & boundaries crossed for this
'crystal meeting'
to take place...and then there is another possibility to spend the evening on May 22:

From the Euromed-Anna-Lindh-foundation site site:
"On the evening of Thursday
22nd of May 2008
, groups and individuals in thirty-seven
countries will unite together
in a
unique common event
for the promotion of
dialogue and coexistence
. The Euro-Mediterranean Dialogue Night is a unique cultural event held simultaneously across the 37 Euro-Mediterranean partner countries developed by the Anna Lindh Foundation, its Network and partners including Ministries of Culture, the European Commission and COPPEM network of regional and local authorities. The event has been planned to take place exactly one week before the first meeting of Euro-Mediterranean Ministers of Culture to be held in Athens Greece in order to present the reaults of the Night to the Ministers.."
http://www.1001actions.org/dialoguenight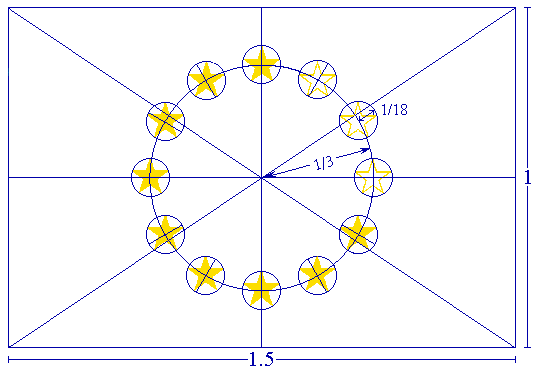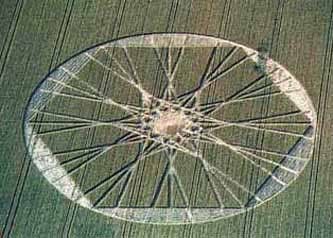 pictures: stargate, cropcircles, soundcircle from Heinrich Elijah Benedikt, Logo Euromed, book from H.E.Benedikt
from "A satan-", sorry, I mean "Ansata-" publisher and actual flag of the Pan European-Union with similar circle, headed by Otto von Habsburg.

Heinrich Elijah Benedikt

is heavily involved in the developement of an abomination of the desolation in Jerusalem and connected
(see p.180 of the pdf.)
to the Oslo accords and UN through

Dr. Markus Boullion

and
UN envoy Terje Roed-LArsen

and their International Peace Acade
my
http://www.jerusalem-academy.org/
http://www.jerusalem-academy.org/mediapool/38/380240/data/PROP_-_DIPLO_-_COMPLETE.PDF
http://www.ipacademy.org/meetings/meetings_overview
this link mentions at the end also

MONT PELERIN

,

back to the skulls:
Indiana Jones Producer Frank Marshall has confirmed that the new film is set in 1957, Indiana Jones is battles agents of the Soviet Union for the crystal skull. "The theory is they are shaped by higher powers or alien powers or came from another world, or an ancient Mayan civilization had the powers," Marshall explains...The artifact of the title is inspired by real quartz sculptures of disputed origins that are carved in a way that defies the natural structure of the crystal.

The crystal skulls are a number of human skull models fashioned from blocks of clear or milky quartz crystal rock, claimed to be pre-Columbian Mesoamerica artefacts by their alleged 'finders'. Contemporary mainstream scientific opinion is that the skulls are instead of recent European manufacture.(sic) None of the specimens made available for scientific study have been authenticated as genuinely pre-Columbian in origin.
The skulls are often claimed to exhibit paranormal phenomena by some members of the

NEW AGE

movement

, and have often been portrayed as such in fiction.
People who believe in the psychic power of crystal skulls say that the skulls are a center of radiant psychic energy and have the power to increase happiness and improve people's lives just by being held, handled and spoken with; others have suggested that crystal skulls can be used like crystal balls, to aid divination.
George Lucas: "Indiana Jones aren't action movies. They're primarily mysteries with a supernatural object. So it's kind of like X-Files. X-Files came out of this idea—instead of taking archaeological objects, they took Bigfoot and aliens and psychological mythology instead of the physical—but it amounts to the same thing.
It amounts to a belief in the supernatural."
LINK
An episode of the television series Stargate SG-1 dealt with crystal skulls, in which the crystal skull was an artifact left behind from an ancient alien civilization that transported people between earth and the homeworld of the ancient aliens that created the skull. It also allowed people to be sent to another dimension (out of phase) when the teleportation was interrupted before it was finished. A novel, "City of the Gods" by Sonny Whitelaw, expanded upon this theme.
The collectible card game Illuminati: New World Order has a card for the Crystal Skull.
An investigation carried out by the
Smithsonian Institution
in 1992 on a crystal skull provided by an anonymous source who claimed to have purchased it in Mexico City in 1960 and that it was of Aztec origin concluded that it, too, was made in recent years. According to the Smithsonian,
Boban acquired the crystal skulls he sold from sources in Germany
; findings that are in keeping with those of the British Museum.
New Age page
http://www.ika-international.org/hp/e/detail-home.html
writes:

"

In the attainable area of the universe there are

12 planets with intelligent inhabitants

. One of it was/is also the earth. But the earth was not a good developed planet and became soon clear to the other peoples that it would come by the environmental pollution and wars of the separate governments soon to a disaster which will destroy the people. Therefore every people stored their knowledge in crystals which they had formed to skulls. Then these were brought on the earth, so that the people could take the knowledge in themselves and could escape before the threatening disaster. Then the other peoples disappeared again." and:
"Alice Bailey
and other magic systems might be confessed so–called Seven Bänder, colors, frequency or dimensions (

seven rays

). These describe the physical reality which are also represented by the 7 Chakren–system. These are coined in the meantime, so that we now also with Earth–u. Heavenchakren work – the human system fully in the channel as a messenger between earth and cosmos as well as in a different way around place.
In this respect works mayan nummerologie on our planetares system covered with

Thirteen Parts, frequency, dimensions

– or mayan or Egyptian expressed "Sound u. To sounds".

The Indian mythology speaks from 12 races, from the cosmos on the earth came (12+1) and one skull for the contact with the home brought. Also the Christian tradition speaks in the old person Testament of 12 human prhistoric races. If one believes the assertions so-called crystal skull expert, some skulls are extraterrestrial and a whole row are earth creations or imitations. Maya cosmic "race" considers (Maya = illusion), have no direct home planet, but claim himself "from the space–time outside" to come. As well as the Atzteken have "disappeared" Maya not so simply from the planet earth " both have concluded the collective ascent already successfully as a people. The skulls as well as the mayanische calendar "Tzolkin" are earth aids to the communication about the borders of space and Time out.

http://www.ika-international.org/hp/e/detail-home.html
http://www.crystalinks.com/crystalskulls.html
http://www.theosophycanada.com/fohat_ether.htm
The Maya calendar end 21.Dec.2012.
Between 2008, May 22 and 2012, December 21 it is 240 weeks or 55 months.
One of their Maya pages writes:
"

Dante, Bernard Shaw & Alice Bailey had highlighted in their writings that a World Government is the only solution to achieve permanent World Peace.
Mahesh Yogi inaugurated the World Government in 1975 in Seelisberg, Switzerland ( " In response to the call of time, a global organisation has been structured, the non-political, the non-religious World Government which has the knowledge and expertise to create an ideal society" ). Foster Bailey, the husband of Alice Bailey, said that " Free Masonry is the descendent of a United World Religion, a divinely imparted Religion. Then came separativeness and religions. Now we are striving for a United World Order" There is also a move to create a World Stock Market & to control all governments in the world. The foundations behind the United Nations are spiritual. The Global Oneness Movement is gaining momentum and a Council of Global Governance has been constituted with Maurice Strong as the President. ..
Global Oneness alone can save the world. Globalists alone can bring a planetary transformation and not those who champion the cause of a Nation or a Civilisation. Some prominent globalists are Jeremy Rifkin, Norman Cousins, Elizabeth Clare Prophet, John Denver,

George Lucas

, Norman Lear,

Alice Bailey

, Alvin Toffler, Dr. Barbara Ray, Benjamin Creme, Levi Dowling, George Trevelyan, Fritjof Capra, Abraham Maslow, Barbara Marx Hubbard, Ruth Montgomery, Shirley MacLaine, J.Z. Knight, Marilyn Ferguson, David Spangler, Nelson Mandela & Gorbachev."
They end with the Luciferian Great invocation(sic):
http://www.mayanmajix.com/art1504.html

The symbols are simple, but the rules do tend to vary somewhat. This design, "Sobek, god of a city called Crocodilopolis" (Lionel Casson, "Ancient Egypt", pg. 73), has strong elements of both magick mirrors

and oracular skulls

and points in the direction of both the magnetic magick mirror technology and the Egyptian and Vedic "mystical" Solar sciene for further clues as to their construction and operation.
T
he
Crystal
Skull
of Lubatuun is also described repeatedly as having properties like a
magic mirror or counter magnetic amplifier device
, that is, it seems to display images across space and time, and may be something of a bridge between the two classifications.
It's often reported that the skull shows strange, ancient scenes
along with other similar phenomena.
http://www.geocities.com/Athens/Olympus/6581/chronos28.html
Members of the Spanish government, that is former Prime Minister
Felipe González,
as well as the theologian
Leonardo Boff
are represented in the executive committee and in the advisor staff of the
socalled Fundación Atman para el Diálogo entre Civilizaciones.
The Fundación
Atman
organized a high-ranking conference in Madrid, at
the end of of October 2005, about
Alianza de civilizaciones, - alliance of the civilizations.
Leonard Boff
, Boff is to be found here also. He
comes from
Brazilian Theology of Liberation and is concerned in the last years on "new spirituality". He teaches that human will discover the

mirror-image-ritual dimension

as objective dimension of the cosmos"
.
skulls, Crystals, Mexico, Superman...ever heard of the Fortress of Solitude, Supermans refugium?
http://news.nationalgeographic.com/news/2007/04/photogalleries/giant-crystals-cave/
http://www.lifeinthefastlane.ca/mystical-crystal-cave-of-giants-uncovered/weird-science
http://en.wikipedia.org/wiki/Fortress_of_Solitude

And then there are those, who want to mix the Jewish or Christian heritage with this NEW AGE hogwash, for example:
Stuart Wilson

was born in Exmouth in the West of England. He came from a conventional background and went to a Scottish public school (Fettes in Edin-burgh).

However his mother was fascinated by theosophy and the writings of

Alice Bailey,

and this led to Stuart's lifelong interest in esoteric teachings and the Eastern and Western wisdom traditions

. The writer moved in 1990 to help his friend

Joanna Prentis

with the development of the Starlight Centre in mid-Devon. He writes of this period: "It was inspiring and fascinating but also exhausting! A stream of visitors came in to the Centre, mainly from the United States and Australia, but some also from Europe. We had an amazing and mind-expanding time sitting at the feet of internationally respected spiritual teachers and workshop leaders. What I remember most about this time was the big gatherings when our friends came in to share a meal and talk about our experiences and all the changes that were happening in our lives. It was a wonderful time, full of joy and laughter, and the special events, like

Anna Mitchell Hedges sharing her crystal skull

, and the

two fire-walks

led by

Esassani

, were simply magical!"

...

They openly play with an false Christ image:

Stuart Wilson's "The Essenes: Children of the Light"
Or even worse here: (Take care, let no one deceive you!):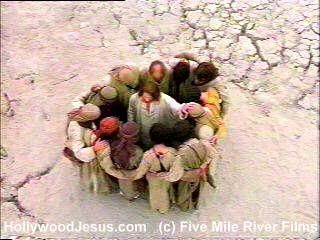 Hollywood Jesus: again 12 around 1
http://groups.msn.com/starchildren/the13crystalskulls.msnw
http://groups.msn.com/starchildren/unearthlysummation.msnw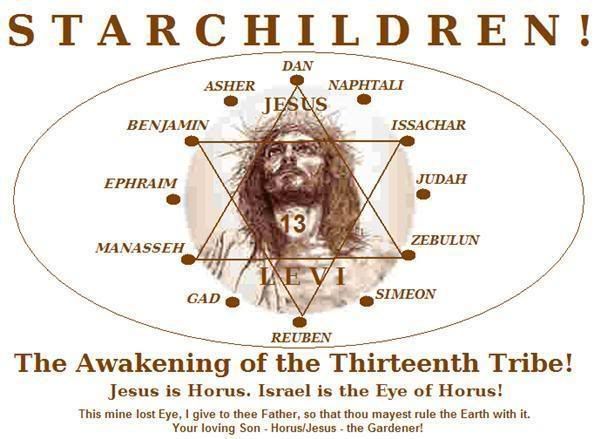 Connection to the Nine are
here: (longLink)
, the Rahelian suicide cult, PhyllisSchlemmer's New Age classic Two/Thirds,
or
http://www.bibliotecapleyades.net/ciencia/ciencia_indigo11.htm
stay tuned!
farmer