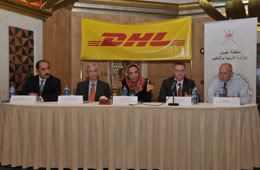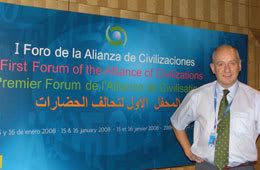 Mark Evans, founder of the

DHL

supported Connecting Cultures at the UN Alliance of Civilisations Forum.
"Established in 2004, Connecting Cultures is a unique educational initiative that promotes face to face dialogue with young people from the western and Arab world via

short wilderness journeys

.

The aim of this dialogue is to

celebrate cultural diversity

, break down stereotypes, identify shared values and in so doing promote understanding and

help reduce the polarisation of cultures.



Based in the Sultanate of Oman, Connecting Cultures works in partnership with governmental, corporate and charitable sectors. It is endorsed by UNESCO and works to support the key aims of the

United Nations Alliance of Civilisations

.

DHL

are the main corporate sponsors

of the Connecting Cultures programme.
"
The other sponsor for the expedition is

MHD Land Rover.
http://www.ameinfo.com/143911.html
http://www.connectingcultures.co.uk/
http://www.connectingcultures.co.uk/partners.htm
also the girls went: http://www.ameinfo.com/143586.html


http://www.khaleejtimes.com/CityHome.asp?xfile=data/citytimes/2008/May/citytimes_May85.xml&section=citytimes&col=
stay tuned
farmer!