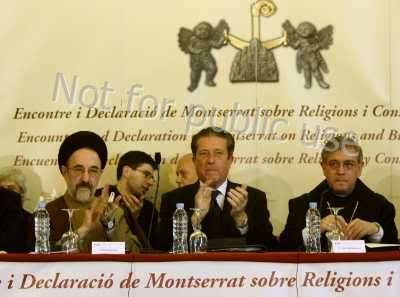 (L-R) Mohammad Khatami, former Iranian President and President of the Foundation for Dialogue Among Civilisations, Spaniard Federico Mayor Zaragoza, president of the Foundation for a Culture of Peace and former director-general of UNESCO, and the Abbot of Montserrat Josep Maria Soler applaud during a meeting after the signing and presentation of the Declaration of Montserrat in Montserrat Monastery near Barcelona April 10 2008. The Foundation for a Culture of Peace organised the international meeting to discuss the role of religion in the building of peace. REUTERS/Gustau Nacarino (SPAIN)


On 2008 April 10, among others
Federico Mayor, Khatami, Rabbi Arthur Schneier, HRH Prince El Hassan Bin Talal
signed or adhered the "
Declaration of Montserrat
".
It states
"
Based on our common humanity, common vision
and the shared values of fraternity, human solidarity and love,

religions should
never again be the origin of confrontation but of conciliation.
The dramatic and endless conflicts in the Middle East, as well as recent tragic
developments in other parts of the world, require solutions prompted by the
awareness, commitment and involvement of religious leaders and civil society,
which must urge
political will and action
to the decision-makers.(...)"
"
As stated in the
Alliance of Civilizations Report
and others we
must
enhance
efforts to bridge the divides between religions and cultures through dialogue and
concrete action because religions and cultures are intertwined. We
must
overcome
the misperceptions, stereotypes, biased language and concepts reproduced by the
media and frequently echoed by irresponsible leadership. Religions
must
stay
together to co-exist harmonically and
work jointly to build a common future
.
We must
challenge attitudes that spread the appearance of links between religion and violence, extremism and even terrorism."
"In this context, there is a most
urgent need to promote action
which can
counteract
the present situation and trends,
based on force and imposition.
We

must

encourage action–oriented behaviours and attitudes, and widely spread
knowledge on the real root causes of the conflicts –including, when appropriate,
the misuse of religions and ideologies. We

must

provide possible solutions to build
peace in the minds of people, particularly
in the minds of social and political
actors as well as the mass media
."
...
"We invite all cultural expressions to participate in the building of and
international architecture through intercultural dialogue which shall strengthen a
shared culture of peace. We call upon media to contribute to avoid the wide dissemination of stereotypes and biased images, and to promote better understanding between different
cultures and religions."


whole declaration
:
http://tinyurl.com/4z9uml