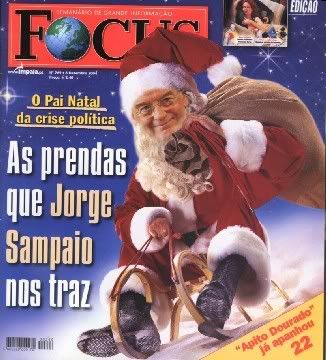 AoC-Sampaio on a former Portugese Focus cover
Adi Schwartz fromHa'aretz wrote in a report on Sampaio's recent visit in Israel:
"Jorge Sampaio is currently trying to defuse the mine laid 12 years ago by Samuel Huntington.(...

)Sampaio

, as

the United Nations Secretary's High Representative for the Alliance of Civilizations,

has now set out to win hearts in the areas of culture and religion. (...)
Sampaio's mission is not political. On his visit to Israel and the Palestinian Authority this week, the UN representative made it clear to his hosts he had

no intention of competing with the Quartet or the Security Council,

and that he was not charged with participating in negotiations. In Israel,

he met with President Shimon Peres, Welfare Minister Isaac Herzog and with several MKs from the Foreign Affairs and Defense Committee.

"To the Israelis I try to make clear that the Alliance is not an anti-Israeli initiative, because every UN organization is perceived here as hostile [to Israel]," he says. "To the Palestinians, I try to show the benefit of cooperative action against extremism, even though, there, too, there isn't a whole lot of faith in another UN representative who comes to the region."
So far, more than

80 countries have joined the Alliance

, along with a number of international organizations, such as UNESCO and the Arab League.

Two countries are conspicuously absent from the list: Israel and the United States.

Israel's basic stance is that past experience teaches that initiatives of this kind, in which an attempt is made to bring Europe and Islam closer together, are too often made at Israel's expense. Sampaio admits that one reason for his present visit to Israel is an attempt to convince the Israeli government to join the Alliance,

but the Foreign Ministry said this week Israel was not interested in becoming a member of the Alliance

, although it would consider getting involved in specific projects. At least as far as the U.S. is concerned,

Sampaio is happy to report that within the past few weeks, Washington decided to join the initiative as an observer

.
(...)
Asked if he's optimistic about the chance of arriving at an understanding between the civilizations, Sampaio smiles, takes a deep breath and answers: "In the past year, since I was appointed to the post, I've found that there is much interest in the Alliance. There is a clear understanding in large parts of the world that

things cannot go on this way. We are allowing the extremists to keep getting stronger.

The goal of this Alliance is to create a forum for holding a dialogue. We must prevent radicalization, especially in crisis situations like the crisis of the Mohammed caricatures in Denmark. We've recruited experts from different fields, who will analyze events not with the aim of radicalizing positions, but with the aim of bridging gaps.

Far too often we hear statements from politicians and media people that only exacerbate the situation."
Sampaio knows he has no good answer. He speaks softly, befitting an experienced European politician. His eyes - one green and one blue - express a genuine desire to reach a compromise and solution by peaceful means. "I comprehend the threat very well," he says. "I'm not trying with

my small team of 10 people

to change the world.

But we want to appeal to ordinary folks

.(...)"
the whole article can be found here:
http://www.haaretz.com/hasen/spages/988827.html
stay tuned!
farmer