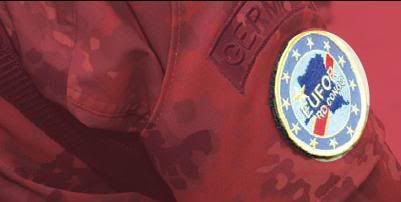 "
...Paris is insisting on
the new Brussels headquarters coming under the authority of Europe's foreign policy supremo, a post whose powers are considerably boosted under the EU's reform treaty and which is currently held by
Javier Solana
of Spain
. Ultimately, the Brussels headquarters would plan and control EU missions abroad.
"Solana thinks we need a more permanent structure in Brussels. There's no doubt about that. The big problem is the Brits," said an EU foreign policy official.
US resistance to the European HQ idea may be eroding since Sarkozy announced last year that he is willing to return French officers to Nato's command structures for the first time in more than 40 years, while also couching his European HQ proposal in modest terms..."
from: "European HQ heads Sarkozy plan for greater military integration" http://www.guardian.co.uk/world/2008/jun/07/eu.france
stay tuned!
farmer