The Eiffel Tower is illuminated as France takes over the EU presidency,

to see video click picture or here., 2nd Picture: Cathedral of Chartres 12 around one

"
Since the Irish rejection of the Lisbon treaty, "
Super Sarko
" has recast himself as
would-be saviour
of the Union during the six-month French presidency of the 27-nation group, which began at midnight and was marked by the
Eiffel

Tower being

lit up

in blue and

gold

...
a ceremony is to be held later on Tuesday at the Arc de Triomphe in the French capital.
"
"There was
another blow for the Lisbon
treaty yesterday from
Horst Köhler, the German President, who refused to complete his country's ratification
. President Köhler (farmer: and former IMF-Boss) decided not to sign the documents until a legal challenge is heard by the country's constitutional court, a process that could last until the autumn"... "The move is a serious embarrassment for Angela Merkel, the German Chancellor who, with President Sarkozy, wants to keep the ratification process moving
"
....
http://www.timesonline.co.uk/tol/news/world/europe/article4245028.ece
(farmer: the newspaper writes "Super Sarko", this points to the Hungarian word "sarkany" for DRAGON),
There are more illustrious guests expected to France:
Until the weekend of

next EU-summit July 13,14

(and Solana birthday) among others dealing with Sarkos Mediteranian Union proposal,
from

6.-12. of July in Chartres, France

will be a seminar "BIRTHING A NEW HUMANITY" a.o. with Karuna Erickson, Alex Grey, Jean Houston,

Barbara Marx Hubbard

, Rupert Sheldrake.
Jean Houston ist the founder of the 7 year school wich will end in 2012.
https://www.wisdomuniversity.org/Chartres/index.htm
Chartres Cathedral

,

one of the most famous Gothic cathedrals in all of Europe. It's located on the ancient site of an important Druid mystery center and on a leyline linked to sacred sites in Glastonbury and Stonehenge in England, as well as the Pyramids on the Giza Plateau in Egypt. The Knights Templars and their stonemasons built it according to the principles of "Sacred Geometry".
"
New Chartres School is designed as an initiation into the wellspring of wisdom developed by the wise ones of civilizations long past, as well as a gateway to an encounter with the mysteries of Creation.
" from their pdf-flyer.
you find their very telling
"required reading list": here

Lecturer

ALEX GREY

is also sitting on the
"Universal Awakening Board of Advisors" (LINK),
together with DAVID SPANGLER. Director is

Sufi-master
Himayat Inayati, Th.D.
(read also here
Constance Cumbey
's article about his involvement at the "Goldlake secrecy pact" : http://watch.pair.com/goldlake.html), Spanglers occult site can be found here:
http://lorian.bigmindcatalyst.com/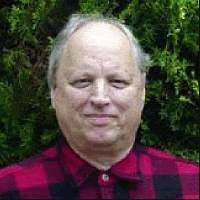 David Spangler


Lecturer
Alex Grey
is also an artist, creator of the (
WARNING!
) very disturbing "
Chapel of Sacred Mirrors
":
http://cosm org/
http://www.alexgrey.com/
Among its advisery board members well-known names of the New Age scene:
Ken Wilber, Deepak Chopra
,
Jean Houston, Joan Halifax and
rev.MATTHEW FOX
(see his apostasy 95 theses for Christanity in the 3rd millenium here)
Advisory board Link: (end of the page of) http://www.alexgrey.net/interviews/entheon.html


skulls, 12 around a chrystal mirror, see also the world clock at the top,

Alex Grey Picture from http://www.alexgrey.com/

On a page that advertises a false gnostic Christ, we meet the artist again,
together with other artists, which I will refer to more:
Btw they have a picture on the site called

rape of Europe

and it has again the 12-sign in it: http://www.lcaruana.com/webmedia/gallery/eu.300.420k.jpg

"

THE HIDDEN PASSION MAKES THE GNOSTIC GOSPELS COME ALIVE..

!


This is the tale of the Gnostic Christ, based on the ancient sources. In a compelling narrative, L. Caruana seamlessly weaves over 1500 sayings from the Nag Hammadi texts to recount The Hidden Passion of the Gnostic savior. Wandering round Galilee, increasingly hailed as the Messiah of the Five Seals, the Gnostic savior preaches divine awakening through compassion. But he must still contend with Judas, his dark twin, and Magdalene, his promised bride. At once earthly and spiritual, the Nazarene's love for these two is finally transfigured into a higher, hidden passion."

..."The sources of the visionary experience are many and varied: dreams, trance, madness, meditation, entheogens... This little book examines them all, pursuing both 'Visions of Light' and 'Visions of Darkness'. Through the art and writings of

Fuchs,

Klarwein,

Giger, Venosa

, Johfra, De Es,

Grey

... By featuring the work of established artists such as

Ernst Fuchs

,

Alex Grey,

Victor Safonkin, Andrew Gonzalez,

Martina Hoffmann,

Laurie Lipton, Chet Zar, Kris Kuksi, Brom and

Robert Venosa

"

http://www.lcaruana.com/webtext/writings.html
is about to have an exibition at Alex Greys Sacred chapel on

magic realism

(LINK).
A 20'x10' multi-media installation piece consisting of
nine
paintings, sculpted elements and sound is what M. Hoffmann considers as "her masterpiece" and what she calls: '
Goddess Triangle
'. The top of the triangle is a woman body with a snake head called: "
The Snake Godess
".(sic)

Matina Hoffmann: "the Snake Godess"


Martina Hoffman'

s partner or husband is

Robert Venosa

(see her biography in pictures)
, also artist and he has/had good links with people like painter

Salvador Dali,

Alien creator

H.R. Giger

, Drug pope

Timothy Leary

, but also with above mentioned Austrian artist

Ernst Fuchs

.

artist Ernst Fuchs (middle) with son(left) and Robert Venosa (right)
Now before I go into the alchemist philosophy of
Ernst Fuchs
, as part of my next article, I would like to say "
Heinrich Elijah Benedikt
", mentions Fuchs in his Kabbalah book and he even has a fullpage colour Fuchs-picture included: the "Abendmahl" (the Last Supper). And Benedikt knows exactly why.
H.E.B.
is the author of the Peace Plan of the Jerusalem Foundation (
http://www.jerusalem-academy.org/mediapool/38/380240/data/PROP_-_DIPLO_-_COMPLETE.PDF)/in May I had written about 3rd Crans Montana Forum. (see here), It turns out, (thanks Joyce and Nony!), H.E.B. was also there.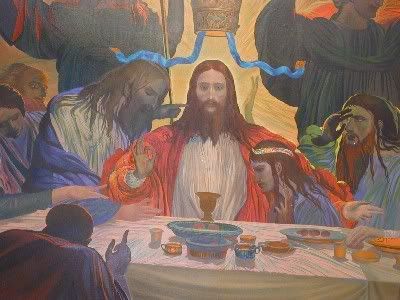 Ernst Fuchs: Detail from "Abendmahl", Dormitorio Kloster,
also in H.E.Benedikt's book "Die Kabbala, I.") Abb.78b (p416-417).

This leads us back to the 12 plus one and the skulls, more on it soon,
stay tuned!
farmer