August 6: more sports news today:


" The Istanbul phase of "Human Race" (farmer: Why not name it "run to make them run to the hills"??), which is (the biggest) global running event organized by world's leading sportswear and equipment supplier Nike Inc., has been included in the "Alliance of Civilizations" project supported by the United Nations.
In an effort to celebrate runners and their sport all over the world, Nike organizes "Human Race", the ultimate runner experience aiming to provide a global connection point for every athlete.
"Human Race" will be simultaneously held in 25 cities around the world on August 31st, Sunday. Apart from Istanbul, the races will be held in Austin, Bogota, Buenos Aires, Caracas, Chicago, London, Los Angeles, Lima, Madrid, Melbourne, Mexico City, Munich, New York, Paris, Quito, Rome, Sao Paulo, Seoul, Shanghai, Singapore, Taipei, Tokyo, Warsaw and Vancouver". LINK
btw: the elapsed running time will be measured by a chip on the body...MoB - just do it??? http://nikeplus.nike.com/nikeplus/humanrace/index.jsp
Nike, Inc. is named after the Greek goddess Nike, who represents athletic strength and victory. Since 1928 Summer Olympics the obverse face of every Olympic medal Nike's figure appears holding a palm in her left hand and a winner's crown in her right. Better run for the crown of life: instead of Nike look to Jesus Christ. dont't run away any more from your sins, receive forgivness, give obedience to His gospel for the salvation of your soul. That' a race truly worth running.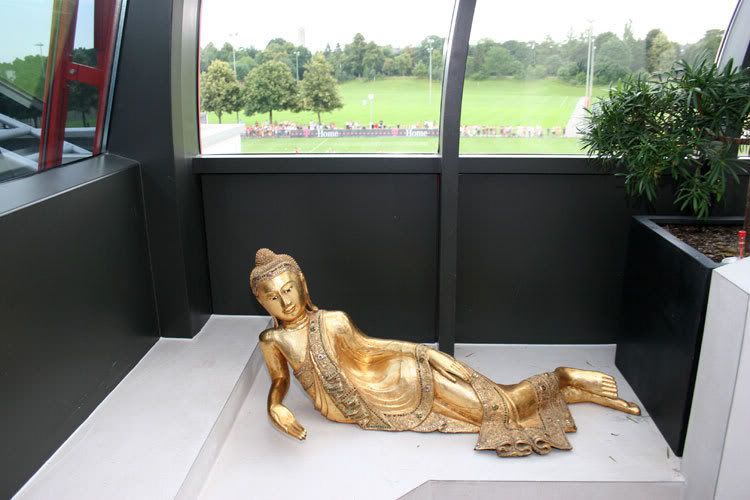 coach Jürgen Klinsmann brought 4 Buddha statues as a new philosophy from L.A. to Munich, photo: Spiegel.
Under the title "

Bayern Munich's Path to Enlightenment"

Alexander Osang and Christopher Sultan at German newspaper SPIEGEL wrote about the strange things going on at the Bavarian Soccer Club "FC Bayern München" lately - and this in the heart of Germany's deeply Catholic area:

"Championship-winning Bayern Munich has hired Jürgen Klinsmann to help it rejoin the ranks of the top European football clubs. Klinsmann is intent on getting into the heads of his players to improve their performance -- with the help of Buddha, yoga and a holistic philosophy."
'I Brought Along my Energy'
Newspaper Bild quoted the new coach: "

We will build up a new energy field, which will please the players a lot

".
When he first arrived in Munich in January, Bayern Munich officials mentioned that they were planning a new some new construction work at the team headquarters: an entire office block. Klinsmann said, wait a minute, I want to have some say in this. That was how the training center came about. It's a place where team members can play table tennis or billiards, or read,

meditate and take yoga classes.

..


"I want to look inside the heads of the players," says Klinsmann. "I want to know what makes them tick, to figure out the best way to reach them. Some need to be hugged, some need visual examples and others need conversation." "I want to convince them to open up," he says.And once they are open, soft, he can impart the Bayern feeling to them. The Bayern identity. The 'We are ourselves' philosophy. Self-confidence, he calls it.

But luckily not everybody believes the hype: "

The buddha figures can not help me. I already have my faith

", says Bayern Munich player and Christian from Brasil (playing also in their National Team)

Zé Roberto

.
In parts from
http://www.spiegel.de/international/germany/0,1518,569302,00.html
stay tuned!
farmer