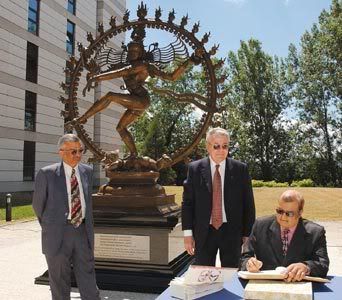 The statue of the Indian deity Shiva at CERN symbolized in a dance for creation and destruction links also to Fridjof Capra and daVinci: http://www.fritjofcapra.net/shiva.html - the World's Olympic Committee in Lausanne is just some few miles away on the other side of the sea.

Are they trying to build a "stairway to heaven" at CERN?, crop circles, 8, phoenix and babel
anyway: love and war - venus and mars - the theme continues as
Leona Lewis and Jimmy Page's Play Set at Olympics Unearthed
- "Whole lotta love"- "Onus shifts to London as Games near end"
"Forget waiting for the 2012 Olympics opening ceremony to show the world what they are made of, London Olympic organisers will have to do something amazing on Sunday at the closing ceremony in Beijing when they take over from China.
Experts are sure that after the breathtaking show put on at the opening ceremony, Beijing will make the closing just as spectacular. London will be given an eight-minute slot to wow the world with at the grand finale, and most are worried that it will pale against the dazzling spectacle that China is expected to put on."
It is now revealed that Jimmy Page will present a version of Led Zeppelin's 1969 song "Whole Lotta Love". Brit football star Beckham will enter the Bird's Nest stadium atop a red double-decker bus, and then kick a football around with children representing the 205 Olympic nations. Leona Lewis, the X Factor winner and Jimmy Page of Led Zeppelin will sing a duet. Hundreds of ballet dancers from the Royal Opera House accompanied by an urban dance act and disabled dance troupe will also perform.
China has managed to put so much pressure on London to produce a fantastic opening ceremony in 2012 that most are giving up before they start. "London is good at putting on a show and the world will see that it is not just a place full of old buildings and crumbling imperial memories with a rather curious family in nominal charge," said Simon Barnes, The Times. "London will be the centre of the world for 17 days…best not bugger it up then," he added.
http://www.dnaindia.com/report.asp?newsid=1184660
http://www.aceshowbiz.com/news/view/00017771.html
Meanwhile the death toll from a Spanish air crash has been confirmed at 153.
'A jet owned by the troubled Spanair airline overshot a runway at Madrid's international airport and exploded into flames (21/08/08). "The scene is devastating," said Pablo Albella, a Madrid city emergency rescue worker. "The fuselage is destroyed. The plane burned. I have seen a kilometre of charred land and few whole pieces of the fuselage

"It is all destruction," he added.'
19 survived
.
Link
Superstorm "
Fay is the Joker after all, so stay tuned
", writes weather expert Dr. Jeff Masters - did he read my blog, with the article about the Dark Knight ?
Link
Tempest is also the name of the frontman of a band called "Europe", their main hit was called "
The Final countdown
", so stay tuned to ...
10/09/08
...this year with 240 elephants in the CERN tunnel,
"
The LHC is the world's most powerful particle accelerator, producing beams seven times more energetic than any previous machine,
and around 30 times more intense when it reaches design performance, probably by 2010
."
countown to first LHC First beam:
19 days left
.
http://www.cern.de/
http://www.nanowerk.com/news/newsid=6856.php
"From their callous hearts comes iniquity ;
the evil conceits of their minds know no limits.
8 They scoff, and speak with malice;
in their arrogance they threaten oppression.
9 Their mouths lay claim to heaven,
and their tongues take possession of the earth.
10 Therefore their people turn to them
and drink up waters in abundance. [c]
11 They say, "How can God know?
Does the Most High have knowledge?" (...)

16When I tried to understand all this,
it was oppressive to me
17 till I entered the sanctuary of God;
then I understood their final destiny.
18 Surely you place them on slippery ground;
you cast them down to ruin.
19 How suddenly are they destroyed,
completely swept away by terrors!
20 As a dream when one awakes,
so when you arise, O Lord,
you will despise them as fantasies.
21 When my heart was grieved
and my spirit embittered,
22 I was senseless and ignorant;
I was a brute beast before you.
23 Yet I am always with you;
you hold me by my right hand.
24 You guide me with your counsel,
and afterward you will take me into glory.
25 Whom have I in heaven but you?
And earth has nothing I desire besides you.
26 My flesh and my heart may fail,
but God is the strength of my heart
and my portion forever.
27 Those who are far from you will perish;
you destroy all who are unfaithful to you.
28 But as for me, it is good to be near God.
I have made the Sovereign LORD my refuge;
I will tell of all your deeds."
from Psalms 73, stay tuned!
farmer