An ad showing the new iPod Nano is displayed during an Apple special event Tuesday in San Francisco. Apple CEO Steve Jobs announced a new version of the popular iTunes software and new versions of the iPod Nano and Touch.Photograph by : Justin Sullivan, Getty Images . And Picture from LHC-event at CERN, Geneva, both yesterday Sept 9. (9/9/ with ipods in 9 coloures in Rainbow-design)

"We have not been swallowed by a black hole. (farmer: At least not yet)
About half an hour ago particle physicists near Geneva were scheduled to fire up the world's biggest atom-smasher in a mission to answer some of the most perplexing questions in the cosmos.
The Large Hadron Collider is designed to accelerate sub-atomic particles to nearly the speed of light and then smash them together.
The collision will briefly stoke temperatures 100,000 times hotter than the Sun.
Doomsayers think it could produce small black holes which could swallow the earth but other scientists laugh that off.
You can rest easy tonight.
Wednesday night's events are merely the start of a long and cautious commissioning process of testing equipment and procedures before starting experiments a few weeks from now." Link

But the time for the start is chosen well, as explained in my last article and it was also an "Apple"-sponsored event as I can show here: These pictures are from the CERN's live session yesterday with scientists propagating the innocence of Eve in the bit from the forbidden fruit for widom: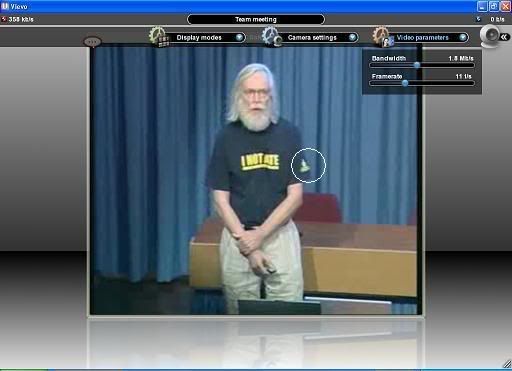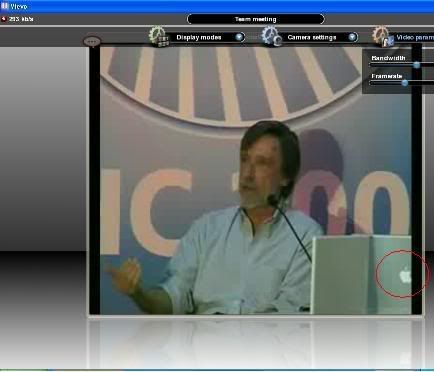 "I not ate" on the T-shirt and apple-Logo(white circle) of CERN scientist John Ellis with "CERN is save"-message at LHC 2008. Who was it then? (St)eve (qobspod)? Also: mirror-reflecting-design on the table (as above, so below, "eye see"/"I sea"). Also playing on "i-novate"(novum=nine) and "I pod-ate".
The message sems to be: "I did nothing wrong(I ate not/I pod) and even if I ate from the fruit - nothing is wrong with it, we have nothing to fear...such heavily downplaing the dangers of the rainbow-snake" (see also my last article) and feeding the ego (""I"-dope"). But this is not a new partnership:
"Scientists are using Apple technology in a major global project to help improve man's understanding of the structure of the universe. Intel-based Macs will play an important role in the ALICE experiment at the CERN international particle physics laboratory in Geneva, helping to measure what happens when particles collide with unprecedented force at close to the speed of light." LINK
Wasn't Alice the mirror lady in wonderland? And why we have just today (one day after and mars hitting venus) coming out a drug scandal from England's new top model ALICE Dellal (Link)? (her fashion label "agent provocateur" (nomen est omen) is just too occult to say more about it).
Hey' also Solana family friend Blas Cabrera uses Apple's Mac (Apple sponored?), see here: LINK , for his part in the Dark Matter experiments see here:LINK, and also we do not need to be surprised that Apple-boss Steve Jobs used the Mars-Venus-Mercury (Rainbow)alignment-date also for his own marketing:
Russian narciss mirror reflex and I-Pod Narcissm, also in the cormer: "9/11" and "a new strongman"(EGO)
"Let's rock"-event 9/9 with mirror design and narciss mirror on the rocks (above/below 9/9)
http://arstechnica.com/journals/apple.ars/2008/09/02/apple-confirms-september-9-special-event-lets-rock

"Anyway, typical of Jobs, he walked out with his trademark black turtleneck and jeans. But he made sure to remind us (with a slide) that:
"The reports of my death are greatly exaggerated." ...New iTunes 8, available today. New browsing options, better accessibility and something called Genius. ...
As an example, Jobs used Bob Dylan's "Don't Think Twice, It's All Right...."
Link
These themes are as if they come right out of the song "love bites" from Rockgroup Def Leppard (farmer: or "Def Le-pod?): "If you've got love in your sights Watch out, love bites When you () love, do you look in the mirror? Who do you think of, does he look like me? Do you tell lies and say that it's forever? Do you think twice, or just touch 'n' see?"
"Now I a fourfold vision see
And a fourfold vision is given to me
Tis fourfold in my supreme delight
And three fold in soft Beulahs night
And twofold Always. May God us keep
From Single vision & Newtons sleep."
(Földény L. to Thomas Butts, 22nd November 1802)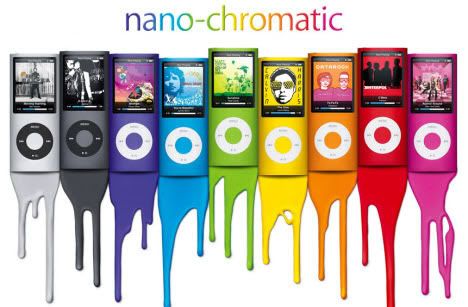 logos from Deflepaprd record Hysteria in rainbow colours, cern, Apple i-pod, ipod-Nano Chromatic.-
Jobs calls the new i-pod nanos "nano-chromatic.They encompass nine colors, including a (RED) version." (same Link)

"Del Drago increased the chromatic range that we use since Newton until our days, because he has discovered that over the three primary colors (blue, red and yellow), a fourth one exists: the mid red". Link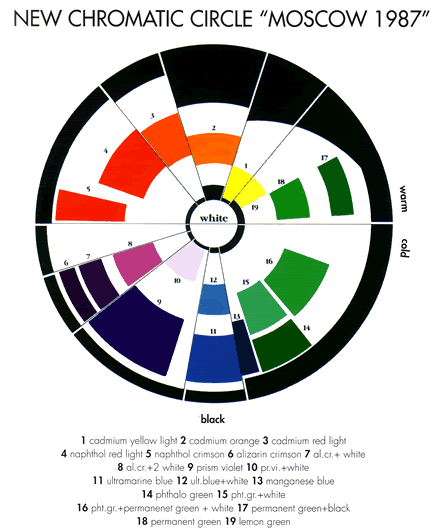 Franceco Del Drago's Chromatic Circle Moscow 1987 (also Def Leppard album from 1987), here more: LINK

"
The term
chromatic
derives from the Greek word
chroma
, meaning
color
. Chromatic notes are traditionally understood as
harmonically
inessential embellishments, shadings, or inflections of
diatonic
notes
" (Wikipedia)
Solana: "
it was only in the arms of

Venus

that

Mars

found peace.

And was their beautiful daughter not

the goddess Harmonia

"

LINK

Def Leppard, Del Drago, Alice Dellal...is this a pattern on the red apple of Newton?
Also in Nuclear-Physics the Chromatic Spectrum plays a role:
"In 1934, Cherenkov observed the emission of blue light from a bottle of water subjected to radioactive bombardment. This phenomenon, associated with charged atomic particles moving at velocities higher than the speed of light in the local medium, proved to be of great importance in subsequent experimental work in nuclear physics, and for the study of cosmic rays. Eponymously, it was dubbed the Cherenkov effect, as was the Cherenkov detector, which has become a standard piece of equipment in atomic research for observing the existence and velocity of high-speed particles. The device was installed in Sputnik 3. Pavel Cherenkov has also shared in the development and construction of electron accelerators and in the investigations of photo-nuclear and photo-meson reactions." LINK. I am sure Blas Cabrera knows to explain it, as he has also to do with these optical detectors (PDF-)LINK (or click picture:)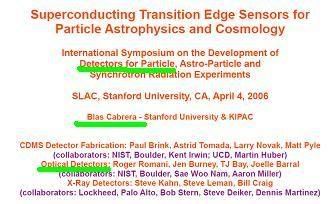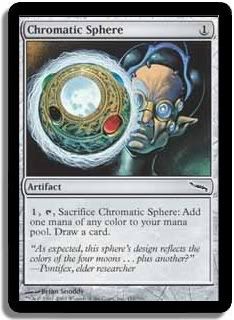 stay tuned!
farmer