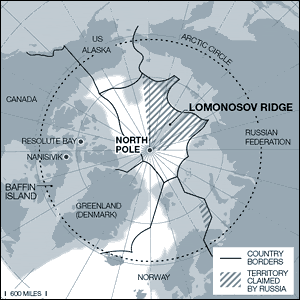 Remember Solana sending war ships to Canada in the fishery wars? (
link
)
And: It was seven months ago
that
Javier Solana
, the European Union's foreign policy chief, warned about the risks to international stability from the intensifying competition among countries in the Arctic region....it look as if
the race about the Northpole has begun
:
Both news from same day showing the bidding for Island (in exchange for gaining access to the North pole):
"
EU Commissioner: Iceland Could Gain Quick EU Entry
Iceland could get on the fast track to EU membership if it so desires, EU Enlargment Commissioner Olli Rehn said Monday. Iceland is considering joining the bloc to shore up its battered economy
"
http://www.dw-world.de/dw/article/0,2144,3728921,00.htm
"Iceland close to rescue deal with IMF, Nordic neighbors and Russia

.

The International Monetary Fund and a group of Nordic countries plus Russia are poised to announce a $6 billion rescue plan for Iceland, which saw its financial system collapse early this month in the global credit crisis

"
Council Secretary General / High Representative:
Climate change and international security
(2008, 3 March)
stay tuned!
farmer