update: The linkage to Lisbon
'THE LISBON Treaty will increase the EU's capacity to respond to crises as well as its capacity to prevent crises through coherent and consistent policies."
Making this linkage between the treaty and the world financial turmoil at yesterday's European Union summit in Brussels, Commission president José Manuel Barroso said this fundamental issue would have been better managed had the treaty been adopted. The argument for it, he said, is made stronger every day the crisis continues...."
(more here:)

http://www.irishtimes.com/newspaper/opinion/2008/1016/1224069689169.html
also here:
Govt to bring forward plan to address Lisbon fallout
and here:
Crisis shows EU needs Lisbon Treaty, says Irish leader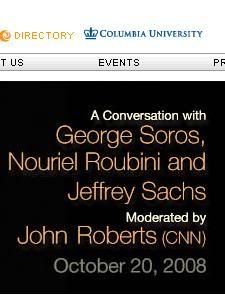 Soros sees end of US-led globalized market system - Can he save the world?
"WASHINGTON, Oct 12 (Reuters) - Billionaire investor George Soros predicted on Sunday that the financial crisis would mean the end of a U.S.-led market system that has dominated the global economy with debt and deregulation since the 1980s.
"Globalization, America as the center of the globalized financial markets, was sucking up the savings of the world," Soros said in a CNN interview.
"This is now over. The game is out. It does mean a very serious adjustment for America," added Soros, a staunch backer of the Democratic Party.
...
Jeffrey Sachs
, special adviser to U.N. Secretary-General
Ban Ki-moon
and
director of the Earth Institute
at New York's Columbia University, appeared to agree with
Soros.
..."
(farmer: They all work at the Eath Institute,
Bono from U2
included, the consequence would be that the EU would take the lead...)
LINK(this news)
LINK(Bono, Soros)
stay tuned!
farmer