If you click on

Karen Armstrong's


http://charterforcompassion.com/
you find not just her new "Golden rule"-project (to
be completed in 2009
)
and
her socalled "
Council Of Sages"
(with
Desmond Tutu
as one of them)
but at the partners list that,
besides AoC - the

Alliance of Civilizations

,
and other names, she is linked with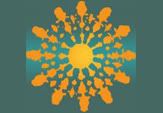 http://www.templeofunderstanding.org/
Here on their council of trustees sit
Diane & Paul Temple (
LINK
)
from the

Institute for Noetic Sciences


(which again is linked to Club of Budapest with

Ervin Laszló

and
cult leader

Elijahu Benedikt -

(see also the twelve around one symbol)

)


Temple of Understanding writes of a special event coming soon:
"

Upcoming Events:

December 11th, 2008
Donor Gratitude Event:
A Celebration of Sacred Space with with artist
Alex Grey"
Link
Alex Grey
is an occult painter who's art is used heavily to brainwash the masses.
Before, on On Nov 29, he will enjoy his birthday and then be visible in Basel, Europe.
This is a direct link between AoC and Karen Armstrong with the space brothers.
stay tuned!
farmer