Brussels, 14 November 2008 S371/08




Javier SOLANA

,EU High Representative for the CFSP,
extremely concerned at the situation in and around

Gaza

:




"I am extremely concerned about the violence that has recently returned to Gaza and the




surrounding area and threatens to end the truce. The truce has allowed

Israel

and the Palestinian Authority to make progress in negotiations and Egypt to seek to broker Palestinian reconciliation.




A return to violence is a step back for all concerned. I therefore appeal to all parties to exercise


restraint and to respect the truce that has held since June.

It is imperative for calm to be restored

."

PDF-LINK from the Council of the European Union


today G-20 in Washington: the

2 AOC horns

in the symetric center,

right behind G.W.Bush

.
maybe somebody can provide a picture from front angle?
and yesterday in Nice:
Solana, Zarkozy and Barroso meeting the Russian bear: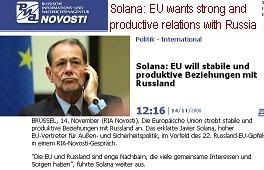 pictures: RIA/der Spiegel: " Medvedev:
Speaking with a single voice?"
"

this weekend's world financial summit in Washington, the two sides agreed to a common position on reform of global financial institutions. Kremlin chief Medvedev gushed about an agreement that "went into the details" and boldly announced that Europe and Russia "

would speak with a single voice

" at the summit..." writes der Spiegel.



"
Brussels and Moscow Rediscover Friendship
The extent of the harmony seen on Friday was rare: EU leaders and Russian President Medvedev agreed to new talks in Nice about political and economic partnership between Moscow and Europe. There was even talk of a "

pan-European security pact.

"...more here: LINK

And back to Spain:
"Only a political squabble over the cost of the art work has been able to cast a shadow over the significance of Barcelo's piece, the opening ceremony for which will be attended by UN Secretary-General Ban Ki-moon, Spain's King Juan Carlos and Prime Minister Jose Luis Rodriguez Zapatero on Tuesday, Nov. 18.Barcelo worked for 13 months on redecorating a negotiating room which will now be known as the Chamber for Human Rights and the Alliance of Civilizations http://www.dw-world.de/dw/article/0,2144,3790677,00.html

"

Row Erupts in Spain over UN's New 'Sistine Chapel

'" - "The disclosure has attracted fierce condemnation and sparked rows in the Spanish parliament. Opposition politicians are now calling for the country's

Foreign Ministry -- which has been criticized

over the affair -- to be stripped of its control over Spain's cultural activities abroad."
Link:
http://tinyurl.com/6ccgjz

In June I had already written about the new design in the new UN headquarter
:
http://tinyurl.com/64port
stay tuned!
farmer