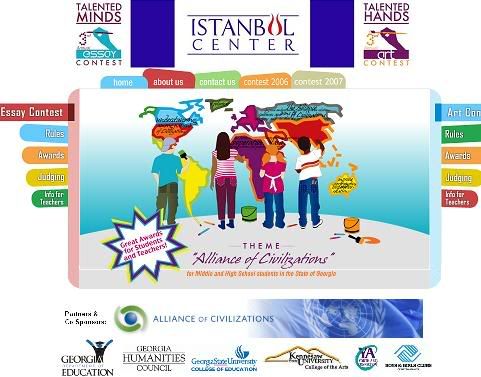 As children we learned the Gospel song: "
He's got the whole world in His hands
"
referring of course to Our Lord and we sang the song with pictures of little and bigger children from all over the world, with eskimos and red-indians praising the Lord, as He holds the whole world in his hands. It looks like our children are doomed to learn something else.
As for now AoC has made a "mother" out of Him and sell this idea with a contest for children:
http://www.istanbulcenter.org/contest/
cutout: AoC in Georgian Schools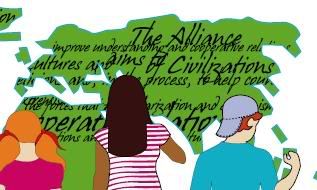 essay contest: writing on the Wall, AoC kids just everywhere...
the Bolchewistic revolution becoming now global reality?
(note: also cap backwards a sign for rebellion: LINK)

art contest: 10 AoC regions?
Logo with two horns?

And for teachers - how to talk about the Middle East conflict and Religions:

Correlation of the Theme to National and Georgia Standards:

http://www.istanbulcenter.org/contest/Correlated_Standards.pdfHere at Istanbulcenter AoC meets FBI/Anti-Terror-Fight:

On Oct 28,

"Rick Maxwell

, Acting Assistant Special Agent in Charge at the FBI Atlanta Field Office

gave a talk for

Istanbul Center guests about the role and importance of

community partnerships between the FBI and all sectors of the local community

. He gave a synopsis of counter-terrorism activities and initiatives the FBI has been practicing particularly since 9/11.

In his talk, he

identified three basic types of terrorist groups

:

groups and cells that are directly linked and supported by Al Qaeda, groups and cells that are not directly affiliated or supported by Al Qaeda and

groups/cells that are "home grown" and are domestic within the United States."

http://www.istanbulcenter.org/content.aspx?id=177

home grown? Are you talking about Christians?

6th Annual Dialogue & Friendship Dinner & Awards Ceremony
November 13, 2008

Consular representatives and other various members of Atlanta's international community convened over dinner and dialogue to witness Istanbul Center

's unveiling,

for the first time in the Southeast

, of the theme of the "Alliance of Civilizations

," a theme initiated by the United Nations and celebrated around the world through the UN's Alliance of Civilizations secretariat.

This was the first time in

Atlanta

and the Southeast that the UN's initiative was celebrated and introduced formally to the international community.

With this theme, the Honorable Ambassador Andrew Young, former US Ambassador to the United Nations, U.S. Congressman and Mayor of Atlanta, spoke to a distinguished crowd of over 300 at the Westin Hotel in Buckhead on Thursday, November 13, 2008, celebrating this UN initiative...


Ambassador Young's speech was an inspiration for the future of a daily practice of the 'alliance of civilizations,' mixed with a retrospective look back to the earlier parts of the twentieth century to include the cultural phenomenon of the everlasting effects and influences of American jazz, blues and eventually rock 'n roll music on pop culture which eventually worked itself into changing the society into being a more open and accepting society of African Americans. Young asserted to the crowd that in regards to this social movement, Young's first experience of a Turk was Ahmet Ertegun, who founded Atlantic Records in 1947 and brought the world Ray Charles, Otis Redding, Aretha Franklin, Bobby Darin, the Rolling Stones, Bette Midler, Wilson Pickett, Percy Sledge, Booker T. and the MGs, Sam and Dave, Cream, the Bee Gees, Led Zeppelin, the Coasters, John Coltrane, Charlie Mingus, Roberta Flack, the Spinners, the Allman Brothers, Genesis, Foreigner, Pete Townshend, Stevie Nicks, Buffalo Springfield, the Blues Brothers, Tori Amos, and Phil Collins, among others..."

"The world revolution that later came and that later brought rock 'n roll was responsible for 'integrating the rhythms' in the South long before the churches and Congress worked together to attempt to solve society's misgivings."

"

Ambassador Young's speech, although riveted with references from leaders of society who happened to be male, closed his speech, pulling from the remarks of Hon. Nihat Ergun about the importance of women in the world, with these words:

"She's got the whole world in her hands!"

http://www.istanbulcenter.org/content.aspx?id=181

Misses God, Mama Gaia? Whole world in her hands.

remind me also of the Logo for

Madrid Olympic Application for 2016

:

(by the way in contest with

Obamas

favorite Chicago, Rio and Tokio)

pictureLINK

, Click picture for video, note: masonic obelisk and structure.

http://www.madrid2016.org.es/
(other Olypic logo ideas had almost always the star:
http://www.logo2m16.com/)



The hands logo also links to Global Surveillance: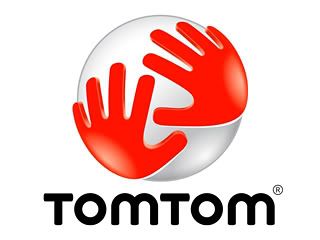 http://de.wikipedia.org/wiki/TomTom_(Unternehmen)
hands on the chrystal? and the red hands link with ufo-mystery:
http://digitalseance.wordpress.com/2007/03/08/red-hand-mystery/
But don't worry,
the next AoC-conference among many nations is about to take place soon: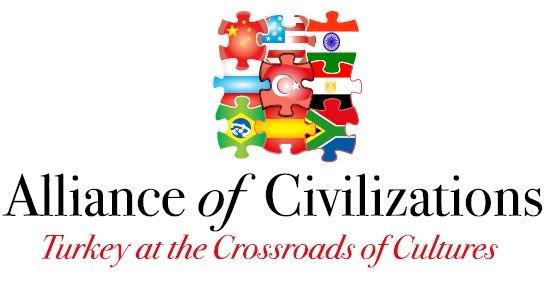 http://www.kennesaw.edu/globalinstitute/allianceofciv.html
http://www.apsanet.org/content_58194.cfm?navID=603
stay tuned!
farmer