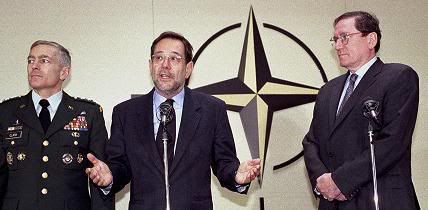 http://www.nato.int/pictures/1999/990322/b990322d.jpg
see the NATO picture from 1999 about a
meeting between
(left to right

)Gen. Wesley Clark

(SACEUR), then NATO Secretary General

Dr. Javier Solana

and Richard Holbrooke
concerning the crisis in Kosovo.
(source: NATO: http://www.nato.int/multi/photos/1999/m990322a.htm).



Didn't Constance say long ago that Kosovo was the dry-run for Israel?




"The violence in Gaza
adds a new foreign policy crisis to the top of the political agenda for
Barack Obama and his incoming Secretary of State Hillary Clinton
, and dashes hopes for easy, early progress in the Middle East peace process...."
" Mrs Clinton is planning to reinstate the practice, from her husband's administration, of
appointing envoys to certain troubled countries or regions, and has begun considering a high-profile envoy to the Middle East to kickstart the peace process.
Dennis Ross, Bill Clinton's Arab-Israeli negotiator, is
among the names being mentioned in Washington
, along with former assistant Secretary of State
Richard Holbrooke
and Martin Indyk, a former US ambassador to Israel."
LINK
stay tuned!
farmer