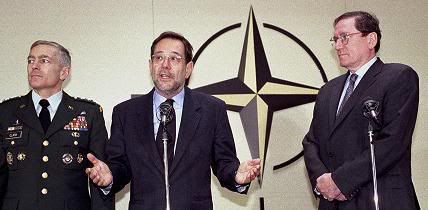 middle and right: Solana with Holbrooke during Nato-times
In December I had written, that Obama might choose Solana buddy Holbrooke to deal with his Middle-East Policy, see here:
http://freiberg.blogspot.com/2008/12/old-buddies-meet-on-jerusalem.html
I also pointed the finger to watch Palin and Pakistan:


And this is what happened yesterday:
"Jan. 22 (Bloomberg) -- President
Barack Obama
vowed to place fresh emphasis on the U.S. commitment to a separate Palestinian state alongside Israel, naming veteran negotiator George Mitchell as a special envoy for Middle East peace.
Obama, visiting the State Department on his second day in office today, also appointed former United Nations Ambassador Richard Holbrooke as a special representative for Afghanistan and Pakistan. Obama called the area the "the central front" in the fight against terrorism.
Standing by as newly confirmed Secretary of State Hillary Clinton made the announcements, Obama then pledged to work "actively and aggressively for peace between Israel and the Palestinians." LINK
Javier
Solana
warmly welcomed Thursday the naming of former senator George Mitchell as the new US special envoy to the Middle East. "
The HR (
Solana
- the EU high representative for foreign affairs) looks forward to working very closely with the US Special Envoy Mitchell
," said a statement issued in Brussels."
LINK
"Just as the terror of rocket fire aimed at innocent Israelis is intolerable, so, too, is a future without hope for the
Palestinians
,"
Obama
said. "Lasting peace requires more than a long cease-fire, and that's why
I will sustain an active commitment to seek two states
living side by side in
peace and security.
""
In the meantime: "Palin kicked off her State of the State address by congratulating President Barack Obama on his inauguration. She told lawmakers Thursday night that millions of Americans are praying for the success of the new president, and she was one of them." LINK
"
As an exciting year of unpredictable change begins
, we, too, have our work cut out for us. And we're all in this together. Just like our
musk ox
, they
circle up
to protect their future when they are challenged. We've got to do the same. So now,
united
, protecting and
progressing under the great North Star
, let's get to work."
LINK
stay tuned!
farmer