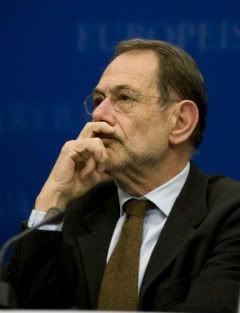 A meeting is scheduled Thursday in Brussels to revive the Union for the Mediterranean (UPM), frozen since the war in Ghaza, according to a European source in Cairo.
Organized

at the initiative of Javier Solana

, the chief diplomat of the EU, this informal meeting will attempt to gather again

around the table European partners, Arabs and Israel

i....

If the meeting of 23 April is held normally, said the European source, the meeting could be held early in May, allowing the

official melting of Euro-Mediterranean projects

....

Launched with great fanfare in Paris in July 2008 by the French president Nicolas Sarkozy, the UMP was a union project

out of the rut the process of Euro-Mediterranean dialogue called 'Barcelona,' born in 1995

.... Source:
Ennaharonline/ M. O.
LINK
Javier Solana was the creator of 'Barcelona'-Process in 1995 which led to his appointment as NATO Secretary General 10 days later, the EU doesn't get tired to relate all its external programms to this basic contract...
stay tuned!
farmer