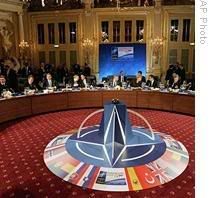 JAVIER SOLANA, source: derstandard.at, NATO leaders at a working dinner in Baden-Baden, Germany, on Friday, soruce: AP.

(The Austrian newspaper Der Stanbdard asked Solana about his youth pamphlet
"50 reasons against the NATO". His laconic answer was,
that this does not refer to his current work area at the EU.)
LINK
In an Interview with a Turkish newspaper he said to the question:

"Do you have any concerns about the new Israeli government?
Solana: "Yes, I have some concerns. I have devoted much of my energy to try to construct a two-state solution. This is our dream and objective, like Turkey as well as the international community. I think dealing with an Israeli government that does not recognize the two-state formula will be more difficult. I hope very much that this government, despite some of the statements that have been already made, will continue to work for a two-state solution and do this very rapidly. This should not be done in 100 years' time. That has to be done now."...
In a much quoted German interview yesterday (see last line of the interview) he also said, that the two-state solution "is a MUST". Link

back to the Turkish interview:

US President Obama will be visiting Turkey in a few days' time. Turkey will be the first Muslim country he will visit. What does this tell you?
I think Mr. Obama is a very wise man

. In such a short time since taking office, he has proven to have a very intelligent sense about what the important issues and priorities are.

He will be in İstanbul and Ankara. He will be meeting with the leaders and people

. I think he wants to give a very clear message that a country like Turkey, a democracy with a predominantly Muslim population, is and should be an important player in the international community.
more:

http://www.todayszaman.com/tz-web/detaylar.do?load=detay&link=171406&bolum=102

Solana speaks about the

AOC meeting

to be held on April 6-7, that's why he supposedly talks suddenly so open about the

EU accesion of Turkey

, a deal he made already in December 1999, as his first adventure whenstarting his High Rep. Post at EU.
see here Solana yesterday on Turkey and Lisbon Treaty:
Solana: "No Obstacles For Turkey To Accede To Eu"
"We need the Lisbon Treaty to make the EU able to expand"
Link
stay tuned!
farmer