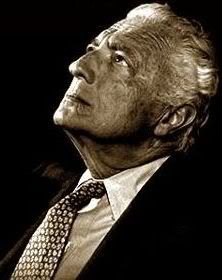 Fiat was founded in 1899 by Giovanni Agnelli, a wealthy Turinese landowner, who imported Henry Ford's assembly line.  In 1918, Agnelli published a book entitled 'European Federation or League of Nations', arguing for a federalist Europe as antidote to "destructive nationalism". 
He chose Gianni, his grandson, as his business heir after his son/Gianni's father Edouardo was killed in a 1935 plane accident (on the day exact 7 years before Javier Solanas birthday on July 14).
In 1957 David Rockefeller paid a visit to Italy and met with Gianni Agnelli. The two became friends and several years later David invited Agnelli to the newly created International Advisory Council of Chase Manhattan. He was appointed managing director of FIAT in 1963. 
In 1970, Richard Nixon and Henry Kissinger met Agnelli at Hotel Quirinale in Rome. After this meeting Kissinger and Agnelli became good friends. In 1973 Agnelli helped with the creation of the Trilateral Commission.(Solana was the first known Socialist party member to join the Trilateral Commission) According to Adnkronos, Agnelli was friends with Giscard d'Estaing, the Rothschild family and Lord Carrington, Katherine Graham, Arthur Schlesinger, Jr., Felix Rohatyn, senator Ted Kennedy, the writer Truman Capote, Andy Warhol, and international architects as Renzo Piano, Kenzo Tange, Norman Foster, and Frank O. Gehry. Zbigniew Brzezinski was another influential person he often met with.
In the 1960s and early 1970s, the Rothschilds, British royals, and Rockefellers set up their sustainable development movement with the creation of the WWF, the Club of Rome, 
the World Wilderness Conferences, and the WWF- affiliated 1001 Club. In 1983, the report 'Changing Climate' was released by the National Academy of Sciences, which sparked the first debate about a possible greenhouse effect, rising sea levels, and overall human-induced climate change. A link to Maurice Strong is definitly here.

According to Italian sources, Agnelli was a co-founder of the European Round Table in 1983 (Umberto Agnelli, his younger brother, was one of the original members), together with Pehr Gyllenhammar and Etienne Davignon, both also close to Kissinger, Rockefellers, and the Rothschilds.Davignon, as a vice-president of the European Commission, earlier challenged Gyllenhammar to put together a group of top European businessmen to lobby the European Commission (which became the ERT).
Agnelli was also Member of the International Advisory Board of the Council on Foreign Relations.The Agnelli family was one of the largest investors in Rockefeller Center until 2001, together with David Rockefeller, Goldman Sachs, and Stavros Niarchos.  Agnelli was also a member of the 1001 Club, the Trilateral Commission, the Bilderberg steering committee, and a governor of the Atlantic Institute for International Affairs. 
Giannis sister Susanna Agnelli is the only woman to have been Minister of Foreign Affairs in Italy (from 1995Jan 17-1996May17) and she has been in very good touch with Javier Solana.
1994 in Madrid, the Foreign Ministers of Italy and Spain agreed to organize a workshop in Italy to proceed, together with Italian and Spanish ambassadors accredited in the countries of the Mediterranean, a reflection on the main problems of the region.
The Italian-Spanish seminar on the Mediterranean took place in
Naples (

Hotel Vesuvio, named after the Vulcan Vesuvio, responsible for the destruction of Pompeji, Mount Vesuvius was regarded by the Greeks and Romans as being sacred to the hero and demigod Heracles/Hercules, who was a son of the Greek god Zeus and the Queen Alcmene of Thebes

)
in
1995
,
9 and 10 May,
and was attended by foreign ministers,
Agnelli and Solana
, assisted by Italian and Spanish ambassadors accredited in Algeria, Cyprus, Egypt, France, Jordan, Greece , Israel, Lebanon, Libya, Malta, Morocco, Mauritania, Portugal, Syria, Tunisia, Turkey, and the Ambassadors of Italy and of Spain in Madrid and Rome, of the Permanent Representatives of the two countries to the EU, as well as by the
General consuls of Jerusalem
and senior officials from both capitals. We could named it
the PRE-Barcelona Conference, where the foundation for Solanas success some months later in Barcelona was laid. 
The Italian press named it "in the heart of the mediterrian".
Other preparatory meetings between the EU and the Mediterranean Basin countries began in July 1995, in order to achieve agreement on two common documents/declarations representing the goals of the EU and basin countries. The first declaration concentrated on economic, political, and social issues, while the second was a working paper delineating the subjects treated by the forum in the future to come.
 In the long term, the EU's goal was to create a free trade zone with the basin in 2010 and to develop a code of behavior which the basin countries will adopt.
So the two met again in Barcelona (1995, Nov 27-28), where Solana was the landlord and Susanna Agnelli was very satisfied: "
without break, we left as good friends.
", after her words they
had even met twice separately
" (Link).
Two days later they met again in Brussels where there was talk about Solana as candidate for the vacant NATO GS post.
Already before Barcelona she had announced "
Solana would be a candidate who would please many of the partner
s", with this even talking against the Italian candidate Amato. At the WEU ministerial meeting in Madrid (1995 Nov 14) before she had still talked of three candidates: "Until today there is a candidate, and its 'all in the high seas' and running many names as those of Spanish Javier Solana, German Klaus Kinkel and the' Italian Giuliano Amato".
And she was the one who started to come up with his name, together with Tony Blair: "Solana pleases me so much, he always is looking for the consens and tries to avoid dissence." LINK
and also "He is a candidate who would like to be a partner with many parts of Europe, but, as you know, the Americans have a substantial weight in the decision to be taken."
"Several EU ministers paid glowing tributes to the man considered to be Ellemann-Jensen's top competitor, Spanish Foreign Minister Javier Solana.

Hosting the meeting of 27 governments, Solana showed himself to be a firm mediator as he brokered compromises between disputing Israeli and Arab delegations.

French Foreign Minister Hervé de Charette, widely believed to have single-handedly blocked Ellemann-Jensen's candidacy, displayed a surprising amount of attention and affection to Solana during the conference and Italian Foreign Minister Susanna Agnelli praised Solana for being "very severe" in his dealings with the Middle Eastern delegations." LINK
Another player in the background was Richard Gardner.  In 1977, he was appointed by President Carter as U.S. Ambassador to Italy, a position he held until 1981. Beeing a member of the Trilateral Commission (since 1974) of course he knew Agnelli well.  He wrote a book with Brzezinski: "Mission Italy: On the Front Lines of the Cold War". President Bill Clinton appointed Gardner as U.S. Ambassador to Spain, from 1993 to 1997 (that is during Barcelona Conference). Like Bill Clinton and Strobe Talbott, Gardner was a Rhodes Scholar. These men were largely responsible on the US side for Solana's appointment as head of NATO in 1995. (see also Dr. Dennis Cuddy). Gardner had married into one of the oldest Black Nobility families of Venice, thus providing the Venetian aristocracy a direct line to the White House. She, Danielle Almeida Luzzatto Gardner, 74, died 2008 Jan. 14 of a heart attack while attending a dinner at the Union League Club in New York.
Strange enough the writer Francisco Umbral from the Spanish newspaper  El Mundo named Solana in advance a "General Secretary in a dwarf format" (LINK).
Strange also because El Mundo was owned in parts by Giovanni Agnelli.
Now it is owned by the Italian publishing company RCS MediaGroup. (Link) Founded in 1927 by entrepreneur Angelo Rizzoli as A. Rizzoli & Co., it started in the press industry by buying out four national magazines, and later entering the publishing industry. Restructured and taken over a number of times, particularly in the 1980s when two of its executives became involved in the collapse of Banco Ambrosiano and the illegal Masonic lodge Propaganda Due - or P2. Following the 1982 death of Roberto Calvi, the group applied for bankruptcy protection and greatly downsized. (LINK)
Susanna Agnelli with Richard Holbrooke and Carl Bildt 1996 in Rome at a Dayton revival conference, LINK
Born in 1922 in Lausanne Susanna Agnelli is not much younger than Solanas mother Nieves Hayat de Madariaga Matthews (*1917) and it could be very possible that they were childhood friends as Solanas grandfather Salvador de Madariaga lived a long of time in this Swiss region. In 1921 he became a press member of the Secretariat of the League of Nations and became chief of the Disarmament Section in 1922. There is also a famous speech by him from 8 December 1949, - his opening address at the European Conference on Culture held in Lausanne, but also in the 20s there was a big conference in Lausanne and  Sir John called the Spaniard "the watchdog of the constitutional rights and powers of the League (of Nations),"LINK
Also was Lausanne a powerful place of Richard Nikolaus Count von Coudenhove-Kalergis (Venice Black Nobility(1), who was born in the House where German componist Richard Wagner had died)  PanEuropean Movement, where Solanas Grannie Salvador de Madariaga was a constant member.
(1):  The Coudenhove family goes back to Gerald I de Coudenhove, a crusader who died in 1259 of a noble family from Brabant. After fighting alongside the Hapsburgs in the 16th century Dutch war for independence, they moved to Flanders. The war for liberation drove them, along with the Hapsburgs, to Austria. The Kalergis, descendent from Nikophor Phokas of the Byzantine Empire, ruled Crete at one time. In the 13th century, the family joined the two Greek words, Kalon for beautiful and Ergon for action, and adopted the name Kalergis, later changed to Kalergi. Otto von  Habsburg is still today the president of the PanEuropen Union.

The union of the Coudenhove and Kalergi families came about in the 19th century when the only daughter of Marie Kalergi, to whom Wagner dedicated his Tristan and Isolde and upon whose death Franz Liszt composed his Elegy on Marie Kalergi, married Count Franz Coudenhove. Count Heinrich Coudenhove-Kalergi was a diplomat and was posted during his career to Athens, Rio de Janeiro, Constantinople and Buenos Aires before being assigned as Deputy Minister of Austria-Hungary to Japan. Count Coudenhove-Kalergi was an admirer of the Oriental spirit and became a student of Buddhism during his four year Japanese tour, where he also married a Japanese. LINK )

Both so much fighting for the European idea, for sure Agnelli and Madariaga must have known each other. 1954 Solanas mother goes to Rome (Javier then 12 years) working for UN FAO and stays there at least until 1974. She also write novels like Susanna Agnelli, who's most succesful book 'Vestivamo alla marinara' was printed in 1975. 
In an other article I could show how the Solana family is conected with the Rockefeller founded Cabrerera family since generations. (see here: http://freiberg.blogspot.com/2008/02/secret-of-powerful-force-ile.html) The expermients of Blas Caberera are a link to the CERN centre in Geneva.  Like Javier Solana also Susanna Agnelli seems to be connected to theoretical physics also from early on. Here you see her at a onference of the Abdus Salam International Center for Theoretical Physics in Trieste (Italy), together with Abdus Salam: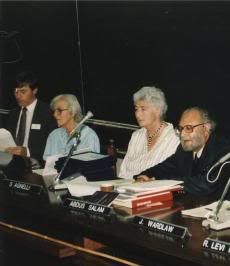 © Copyright image - All rights reserved. Abdus Salam Archives
http://library.ictp.it/FP-DB/detail.php?ID=279
R. Leger, D.C. Hodgkin, Senator S. Agnelli, Abdus Salam, Main Lecture Hall, October 1988.
The Centre operates under a tripartite agreement among the Italian Government and two United Nations Agencies, UNESCO and IAEA - The International Atomic Energy Agency. The institute is named after the Nobel Prize winner in Physics who was Director of the International Centre for Theoretical Physics (ICTP), Trieste, Italy, from 1964 to December 1993: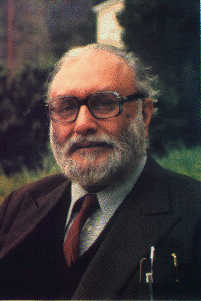 Abdus Salam,
a Pakistani educated in England - died 1996 aged 70 at Oxford UK, where also Solanas mother was professor in History). Professor Salam became a widely known and charismatic figure in international scientific and political milieus. The validity of his theory was ascertained through experiments carried out at the superprotosynchrotron facility at CERN in Geneva which led to the discovery of the W and Z particles. Salam's electroweak theory is still the core of the "standard model" of high energy physics. LINK
Abdus Salam was a member of the Ahmadiyya community, which is considered heretical by all mainstream branches of Islam. The founder Ghulam Ahmad claimed to have fulfilled the prophecies about the world reformer of the end times who was to herald the Eschaton as predicted in the traditions of various World religions and bring about the final triumph of Islam. Researcher Francis Robinson states"At their most extreme religious strategies for dealing with the Christian presence might involve attacking Christian revelation at its heart, as did the Punjabi Muslim, Ghulam Ahmad (d. 1908), who founded the Ahmadiyya missionary sect." LINK

I am not surprised, as also Giovanni Agnelli was good with Irans Ayatolla Khomeni. Maybe it is not so much of a synchronity that Javier Solana deals now with Irans Atom programm??
In 2000, Gianni Agnelli's troubled only son, also named Edoardo, committed suicide after a life near an empire that would never admit him to its inner conclaves. Here is a site that describes his convertion to Islam:  Edoardo became a Shiite Moslem.Here is a picture when he met with Irans Khomenei: http://en.wikipedia.org/wiki/Edoardo_Agnelli
At 46, Edoardo had apparently come to realize that his track record of dabbling in drugs, mysticism and oriental religions, of long journeys to India and Africa and of theories about the democratization of the workplace would preclude him from the succession. On Nov. 15, 2000, his Fiat Croma car was found on a 240-foot-high road bridge and his body was found beside a stream below. 
For Gianni, ''it was a terrible, terrible blow, more than he ever said or expressed,'' said Susanna Agnelli. ''He considered it was a failure on his part.'' For many Italians, she said, the death of Giovanni Alberto -- a golden boy blessed with looks, wealth and glamour -- ''seemed an unwanted punishment for something, for having had too much.''
By the time of Edoardo's death, though, it had become evident that Mr. Agnelli the patriarch was looking elsewhere for a successor. ''He wanted someone from the family who was his direct descendant,'' said
Ms. Agnelli, a former Italian foreign minister
and leading political player. He chose his oldest grandson,
John Philip Elkann,
the son of Mr. Agnelli's daughter Margherita and her first husband,
Alain Elkann
.
LINK 
Alain Elkann is since 2004 the
president of the Egyptian Museum of Turin
. On May 16, 2008 he was appointed Adviser for Cultural Events and
Foreign Relations
to the Italian Minister Sandro Bondi.
Link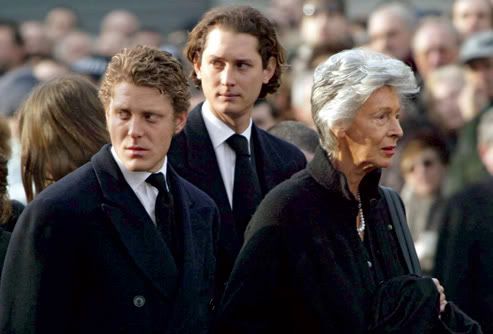 LINK
Marella Agnelli at the funeral of her husband, Gianni, with her two eldest grandsons, Lapo and John Elkann, Turin, 2003. By Carlo Ferraro/AFP/Getty Images.
John Elkann has been methodically groomed into what many hope will be one of Europe's top business leaders for decades to come. Elkann's younger brother, Lapo, head of Fiat marketing, nearly died from a cocaine overdose. Elkann participates regulary at the annual Bilderberg meetings. http://www.time.com/time/printout/0,8816,1207766,00.html
Of course. Remember: "Bilderberg Members Advisory Group, Or 'inner circle':

Italy - Giovanni Agnelli 

Great Britain - Eric Roll of Ipsden 

USA - David Rockefeller 

Germany (D)- Otto Wolff von Amerongen"
more on the family: http://www.vanityfair.com/style/features/2008/08/agnelli200808?currentPage=1
so much for the moment, stay tuned!
farmer