Barry and Constance, my prayers are with you! Björn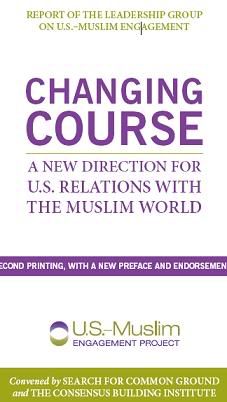 http://www.usmuslimengagement.org/
http://www.usmuslimengagement.org/storage/usme/documents/Changing_Course_Second_Printing.pdf
"Isolate the extremists through a public 'peace process'"
By Shamil Idriss 
Tuesday, November 23, 2004
http://www.sfcg.org/articles/IsolatingExtremists.mht
In 2005 UN Secretary-General Kofi Annan has named Shamil Idriss as Deputy Director of the Office of the Alliance of Civilizations.  LINK
US-Muslim Engagement Project with Mme Albright, Rockefellers and AoC Shamal Idriss:
http://www.sfcg.org/programmes/us/pdf/USME%20Overview%209%2012%2008%20listing%20of%20LG%20only.pdf
See also: Search for Common Ground: LINK
LINK: http://www.sfcg.org/articles/obamas-first-100-days-04-30-09.pdf
"WEDDINGS/CELEBRATIONS; Cynthia Miller, Shamil Idriss
Published: Sunday, October 27, 2002,
Mrs. Idriss, 30, is a doctoral candidate in sociology at the University of Michigan. She received two master's degrees there, in public policy and in sociology. She graduated magna cum laude from Cornell. Her parents, Dr. Marilyn Miller and the Rev. Dr. Gary Miller, live in Easton, Pa. The bride's father, a Presbyterian minister, is the chaplain of Lafayette College there. Her mother is the assistant superintendent of the Palisades School District, in Kintersville, Pa.

Mr. Idriss, also 30, is the chief operating officer of Search for Common Ground, a nonprofit conflict-resolution organization based in Washington and Brussels." LINK
Mrs Idriss is highly active in the field of global education:
"Exploring Quality and Equity in Education:
Innovation and Challenges in
International and Comparative Contexts
Third Annual
International Education
Graduate Student Conference
March 13-14, 2008"
the adress is: 246 GREENE STREET NEW YORK, SUITE 300: Cynthia Miller-Idriss, LINK
http://steinhardt.nyu.edu/scmsAdmin/uploads/001/300/08DocConfProgram.pdf
Obviously the pair likes the number 300, as we have her husband from AOC at another SUITE 300:
LINK: http://www.scribd.com/doc/7998781/Shamil-Idriss-letter-Alliance-of-Civilizations
and recently Suite 300 seems to be the war-room for other AOC-EUROMED related actions: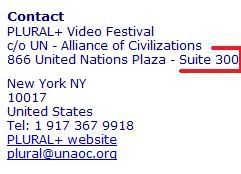 http://www.unaoc.org/content/view/368/269/lang,en/
http://www.unaoc.org/content/view/346/257/lang,en/
AoC's Plural+ Programm has Anna Lindh foundation with Solanas Euromed-Logo included and links to Suite 300.
Latest news: Noted Scholar Meets with Alliance 
Patrice C. Brodeur, a scholar on religion and global dialogue,met with New York team on 21 July. LINK I bet it was in Suite 300.
stay tuned!
farmer