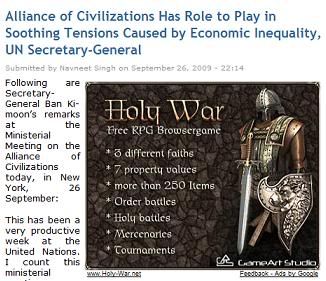 when a pictures says much more than words...advertisement in news about AoC,
"Holy War" - "* three different faiths"...
http://www.webnewswire.com/node/464800
There are news from the Alliance of Civilizations.
And it is sold together with an advertisement for a new game, what is called "Holy War".
To see the whole page, click here.
The game intro (by clicking the ad) says very telling:
"Dive into the age of the Holy War! Take on the role of a Knight as a Christian, Saracen or Pagan and conquer or defend the Holy Land!...Pursue Diplomacy, Form Alliances, Order Battles and Holy Battles, Warrior vs. warrior fights, Plundering,Arena and Tournaments, Marketplace, Shops, Mercenary Market, Tavern ...", LINK

And Ban Ki-Moon in New York talks of new alliances and about new rules on how to play the Financial game.The rules come from the AoC: 
"The Alliance is demonstrating its dynamism in other ways, too.

Its new projects include a fellowship programme for emerging leaders from the Muslim world and the West. Here too, the Alliance is creating far-reaching partnerships -- bringing together the British Council, the League of Arab States, the Islamic Educational, Scientific and Cultural Organization and the German Marshall Fund.

The Alliance's Rapid Response Media Mechanism is broadening the debate.The Alliance is setting up a clearinghouse on education about religions and beliefs.
It is working with the Anna Lindh Foundation to restore trust following the Gaza crisis.
And it is collaborating with the United Nations Global Compact to launch a Corporate Sector Network, with the support of Turkish Prime Minister [Tayyip] Erdoğan. 

The Alliance is helping us to get through these troubled times. I thank the High Representative, President [Jorge] Sampaio, and you, this initiative's invaluable friends.

Another friend of the Alliance, Enrique Iglesias, the Secretary-General of the Ibero-American Secretariat, has said that the current economic crisis offers a chance to transform our world. I agree. As he said, we have the possibility for "not only a new paradigm of economic development, but also a set of basic principles -– dialogue, understanding and tolerance –- which are embodied in the Alliance of Civilizations..."
to read the whole text: click here.
stay tuned!
farmer