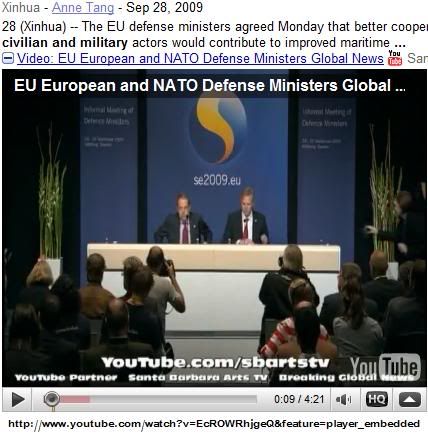 On Youtube with Solana:
http://www.youtube.com/watch?v=EcROWRhjgeQ&feature=player_embedded
Solanas last hour deal? At least it's what he always wanted, making police and firepolice look like soldiers and military "helping" in civil areas controlling the citizens...
"The EU ministers have agreed to cooperate in training, risk assessment, intelligence, information sharing, evacuation, logistic support and strategic transport. The formal blueprint will be discussed again in November."
"Civilian and military cooperation is also necessary to strengthen the EU's 'capability development'. Capabilities are different forms of support used to contribute to peace and security in conjunction with military operations or as preventive measures within the context of the EU's crisis management. They may involve transportation, health care or IT systems. At the meeting on Monday, the defence ministers discussed how to coordination between civilian and military actors can be improved in this area."
http://www.isria.com/pages/28_September_2009_155.php
http://news.xinhuanet.com/english/2009-09/29/content_12123391.htm
stay tuned!
farmer