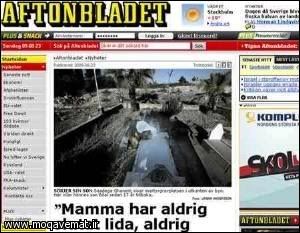 Has this recent unequeal treatment of Israel and the Arab World by Javier Solana gone unwatched? It seems as just another example on how the goals of the big players justify their means. Please have a look:
After the Cartoon Crisis in 2006 Solana warned that "Muslims should not be provoked, even for the sake of free speech and open thought." (22 September 2006) LINK

Then freedom of expression was the furthest thing from his mind then, much to the consternation of the Dutch, who noticed already a half year before, at the time the Cartoon Crisis broke out:"He has toured around in order to offer apologies..."
"Netherlands blasts Solana on alleged cartoon apologies
The Netherlands has sharply criticised EU foreign policy chief Javier Solana for the allegedly apologetic tone he has used when facing muslim countries in the row over Danish cartoons depicting the prophet Mohammed...Dutch daily De Telegraaf quotes the Dutch state secretary for European Affairs Atzo Nicolai as characterising the tone used by Mr Solana as "shocking..." LINK

But now Israel blames to be threatened by a Swedish newspaper article and here Javier Solana shows just the opposite reaction!
In an interview in Al Arabiya on September 04, LINK, EU foreign policy chief Javier Solana refused to condemn the Swedish newspaper Aftonbladet's blood libel against Israel (LINK), saying that what the paper did falls under freedom of expression and one is free to agree or disagree with it.
This happened despite outcries from Italian Foreign Minister Frattini:
"Italian FM urges EU to condemn Swedish newspaper report, calls it 'act of blatant anti-Semitism' LINK(see also here: LINK)
Finally I found a blogger who reported about this two ways of dealing with similar issues here: 
"Solana hated Mohammed cartoons, no problem with antisemitism" LINK
At the same time The European Union also condemned the Israeli announcement, demanding an immediate end to settlement construction. "The position of the European Union is well known. All settlement activities must stop," EU foreign policy chief Javier Solana told reporters on the margins of an EU foreign ministers' meeting in Stockholm. LINK Italian Foreign Minister Franco Frattini told AFP that the EU foreign ministers were united in their criticism of Israel
as I had reported here: LINK

Interesting enough American FM Hillary Clinton jumped on the same train as Javier Solana in her 2009 September 11 speech: "An individual's ability to practice their religion should have no bearing on others individuals' freedom of speech. The protection of speech about religion is particularly important since persons of different faiths will inevitably hold divergent views on religious questions."  (more here:LINK).
And both tie it to the need of an Alliance of Cilvilizations.
("Noting that governments could take action to prevent the divide from growing further, Solana stressed that this might not be enough, and civil society elements should assume a role to establish ties between the civilizations." LINK)
 stay tuned!
farmer