me just playing with the symbols...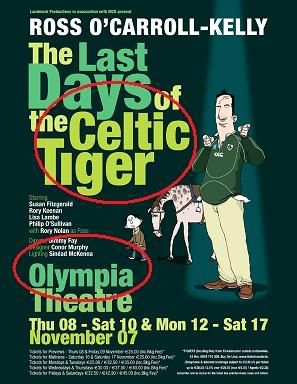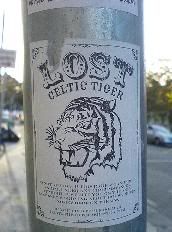 Circus beast. "Celtic Tiger" is a term used to describe a period of rapid economic growth in Ireland between 1995-2007, coming to a halt by 2008.

On October 2 Rio was winning the bid for Olympics 2016.
One of the last 4 candidates was Madrid. Their symbol was a glove. 5 fingers.
Irish Taoiseach Brian Cowen (showing the "5-hand") and Minister for Foreign Affairs Micheál Martin on the steps of Government Buildings on the afternoon after counting the yes vote for EU 2009 Oct 3. Photograph: Alan Betson
Irish Opposition leader, Declan Ganley, has stated that the Friday's Lisbon Treaty poll shows just how scared people are. He has congratulated the Taoiseach on "what was, politically, a masterful campaign…from a masterful politician who has made glove puppets out of the opposition". Link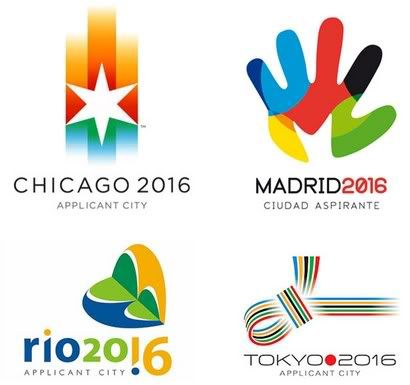 See the colours of Dublin and Irish flag and compare it to Rio flag and Olympic logo:
Dublin                                          Ireland              Rio
The distance from Dublin to Rio is 5000 nautic miles.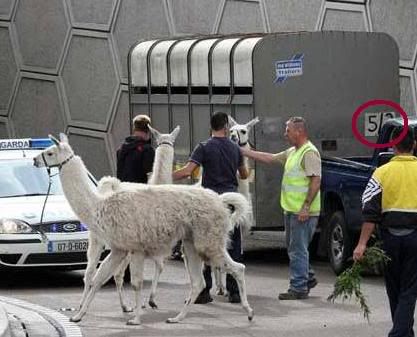 5 llamas 5 km away from the circus 5550 EUR fine or working 5 days...
see also the wall behind the cars, at the Red Cow roundabout.
Irish 5 pence with (red?)Heifer.
Funny isn't it?