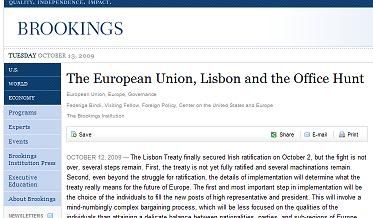 Today not just somebody but the Brookings Institution published an article about the cuurent and coming situation with the EU posts. Interesting what they have to say about Solana's  posts as High Representative and Secretray General of the WEU:
"The situation is complex. José Manuel Barroso was rewarded for the unimpressive work of the past five years with confirmation – he will thus chair the Commission for the next 5 years. The Commission's mandate will expire on October 30th, so there is an urgent need to renew the rest of the team. ...Yet, the most probable outcome will be the extension of the current Commission until the end of December. Javier Solana is also probably to be extended as high representative. 
Solana's term as Western European Union (WEU) secretary general will also expire on November 24th and the only sensible decision would be to dismiss what remains of such an inglorious organization. With the entering into force of the Lisbon Treaty, the only reasons for the WEU to be kept alive – mutual support against external aggression – will cease to exist. Yet, the WEU parliamentary assembly is unwilling to be dissolved. In the name of democratic deficit (!), it claims that it needs to stay absorbed in the EU (and, of course, nobody wants to deny the MPs the possibility to enlighten themselves in Paris twice a year... ). Keeping the WEU, would also mean having one extra post to assign in the redistributive game of chairs. Because no presidency gets wasted, all is duly weighted in Old Europe."
http://www.brookings.edu/opinions/2009/1012_lisbon_treaty_bindi.aspx

stay tuned! 

farmer