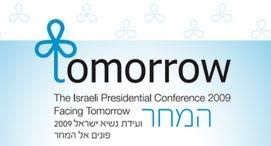 Mr. Shimon Peres, President of the State of Israel is pleased to welcome illustrious guests to the 2. Israeli Presidential Conference: Facing Tomorrow 2009, October 20-22 in Jerusalem. About 1,500 people from abroad are expected to join 2,500 Israelis. Notable attendees or speakers are to include:
American futurist Raymond Kurzweil
French philosopher Bernard-Henri Lévy
EU foreign policy chief Javier Solana  (confirmed here and here).
Skype Ltd. President Josh Silverman
Wikipedia founder Jimmy Wales
US Ambassador to the UN Susan Rice
French economist Dr. Jacques Attali
banker Baron David de Rothschild
Chinese Information Minister Chen Wang
President and CEO of Sesame Workshop Garry Knell 
US Investment Strategist for Goldman Sachs Abby Joseph Cohen 
Author of "Inside Jihad: Understanding and Confronting Radical Islam" Tawfik Hamid 
Governor of the Bank of Israel Stanley Fischer
Neuroscientist Henry Markram
Chairman and Chief Executive Officer of AOL Tim Armstrong 
President Shimon Peres
Macedonian President Gjorge Ivanov
Croatian President Stjepan Mesic
Indian guru Sri Sri Ravi Shankar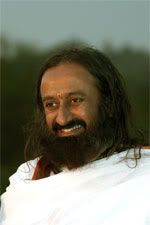 (source:artofliving)
After Wikipedia, the guru has a mediation relief program that has been successfully run in Kosovo, for the war ravaged population and the Public Health System , University and UN personnel. The organization also started an operation in Iraq in 2003, aimed at relieving the war-ravaged Iraqi population of stress. A Program was implemented in Afghanistan from 2003 to 2006 teaching to war victims, UN and ngo personnel. In 2007, Sri Sri visited Iraq at the invitation of Prime Minister Nouri al Maliki, and also met with Sunni, Shia, and Kurdish leaders. He visited Pakistan in 2004 and met with some political and religious leaders there as a part of his efforts to promote global peace. There also was a International Leadership and Spirituality Symposium 2008 in Brussels organized by the International Association of Human Values under the leadership of "His Holiness"Sri Sri Ravi Shankar and EU Parliament. Link He also was invited at the UNESCO's "3rdWorld Congress ofImams and Rabbis for Peace" Link. Ravi Shankar has been also nominated for the Nobel Peace Prize (Link).
Still His "Art of Living"-foundation should not be mixed with the "Art of Living" book by Claire Elizabeth  Terry, which is a AoC manifesto with the usual AoC crowd plus New Age contributors: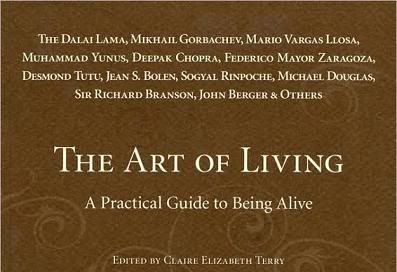 Link
In Jerusalem conference discussions and deliberations will address topics as diverse as: 
The Global Economic Crisis - Building a Functioning World Economic System
Geopolitical Challenges of the 21st Century
A Greener Planet for Tomorrow
Culture and the Arts – Adjusting to the New World
Islam: Between Moderation and Extremism
The Role of the New Media in Shaping our Future 
The Individual in an Era of Crises and Change
Geopolitical Developments and their Impact on the Jewish People
Will we see Peace in our Region?
The Influence of the Global Economic Crisis on the Jewish World 
Jewish Peoplehood – Unity versus Pluralism
The Future of Capitalism
The Future of Artificial Intelligence
How should Education and Learning be adjusted to reflect Tomorrow's Challenges?
What is the Scientific Community Striving to Discover?
The Human Brain and Tomorrow's Challenges
The Challenges of Jewish Continuity in a Changing World
The Future of the Trilateral Relationship: Jerusalem – Washington – U.S Jewish Community
The Young take Initiative"...
read more here: LINK

stay tuned!
farmer