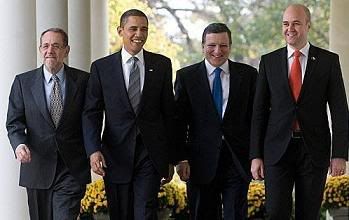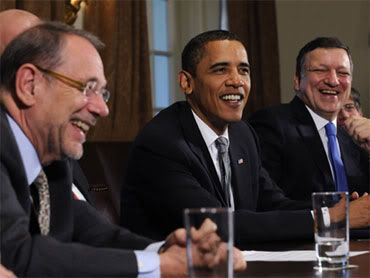 Solana, Obama, Barroso, Swed.PM Reinfeldt, sources: afp, ap
"US President Barack Obama Tuesday welcomed the ratification of the European Union's reform treaty. "I congratulated them on the conclusion of the Lisbon Treaty, which will further move Europe in the direction of integration not only on economic policy but also on a number of security issues," Obama said after a White House summit with EU leaders.
"
I believe that a strengthened and renewed EU will be an even better transatlantic partner with the United States.
"
Obama met earlier with EU commission chief Jose Manuel Barroso, EU foreign policy chief Javier Solana and Swedish Prime Minister Fredrik Reinfeldt, whose country holds the rotating EU presidency" LINK

Solana: "I am very pleased that President Vaclav Klaus has signed the Lisbon Treaty today. All obstacles have now been lifted for the prompt entry into force of a treaty that will open a new era for the European Union. The Lisbon Treaty will enable us to work in a much more coherent and efficient way and give us a stronger voice on the international scene." LINK
"President Barack Obama says he and European leaders agree it is imperative that they redouble efforts to reach a climate deal in Copenhagen in December." LINK

After a CBS report"...Obama was taken aback when each of the leaders had plenty to say – except one:

"Obviously we'll have to give you more training," Mr. Obama said to EU foreign policy chief Javier Solana, who said he had "nothing to add" after the president and two EU leaders made substantial statements to reporters. 

The president made it clear that's not the way it's done on this side of the Atlantic. 

"You should understand that the rule in Washington is: even if you don't have anything to say – you should take a long time to say it," said the president to Solana, with tongue-in-cheek." LINK
stay tuned!
farmer