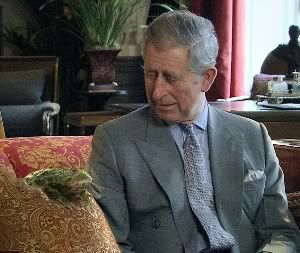 videopic from Prince Charles' "Green Forest Project", Link
Following is part of the text of UN Secretary-General Ban Ki-moon's speech, as prepared for delivery, to a Summit of Religious and Secular Leaders on Climate Change, in London Nov.3:

"Together, we must unite to face a momentous global challenge –- minimizing dangerous climate change and making peace with the planet.
I have long believed that when Governments and civil society work toward a common goal,
transformational change is possible
.
Faiths and religions are a central part of that equation.
Indeed, the world's faith communities occupy a unique position in discussions on the fate of our planet and the accelerating impacts of climate change. 
As a secular organization, the United Nations has no common religion. But, like all the major faiths, we too work on behalf of the disadvantaged and the vulnerable. 
We share the same ethical foundation: a belief in
the inherent dignity of all individuals
.
That is why we work in partnership with Governments, corporations, civil society and faith-based groups.
That is why we support the Alliance of Civilizations, which is fighting extremism
and working to improve understanding and cooperation among nations and peoples.
...

You can -- and do -- inspire people to change.

As we take the final steps on our journey to Copenhagen, that inspiration is critical.

I ask each of your faiths and religions to pray for a fair, balanced and effective way forward."
(sic!)
Read the whole adress here: LINK 
, ...which is including the praise of Ban Ki-moon for Prince Philip, father of the sustainable Prince Charles, who is also big behind the Alliance of Civilizations, see here:
"ESSAYS ON THE ALLIANCE OF CIVILIZATIONS
AND INTERFAITH RECONCILIATION
Inaugural Paper
Religion—The Ties that Bind
by
His Royal Highness The Prince of Wales"
http://www.newsdesk.umd.edu/pdf/TiesThatBind.pdf
Besides using the same connections between Religion, AoC and Nature Cult he talks about using Ancient Wisdom to unite tradition and modernism in search for the Divine Harmony. In the same year (2006) Prince Charles gave a written lecture at University of Alberta, were he shows how much he get his ideas from Kabbalah:
"This dilemma is captured in ancient notions of balance and harmony; notions that are, for example, expressed in many guises in that wonderful Kabbalistic diagram of the Tree of Life. As the Temenos Fellow, Warren Kenton, so beautifully explains in his lectures to the students of the Academy, the teaching of the Tree of Life is that the "active" and the "passive" aspects of life, which on their own may lead to imbalance and disharmony, must be, can only be, brought together in harmony by the influx into our lives of the Divine and the Sacred. Whether or not we interpret this image as an explanation of an outer or an inner orientation, it is in this way, and only in this way, that the forces, or characteristics, of expansion and constraint can be brought into balance.
But, of course, in both the inner and outer dimensions of our lives, many of us, at present, experience the very imbalance and disharmony that this mystical framework, and, indeed, the teachings of mystics of all times, show to be harmful or, to use a contemporary term, "unsustainable""
 http://www.sacredweb.com/conference06/conference_introduction.html
More on the sustainable prince in a great free online book from John D. Christian:
http://www.scribd.com/doc/16363580/Ecofascism-and-Charles-Prince-of-Wales
stay tuned!
farmer