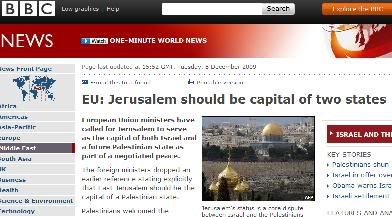 "3. The EU stands ready to further develop its bilateral relations with the Palestinian Authority
reflecting shared interests, including in the framework of the European Neighbourhood Policy.Recalling the Berlin declaration, the Council also reiterates its support for negotiations leading to Palestinian statehood, all efforts and steps to that end and its readiness, when appropriate, to recognise a Palestinian state. It will continue to assist Palestinian statebuilding, including through its CSDP missions and within the Quartet...."

"4.Recalling the EU's position as expressed at the Association Council in June 2009, the Councilreaffirms its readiness to further develop its bilateral relations with Israel within the
framework of the ENP."

"8. The Council is deeply concerned about the situation in East Jerusalem. In view of recent
incidents, it calls on all parties to refrain from provocative actions. The Council recalls that it has never recognised the annexation of East Jerusalem. If there is to be a genuine peace, a way must be found through negotiations to resolve the status of Jerusalem as the future capital of two states. The Council calls for the reopening of Palestinian institutions in Jerusalem in accordance with the Roadmap. It also calls on the Israeli government to cease all discriminatory treatment of Palestinians in East Jerusalem." Read the whole text here: LINK
---------

Tomorrow shall be a farewell meeting in Bruxelles honouring the EU's High Representative for the Common Foreign and Security Policy Javier Solana, hosted by Swedish Foreign Minister Carl Bildt and the Foreign Ministers of the EU states present.
"On the future of WEU and the new EU architecture, Mr Pangalos (Deputy Prime Minister of Greece which holds the current WEU presidency), said he regretted that WEU Secretary-General Javier Solana was for the time being replaced by only an acting Secretary-General, but this was a transitional arrangement." LINK
and a strange news from last week from YEMEN:
[05/December/2009]  
SANA'A,Dec.05(Saba)- President Ali Abdullah Saleh received on Saturday a letter from the outgoing European Union foreign policy chief, Javier Solana. 

In his letter, Solana expressed his thanks and appreciation for the support and cooperation he received from President Saleh during his tenure. 

"It was a pleasure and honor for me to work with Your Excellency for developing the bilateral relations, as the EU is a key partner for your country", Solana said. 

He pointed that with the Lisbon Treaty entering into force in Europe; a strong base has been established upon which the EU has become more qualified to work for peace and prosperity in the world. 

"For me, I will keep working to achieve that goal", Solana affirmed."

http://www.sabanews.net/en/news199795.htm
stay tuned!
farmer