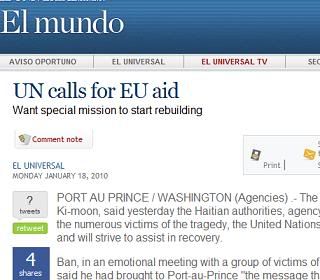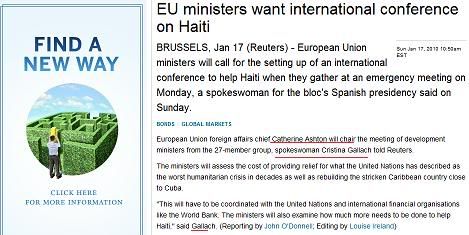 BRUSSELS, Jan 17 (Reuters) - European Union ministers will call for the setting up of an international conference to help Haiti when they gather at an emergency meeting on Monday, a spokeswoman (Christina Gallach, former Spokeswoman of Javier Solana) for the bloc's Spanish presidency said on Sunday. http://www.eluniversal.com.mx/internacional/65625.html
Baroness Lady Ashton, new EU Foreign Chief is to chair the meeting on Feb 11.
Monday:
"Lady Ashton: "We've respected what the United Nations asked us to do, which was not to go to the region immediately."
also here:
"EU leaders, speaking after an emergency meeting of the bloc's foreign affairs council on Monday, said they anticipated that several European governments would send specially trained police forces to Haiti to help maintain security as foreign aid pours in.

The policemen will come from the European Gendarmerie Force, a unit set up in 2006 to improve the EU's crisis management capabilities. 

"There is an urgent need for greater security to make it easier for international assistance to be distributed," said Miguel Ángel Moratinos, foreign minister of Spain, which holds the EU's rotating presidency."

In between critism towards Obama is growing in Europe:
"Europe's slowly angry with Obama"..."And above the chief diplomat of the European Union (EU), Catherine Ashton, is to suggest that rather than "military aid" from the Haitian Europe needs more coordination for support to reach those affected by the earthquake. The words of the highest representative on European Affairs is expected to arrive when the presence of 10,000 U.S. troops to control the organization of humanitarian aid, a role questioned by France. Surely Javier Solana would have acted differently. That is clear to me." Link
stay tuned!

farmer