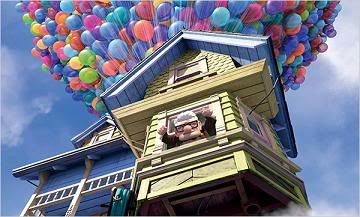 02.02.: "up!" Globus Aerostaticus launched for the Oscars
balloon is globó in Spanish, globó/global
"The (Spanish) Government yesterday(02.02) launched the interministerial committee responsible for drafting the Spanish Security Strategy, chaired by former EU high representative for foreign policy chief Javier Solana .

(The Ministry of the Presidency) Moncloa stated that the committee that will be supported by a working group, will incorporate "other members" and that in his work, look for "the largest territorial and political consensus and active participation of civil society."  

...The Strategy will develop "lines of action" in light of several security dimensions - Spanish, European and global - since "no country alone can guarantee the safety standards demanded by the the XXI century, and many of the challenges are global".Link
The Committee, which will be added by other components will be supported by a working group which is initially composed of the following persons: 

Javier Solana,
former High Representative for Foreign and Security Policy of the European Union, former Secretary General of NATO and former Minister.
 
José Enrique Serrano,
Director of Cabinet of the Prime Minister.
 
Angel Lossada,
Secretary of State for Foreign Affairs 

Constantino Mendez Martinez,
Secretary of State for Defense 

Carlos Ocaña,
Secretary of State for Finance 

Antonio Camacho,
Secretary of State for Security 

Felix Sanz Roldan,
Director of CNI 
As Secretary of the Commission serves
Andrés Ortega
, Director of Analysis and Studies Office of the President of the Government... 
In its development will be sought greater political consensus and
territorial cohesion
and the
active participation of civil society..."
stay tuned!

farmer