Last week (2010, March 25) Venezuelean Economist and Professor Miguel Angel Santos wrote in his blog:
http://www.miguelangelsantos.blogspot.com/ about a Latin American conference were allegedly Javier Solana took part, and was also asked by him. "Solana's presence as a speaker at a research conference on finance in Latin America held here this week took me by surprise and did not want to waste the occasion."
"Solana has referred in his speech to the change in balance of political and economic power from east to west, the transition from a U.S. centric world to another "multi-polar" type one. This movement also transfers the power of a society (...)where the context in which things happen is more important than the things themselves. The "market" concept has been discredited as a bit and in the context of this transition, the relationship between state and market will be subject to a recount, which will inevitably be a different arrangement.
Because that new problems will become increasingly global and require global solutions. And how can we articulate a global response, in a world in which power is distributed among independent nations that defend their interests and do not necessarily have a priority to global harmony?. Here are the details. In that instance, he said, required is the existence of a new round of multilateral agencies, while maintaining respect for the legitimacy and sovereignty, is capable of operating as a kind of global supplier.
For Solana, poverty, nuclear proliferation and climate change are the three main themes of the times to come."
I found it confusing that a journalist from Venezuela, talks about Solana attending "here" a Latin American Conference without any reference in the rest of the media, so I decided to ask him on his blog about the whereabout of this event. When answering me, he referred to it as an event of ESADE at Barcelona, Spain, which could only be the one in February where Solana had compared the EU as the laboratory for global governance (see here: Link).
So was Solana in Latin America last week or was he not? If yes, then practically unofficial and invisible.
And actually there WAS an important conference on Latin America in Mexico: March 20, 2010
The annual meetings of the Inter-American Development Bank (IDB) in Cancun with 800 attendees.Link
, and this conference was organized by the Latin American Chapter of Brookings Institute, who have Solana as their Chief adviser and also the Columbia Business School, the Graduate School of Arts and Sciences (Department of Economics) and the School of International and Public Affairs. This Organization has a prominent econimist: Nobel Prize for Economy winner Joseph Stiglitz, who was once proposed as one of the "Wise Persons" for the Alliance of Civilizations." And this organization is heavily sponsored by Solanas former University: Compultense Madrid, Spain.

Joseph Stiglitz
Solana and Stiglitz are both at the board of a newspaper called GPJwww.globalpolicyjournal.com/advisory-board/
Like Solana, Stiglitz has been in Princeton, and attended also Stanford and Oxford. He is now University Professor at Columbia University in New York and Chair of Columbia University's Committee on Global Thought. After receiving the Nobel Prize in 2001 he was also a lead author of the 1995 Report of the Intergovernmental Panel on Climate Change, which shared the 2007 Nobel Peace Prize. In 2009 he was appointed by the President of the United Nations General Assembly as chair of the Commission of Experts on Reform of the International Financial and Monetary System.
Attending at this conference were also Mary Robinson, former Irish President and member of the group called "The Elders", where they have also Bishop Desmond Tutu (AoC) and Jimmy Carter. Robinson is a member of the Club of Madrid, Spanish Chapter of Club of Rome.LINK
On the conference they wrote: "The IDB should continue to promote investment projects that have substantial technical support and clear conceptualization. In addition, during the implementation stages projects have to be rigorously evaluated and the results widely disseminated, even if governments oppose to disclosing this information.
In addition to investments that help reduce inequality and poverty, the IDB has to give priority to areas of great concern, such as climate change adaptation and mitigation. Changes in land use have been a large source of greenhouse gas emissions in the region. This needs to change and resources are need to help governments comply with their own targets. The U.S. administration wants to promote an Energy and Climate Partnership, with specific goals such as the development of clean technologies, including the production of renewable energies, throughout Latin America. Funding such programs as well as greater energy integration in the region should be a top priority." LINK
Just now (March 31) Brookings Institute presents a new book from Joseph Stiglitz:
"Time for a Visible Hand": Lessons from the 2008 World Financial Crisis, together withStephany Griffith-Jones, José Antonio Ocampo, Professor, School of International and Public Affairs, Columbia University and Senior External Advisor, Corporación Andina de Fomento.(CAF is the main source of multilateral financing of the Andean Region) Link
All three authors are basic players of Initiative for Policy Dialoge (IPD), founded by Stiglitz in 2000 is also based at Columbia University and funded among others by Ford,Rockefeller, McArthur, and Mott Foundations, Sorors Open Society Institute, Compultense University Madrid, financed and partered by Carnegie Council on Ethics and International Affairs and Centre for International Relations and International Cooperation, Barcelona, Spain. The abbreviation for this last Institute is CIDOB, which has named exactly last week Javier Solana as it's Honorary President (!).
http://www.cidob.org/en/noticias/cidob/javier_solana_presidente_de_honor_de_cidob
President is Narcis Serra and both have good ties to the London School of Economics and Political Science (GB). Here Javier Solana gave his last public speech on March 18. Of course CIDOB has also ties to Joseph Stiglitz and José Antonio Ocampo (who is named here at UN Deputy Secretary General for Economic and Social Affairs )(see last page ofwww.cidob.org/en/content/download/1367/42751/file/actividades_eng.pdf ). Title was "from the Washington Consensus to a NEW WORLD GOVERNABILITY".
Here we find also Detroit born Jeffrey Sachs from his suistainable "New Earth Institute" also University of Columbia and Former Spanish President Felipe Gonzales.
Now why I find it funny to see the "elephant in the room" named so close to Solana? Time for a visible hand?
BanKi Moon, head of the UN urged in October 2009:
'TRANSFORMATIONAL CHANGE'
TO END EXTREME POVERTY,
TACKLE
CLIMATE CHANGE,
BANISH NUCLEAR WEAPONS,
ENSURE PEACE, SECURITY, HUMAN RIGHTS
"Now is our chance for transformational change on the big issues of our age: to confront climate change … to banish nuclear weapons … to end extreme poverty … to engage the world for peace, security and human rights.
It is all within reach -– but it will take all hands.
No nation, no region, no group can do it alone.
We need Governments and business. We need civil society and NGOs.
We need you."
Same buzz words again.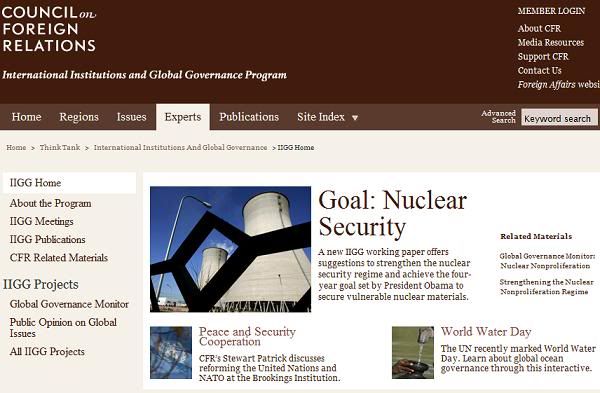 CFR with the same topics: Nuclear, Peace and Security - reforming UN and NATO with Brookings, Nature: Global Ocean Governance
Paper CFR May 01, 2008: CFR_Global_Governance_Program.pdf
"The program seeks to identify critical weaknesses in current frameworks for
multilateral cooperation; propose specific reforms reflective of new global circumstances; and promote constructive U.S. leadership in building the capacities of existing organizations and in sponsoring new, more effective regional and global institutions and partnerships, including those involving the private sector and non-governmental organizations.
The program will focus on arrangements governing state conduct and international cooperation in meeting four broad sets of challenges:
-Countering Transnational Threats, including terrorism, proliferation of WMD, and infectious disease
-Protecting the Environment and Promoting Energy Security
-Managing the Global Economy
-Preventing and Responding to Violent Conflict
In each of these areas, the program will consider whether the most promising framework for governance is a formal organization with universal membership (e.g., the United Nations); a regional or sub-regional organization; a narrower, informal coalition of like-minded countries; or some combination of all three. The program will also examine the potential to adapt major bedrock institutions (e.g., the UN, G8, NATO, IMF, and AU), as well as the feasibility of creating new frameworks and initiatives to meet today's challenges.
The participation, input and endorsement of both official and non-state actors will be critical to ensure the appropriateness and feasibility of any institutional reforms." Link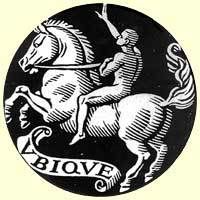 CFR has the following symbol: A white rider on a horse, with a jupiter finger pointing to the stars. "VBIQVE" means everywhere. It points to the goal of global governance.
http://www.mainemediaresources.com/mpl_whitehorse.htm
The very crisis just arrived shortly after (September 2008), providing the elite with the perfect opportunity to ram through a massive program of financial centralization by posing as the saviors – when they created the problem in the first place.
And this is true not just for the economical sector, but also in hinsight to fighting poverty, pandemies, nuclear threat and climate change. The whole system is build up to implement their global system.
And a key buzz word is the expression "responsible souvernity". At ESADE Solana spoke about the new system that would emerge after the crisis and lead us all to a better world:
The trick is that they keep officially the national states in place and behind the scenes they have to comply to thier rules. In his ESADE speech Solana was said to be in favour of "developing" the concept of sovereignty to build a world founded on what he called "responsible sovereignty "Europe, a continent in which countries have voluntarily yielded sovereignty, should play the role of a world governance laboratory". Continuing on the European theme, Javier Solana called for EU member states to "comply with the Stability Pact", otherwise "there will be even more financial difficulties in the international market". Link
This is a concept was developed long ago, just now we see it surfacing.
For example already in 2007 Solana said: "We are seeing the emergence of a new relationship between sovereignty and responsibility... Increasingly, sovereignty is no longer seen as absolute but as conditional. The core idea behind responsible sovereignty is that with rights come responsibilities. Towards other states but also your own citizens. States are responsible for actions that spill over borders and affect or threaten others. Take climate change: all of us are affected by the emission of greenhouse gasses, wherever they occur. Or take human rights: repression often leads to conflicts which affect regional and global security. …More importantly, responsible sovereignty can help us to form much- needed bargains on clusters such as human rights, conflicts and immigration; or terrorism and development; or non-proliferation and disarmament. In each case we will have to forge bargains with a growing number of actors, based on shared interests. That is always going to be hard. But somewhat easier if interests are defined through a prism where rights and responsibilities come together. In this general context, which has to be the European answer? I think that, in the next years, the European Union will have to take up three great challenges. - the first will be better to helpthe multilateral system to gain in effectiveness."
Then in the Brookings paper from November 2008 the same story, (where Solana was named "a personal incanation of global governance"):
A PLAN FOR ACTION: RENEWED AMERICAN LEADERSHIP
AND INTERNATIONAL COOPERATION FOR THE 21ST CENTURY
Washington, D.C.
Thursday, November 20, 2008
Present there were with Madleine Albright and Strobe Talbott, also Stephen Stedman, Carlos Pascal and Bruce Jones.
Who had given out also the
"Managing Global Insecurity: A Plan for Action Report" in October 2008 for Brookings
http://cisac.stanford.edu/publications/managing_global_insecurity_a_plan_for_action/
Stephen J. Stedman - Senior Fellow at CISAC, Stanford University
Bruce Jones - Director and Senior Fellow at New York University
Carlos Pascual - Vice President and Director at Brookings Institution
Published by
The Brookings Institution, September 2008, modified in November 2008,
, also the time when the Financial Crisis had just beguns.
http://iis-db.stanford.edu/pubs/22318/11_action_plan_mgi.pdf
"U.S. domestic and international opinions are converging around the urgent need to build an international security system for the 21st century. Global leaders increasingly recognize that alone they are unable to protect their interests and their citizens-national security has become interdependent with global security.
Just as the founders of the United Nations and Bretton Woods institutions after World War II began with a vision for international cooperation based on a shared assessment of threat and a shared notion of sovereignty, today's global powers must chart a new course for today's greatest challenges and opportunities. International cooperation today must be built on the principle of responsible sovereignty, or the notion that sovereignty entails obligations and duties toward other states as well as to one's own citizens."…
"To build a cooperative international order based on responsible sovereignty, global leaders must act across four different tracks:
U.S. Engagement: Restoring Credible American Leadership
Power and Legitimacy: Revitalizing International Institutions
Strategy and Capacity: Tackling Shared Threats
Internationalizing Crisis Response: Focus on the Broader Middle East"
As topics are named:
Civil wars | Climate change | Conflict resolution and peacekeeping | Global governance and institutions | International Security and Defense | Nuclear nonproliferation | Terrorism and counterterrorism | Transnational threats | Middle East & North Africa | United States
Exactly these three persons who wrote for Brookings (with the foreword of Javier Solana and I guess he contributed much more) the book "Power and Responisbility" which introduces this whole concept of "Responsible Souvergnity"
http://www.brookings.edu/press/Books/2008/powerandresponsibility.aspx
It reads:
"Built for a different age, current international institutions are ill-equipped to address today's most pressing global security challenges, ranging from climate change and nuclear proliferation to civil strife and terrorism.
Revitalizing the institutions of cooperation will require a new conceptual foundation for global security. The "national sovereignty" of the twentieth century must give way to "responsible sovereignty"—a principle requiring nations not only to protect their own people, but also to cooperate across borders to safeguard common resources and tackle common threats. Achieving this will require American leadership and commitment to a rule-based international order.
Exact the concept Solana has talked about.
http://www.brookings.edu/~/media/Files/Press/Books/2008/powerandresponsibility/powerandresponsibility_chapter.pdf
It's classical Hegelian Dialectic. Create a problem(thesis) and offer the solution(anti-thesis) to achieve the goal. Have there been created three apocalyptic horseriders by the white one in order to achive "everywhere"? Here a little excerpt of the book "Power and Responibility":
"transnational terrorism, proliferation of nuclear weapons,
a pandemic of a new deadly disease,
global warming, and economic instability and crisis.
What stands out is that these threats can affect every country's security.
Nor do the threats that preoccupy other parts of the world stand in isolation. Poverty, civil wars, and regional conflicts are all connected to what threatens the United States.Transnational terrorism uses ungovernable spaces for sanctuary and to gather recruits, capital, and weapons, and it uses a narrative of grievance stoked by protracted civil and regional conflicts. Climate change exacerbates competition for land and water and places greater burdens on the poor. Poverty not only increases the risks of civil war and state failure but also precipitates the emergence of deadly infectious diseases.
Transnational terrorism, proliferation of nuclear weapons, a pandemic of a new deadly disease, global warming, and economic instability and crisis. What stands out is that these threats can affect every country's security....

The interconnectedness of these threats and their cumulative effect
pose grave dangers to the ability of states to protect their sovereignty.
For many states the domestic burdens of poverty, civil war, disease, and environmental
degradation point in one direction: toward partnerships and
agreements with international institutions. Entering agreements or
accepting assistance does not weaken sovereignty; it preserves it.
Even stronger states, to preserve sovereignty, must enter into agreements to
counter transnational threats such as deadly infectious disease and
nuclear proliferation that cannot be overcome in the absence of sustained
international cooperation.
...

Both U.S. presidents since 1992, William J. Clinton and
George W. Bush, had historical opportunities to reinvigorate international
cooperation and put in place new international institutions, rules,
and understandings appropriate for today's world....
The Clinton administration
concluded international negotiations on a comprehensive nuclear test
ban treaty, global warming, an international criminal court, and a new
World Trade Organization.
But the Clinton administration, by its own admission, never formulated
a global vision of order, and it was largely silent on how the rest of
the world would fit into a peaceful, democratic community.
Rebuilding international order will require focusing on specific institutions
for addressing specific threats—and making them effective. But as
a prerequisite it also requires a vision, a foundational principle that
gives a moral value to order and brings coherence to expectations about
how states should act across multiple issue areas.

We believe that responsible sovereignty, or the injunction that sovereignty
entails obligations and duties to one's own citizens and to other
sovereign states, is such a principle.
We argue that responsible sovereignty requires all states to be accountable for their actions that have impacts beyond their borders, and makes such reciprocity a core
principle in restoring international order and for providing for the welfare
of one's own citizens.
Throughout this book we apply the principle of responsible sovereignty
to key global issues—nuclear disarmament and nonproliferation,
counterterrorism, global warming, biological security, peacekeeping and
peacebuilding, and economic prosperity—but always derive those standards
of responsibility from existing international treaties, conventions,
and forums to which the United States and others have agreed." Link
While we still watched Europe, Solana went to help building the global system. And he did not stop building it.
Today Javier Solana has been given (his second) Golden Fleece Award in Georgia. Georgian President Mikheil Saakashvili has personally rewarded the former EU High Representative for the Common Foreign and Security Policy, Secretary-General of the Council of the European Union. "for the great personal contribution in strengthening the sovereignty and the statehood of Georgia and his strong support of Georgia's national interests on international arena.(lol) Along with Javier Solana, the Golden Fleece Award has also been given to Strobe Talbott, the president of the Brookings Institution and former Secretary Assistance of the US.Link
update...:

speaking: President Nicolas Sarkozy of France
Date:
March 29, 2010 from 10:00 AM to 11:00 AM
Location:
Columbia University
...
happened right now (See the past participants here:
LINK
), - I realized it right AFTER I
published the article (Stiglitz works also for Sarkozy)...
stay tuned!
farmer