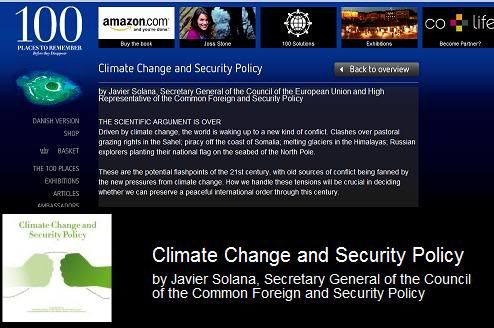 source: www.100places.com
Link
"A number of ambassadors of the project give in the book their personal impression and experience of climate change. Among these are former Archbishop Desmond Tutu, actress Connie Nielsen. singer-songwriter Joss Stone, Australian minister of environment and former lead-singer in the band Midnight Oil Peter Garrett (farmer: see my picture from april:Link) and singer and producer of The Eurythmics Dave Stewart.
The book also features e number of chapters clarifying the problematics of climate change and what we can do about it. Among the authors of these are professor Katherine Richardson, University of Copenhagen, Achim Steiner, director of UNEP (UN's Environmental Program) and Javier Solana, the "foreign minister" of the European Union.
Javier Solana says: "This book, '100 Places to remember before they Disappear' remind us of what is at stake. We need to take action now." LINK
thanks to M.!
stay tuned!
farmer