Herman Van Rompuy with Felipe González,
Chairman of the Reflection Group
on the Future of Europe.LINK
1.) Europe 2030 by Brookings:
Contributors include Oksana Antonenko (International Institute for Strategic Studies), José Manuel Durão Barroso (European Commission), José Cutileiro (former secretary general, Western European Union), Joschka Fischer (former minister of foreign affairs, Germany), Charles Grant (Center for European Reform), Andrew Hilton (Centre for the Study of Financial Innovation), Jonathan Laurence (German Marshall Fund, Boston College and Brookings Institution), Rui Chancerelle de Machete (consititutional and administrative attorney), Hubert Védrine (former minister of foreign affairs, France), and Joseph H.H. Weiler (New York University).
2.) Europe 2030 by EU Elders Reflection Group:
Link
Members of the Reflection Group
Felipe González Márquez, Chairman
Vaira Vike-Freiberga, Vice-Chair
Jorma Ollila, Vice-Chair
Lykke Friis (until her nomination as Minister for Climate and Energy on 24 November 2009)
Rem Koolhaas
Richard Lambert
Mario Monti
Rainer Münz
Kalypso Nicolaïdis
Nicole Notat
Wolfgang Schuster
Lech Walesa
and 3.):
Promoted by the President of the Government of Catalonia, the
Catalan Reflection Group on the Future of the European Union
(in Catalan, Grup Català de Reflexió sobre el Futur de la Unió
Europea) was created in January 2009. The goal of the Reflection
Group is, from a Catalan perspective, to come up with proposals
on the future of the European Union and to provide input on the
kind of Europe that Catalonia would like. The aim is to submit the
proposals to the Reflexion Group, chaired by Felipe Gonzalez, on
the Future of Europe in the 2020-2030 Time Horizon.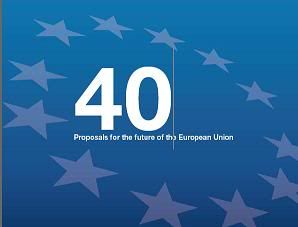 http://www20.gencat.cat/docs/sue/Continguts/Actualitat/UE%20ENG.pdf
The Group's members are Eugenio Bregolat, Ignasi Carreras,
Carles Casajuana, Joan Clos, Concepció Ferrer, Gregorio Garzón,
Carles Gasòliba, Joan Majó, Juan Antonio March, Federico
Mayor Zaragoza, Miquel Nadal, Josep Piqué, Juan Prat, Eduardo
Punset, Jacint Ros Hombravella, Narcís Serra and Josep Verde
Aldea.
stay tuned!
farmer