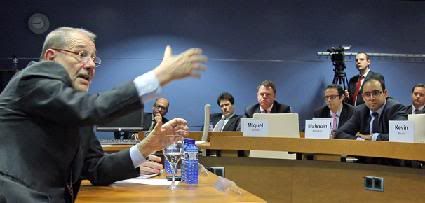 photo: GORKA LEJARCEGI,
LINK
Again two Spanish articles on Solana's current life, "
There is Life after Brussels
" is the title of the first one, the second is just a little snippet, picked up in the Spanish news talking about
Javier Solana
allegedly having "
health problems
"...please excuse the bad translation sometimes:
"Javier Solana returned to teach after a decade at the

head

of EU diplomacy
Do I know you? "the reporter is asked by Javier Solana, while he is holding out his hand. Arrives, smiling, impeccably dressed, followed by an escort of teachers. There are so many greetings in English, so many hands to shake that is easy on task. We are at the headquarters of ESADE in Madrid. A modern building, where we welcome Pedro Parada and Paul Almeida, the directors of the Global Executive MBA (GEMBA), master created in 2008 by U.S. ESADE and Georgetown University, both of Jesuits.
Solana, until last December, the High Representative for Common Foreign and Security Policy of the European Union (better known by Mr. CFSP), has returned to his original profession, teaching. But the academic setting has changed. The veteran socialist politician is the star of the most expensive and brilliant master of ESADE, the crown jewel of the business school. Parada, a mild-mannered Bolivia, who has achieved to engage him. "We know he had many offers, but he liked the inspiration that guides our research. In Spain, he only teaches in our school. Solana is more than a teacher. He chairs the Centre for Global Economy and Geopolitics, created for him, with a salary that has not been made public.
In the classroom small, semicircular, and awaited by the 29 students from 12 different countries. The mean age is 40 years. They wear suit and tie. Only four women, dressed in more casual clothing. Marc L.Busch, a professor at the Diplomatic Academy in Georgetown, presents "Dr. Solana", which was answered with loud applause. "I'll start by talking about the latest news, the decisions just taken to face the crisis of the Euro", says the speaker, adjusting his glasses with red frames. Solana knows his audience today is special. They are managers who have paid 90,000 euros for instruction in the difficult art of doing business in the global world, moody, inscrutable, racked by political tensions, economic interests crossed by mysterious forces ("crusados y misteriosas fuerzas").
The Global Executive Masters, divided into six modules of twelve days each, is developed as a luxury travel across three continents and eight different cities: Washington, Barcelona, Buenos Aires, Sao Paolo, Bangalore (and Shanghai) , Madrid, Moscow and New York. In each event, students are taught by teachers and local dignitaries while visiting the main economic and touristic attractions in the country.
Emilio del Castillo, 42, who runs a consultancy in Madrid, is the only Spanish for the second promotion Supermaster and one of the few who has paid for it out of his pocket. Is it really the money? "Of course. I drew on all this global mindset you have. I have worked for multinationals in different countries and now I'm particularly interested in Asia. I think with this master to enter well the problems and needs of the global world is incredibly useful for someone like me. "
The keyword "global" is the key that opens the gates of political and business success. Solana repeated the term several times in his lecture, which has invited students to "think globally and act globally." In the lunch break of his speech, he is mentioning it again. Between his bites he makes it clear that Spanish policy is not his objective. Why does he think he has been compromised by the transition? Solana denies vigorously. "It is no question, at all." And returns to his plate of vegetables. He is a frugal man. No smoke, at least not in public, and drinks only a glass of red wine. Rejects the dessert and the coffee. The lunch break is finsihed by a photoshooting at the entrance where they take a picture with all the promotion of the master.
Camelia Ilie, Director of Executive Education ESADE, praises Solana synthesis capacity. It is true that the speaker has talked about almost everything. From the "complicated situation" of the euro, the eternal problem of the Middle East, through the transfer of power. "We are in a multipolar world, though still on defense, military affairs the world is unipolar, with one superpower, the U.S.," he says.
Among these new powers must be included nonprofit organizations such as the Gate Foundation, sponsored by supermillonaire Bill Gates - "with whom I am in very good terms," he says, that in his opinion does more good to the world than many official institutions. Solana jumps from one topic to another trying to be entertaining. And none is left in the inkwell. He speaks of the renewal of the Nuclear Nonproliferation Treaty, and the G-20. And remembers the days of G-8, "when we were waiting outside the presidents from Brazil, India, China. Today you can not leave them just for dessert." Nor to forget hunger or the environment. "We need the resources of three worlds, but we only have one. You will see that this is the first time I speak as a scientist," he says with a laugh from the audience.
At dinner, Solana picks up the microphone to tell the audience some details of his life. Coming from the roots of the Republican Madariaga, his scientific career, the jump into politics. He declares to be "friend of the Americans," and to be excited about his new job. "This master has Goldmann Sachs guidance, as I say, trying to teach not to make more money. Our goal is to serve society, it also earns better than money".
He says that since he left Brussels, they have not stopped calling him. "There are few things that I know I've not been a member of ". Master of the Prado Museum, member of the Fundación La Caixa, he has been awarded the Charles V award, the king has made him Knight of the Order of the Golden Fleece, and he is honorary president of the Henry Dunant Centre for Humanitarian Dialogue, an organization that tried to mediate between Zapatero and ETA. He is visiting professor at the London School of Economics, and coordinates the Spanish security strategy. (farmer: where is Brookings?)
His agenda is still loaded. "But now I control it," he says. "I keep in my whole life I never had holidays, I do not know what that is." What do you do in Madrid when you have no classes? "I see friends. I have much contact with Felipe Gonzalez. Also Narcis Serra, who is often here because the job requires him to spend two days a week in Barcelona. What do you think of the Spanish situation? "They have made many important decisions that may represent a fundamental change in the way of economic recovery." The conversation turns to lighter topics. We talk about the emergence of IPAD. "I am a man of Kindle," says Solana. Although, as a man of dialogue, he has given a chance to IPAD." LINK
"...compelled to an advance election and in case of his dismissal as head of government and leader of the PSOE, in order to charge for the latter he is still playing with the name of Javier Solana, despite his health problems"(???- original: "cargo este último para el que sigue sonando el nombre de Javier Solana, a pesar de sus problemas de salud". LINK
stay tuned!
farmer